Libby tennis players prep for return to courts
by
WILL LANGHORNE
The Western News
|
March 23, 2021 7:00 AM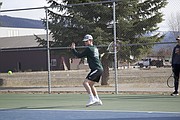 Libby tennis players got back into the swing of things with their first practice of the year last week.
Coach Kyle Hannah said 32 students came out for the team, which is slightly above average. Roughly half of the squad has previous experience on the courts while the rest are freshman and sophomores.
After a season sidelined by the coronavirus pandemic, the Loggers are working on technique before their first game against Polson on March 26. Hannah said he was focusing on getting the players to hit as many balls as possible before their matchup against the Pirates.
Isolated in the northwest corner of the state, the lack of tennis clubs in the area has put the Loggers at a disadvantage against teams from urban centers. To keep in shape during the offseason, Hannah said the team had held some open gym sessions.
During a March 18 practice, senior Colton Halvorson said he was excited to return to the courts after missing last season.
"It's definitely nice to get back into it," he said. "I started off pretty rusty but I feel like I'm starting to get back into the swing of things."
Considering that Polson is a conference and state powerhouse, Hannah said Libby's first game of the season would be a good indicator of the Loggers standing.
"I'm nervous … but I'm excited," said senior Elise Erickson of the Polson match. "It's always exciting to see where you're going to be for the year."
Along with technique training, Hannah has begun holding challenge matches to determine where different players will fall on the team. Ten boys and 10 girls will compete on the varsity level for Libby. Hannah will divide top players from each subsection of the team into three sets of doubles and four singles.
Senior Zack Morrison, who was one match away from qualifying for the state his sophomore year, said he had been working hard in practice to get another shot at the tournament.
"I'm going to make sure I make it to state this year," he said.
Along with encouraging the aspirations of competitive players like Morrison, Hannah said he urges any students who want to stay active to join the team.
Looking ahead to the season, Hannah thought the team had a good mix of players.
"It's going to be fun," said Hannah. "We've got a lot of kids that are dedicated to the program and enjoying themselves."
---