Loggers prep for track and field season
by
WILL LANGHORNE
The Western News
|
March 19, 2021 7:00 AM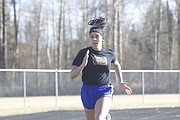 Libby track and field athletes began pounding pavement this week, getting in shape for their upcoming season.
Though the team was unable to compete last year due to coronavirus restrictions, the Loggers have taken the challenge of getting back into shape in stride. Head coach Josh Bean said roughly 23 boys and 12 girls came out for the team this year.
"We were hoping to get some more people out," he said during a March 16 practice. "But of the kids we got out, we got some athletes out."
At least five seniors have joined the squad, according to coach Shannon Ostrowski.
Bean said the Loggers will be fielding competitors in all 17 events, but he remains on the lookout for a competitive pole-vaulter.
Seniors Keilen Rausch and Olivia Gilliam-Smith are expected to be among the team's lead jumpers. While many of Libby's throwers are young, Bean said the team could rely on the experience of senior Jay Beagle and junior Caden Williams in the javelin throw.
Having committed to the University of Montana as a 400-, 200- and 100-meter sprinter, Beagle will be an asset for the Loggers on the track. Bean said he felt the team could put together a strong short and long relay. The team would hold heated 100- and 400-meter sprints to determine how best to divide athletes between relay squads.
As of March 16, the team was focused on conditioning. High-intensity interval training, sprints, bodyweight workouts and weight lifting have formed the basis of the Loggers practices.
Bean said the team was also doing a battery of prediction tests, which assess the athletes' running, jumping, hurtling and throwing abilities. After whipping the students back into shape, the coaches plan to add in more technique work.
Rausch found that on the boy's side, the team is shaping up well.
"We're going to be really solid in most of our events," he said.
On the girl's side of the squad, Gilliam-Smith said she would have liked to see more students come out. She noted that the team has a lot of younger athletes who have yet to be tested in meets. To ensure the Loggers can perform across the board, Beagle said it would be critical for underclassmen to commit to the team's conditioning and technique training.
"It's just getting them to buy into the program," said Beagle. "They've really got some potential, they're just young and new at it. I'm really excited to see their progress throughout the year."
Historically, Columbia Falls and Whitefish have fielded strong teams. Beagle said his biggest personal rival was a sprinter from Laurel.
Libby's first meet will be held on the weekend of April 3.
---