Getting back to the basics at Rosita's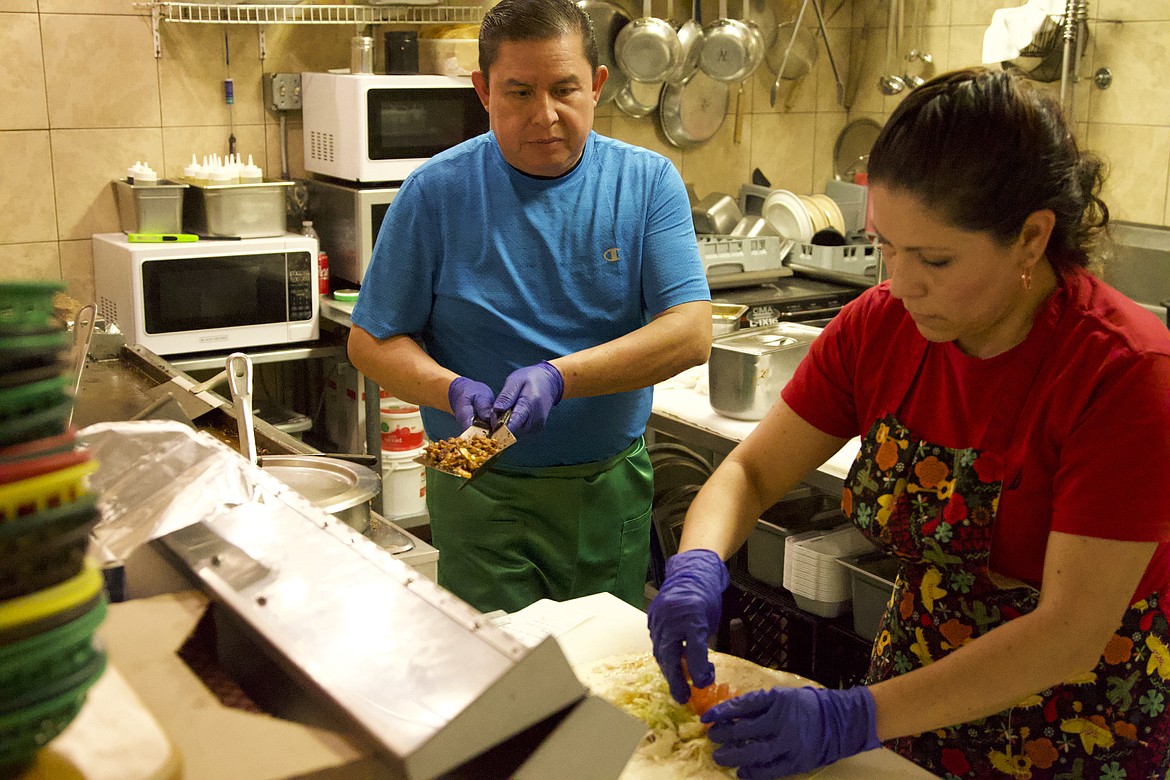 Rosita's owner Jose Enrique Figueroa Castillo and his wife Laura Vences Soria prepare a burrito March 9. (Will Langhorne/The Western News)
by
WILL LANGHORNE
The Western News
|
March 16, 2021 7:00 AM
When Jose Enrique Figueroa Castillo founded Rosita's 12 years ago, he had a plan to bring authentic Mexican cuisine to Lincoln County. After resuming ownership of the restaurant, his commitment to the craft remains just as strong.
"I love my job," he said. "For me, it's very easy, very simple."

Kyle and Mindy James, who have run Rosita's for the past six years, handed the restaurant over to Figueroa Castillo earlier this year.
While he might have stepped back from his management role, Figueroa Castillo has not lost touch with Rosita's menu; after briefly returning to Mexico to work and see family, he came back to Libby to serve as a cook at the restaurant.
Figueroa Castillo anticipates keeping the eatery's fare relatively unchanged. Al pastor, or pork tacos, and chicken dishes are old-time favorites. Mexican drinks like the horchata and the jamaica are popular in the summer. The restaurant's guacamole and salsa, which are made in-house, top the appetizer list.
When building the first Rosita's menu, Figueroa Castillo drew from his nine years of experience working at Allende Restaurant in Indio, Calif. Hoping to entice Montana residents with limited exposure to Mexican food, he started with a set of simple offerings.
"[The menu] was very small and the people were happy," he said.
Gradually, Figueroa Castillo added a couple plates. When the Jameses took over, they continued to expand the menu with specials into what it is today. The traditional fare bolstered by the additional dishes has endowed Rosita's with a loyal following.
"To find good Mexican food is hard," said Jim Cornwall, a former resident of Indio Calif., who enjoyed a Rosita's al pastor on March 9. "I was thinking this is the best I've had since I lived in Indio."
While Figueroa Castillo might say his job is easy and simple, his work hours indicate it is also demanding. Most days he spends 14 hours — sometimes longer during the summer — at the restaurant. Afterhour cooking and maintenance mean Figueroa Castillo's work week often bleeds into the weekend.
"I live at Rosita's," he joked.
Figueroa Castillo finds interacting with customers a rewarding part of his job. Working the grill under the Jameses, he kept up his public appearance. As he continues to manage the restaurant, he hopes to stay in touch with his clientele.
"It's good to know the people know me and like the restaurant," he said.
---