Doris Brown, 78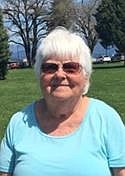 Doris Brown. (Courtesy photo)
Doris Brown, 78, was born in Harlem on Jan. 19, 1943. She passed away Feb. 21, 2021, at Kalispell Regional Hospital.
She is predeceased by her parents and six siblings. She is survived by her loving husband, Barry; three siblings; six children; and many grandchildren and great-grandchildren.
Doris was known for her excellent cooking and her sass. She would often whip up cookies, pies and other treats to be delivered, only to tease her recipients with a grin. "Whatever goes on the lips, forever stays on the hips," she warned.

Her laughter was contagious and her hospitality excellent. Doris loved hosting people and sharing the joys of life with them. Her spark and spunk stuck with everyone and always made them want to come back. Doris also enjoyed quilting and sewing. She loved making things and giving them away, happy just to see a smile on the recipient's face.
There will be a private service at the family's convenience, followed by a celebration of life in the late spring. In lieu of flowers, consider donating to Shriners Hospital for Children — Spokane, 911 W. 5th Ave., Spokane, WA 99204 or online at lovetotherescue.org (check the box to dedicate in memory of Doris Brown). Arrangements are by Schnackenberg Funeral Home in Libby. Online condolences and memories may be shared at www.schnackenbergfh.com.
---