Despite trying times, Trojans saw improvement
by
WILL LANGHORNE
The Western News
|
March 9, 2021 7:00 AM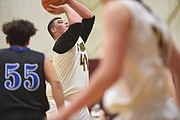 Trojan head coach Justin Young described this year's boys basketball season as one the craziest of his career.
In addition to the challenges posed by the pandemic, Troy has struggled with a limited roster.
For their first game of the year, the starting lineup was made up of a senior, two juniors and a pair of sophomores. Young said these players came into the season with no varsity starting experience. By the Trojan's final game on Feb. 23, Young was putting in eighth graders.
During one stretch of the season, the 1-11 Trojans went 15 days without a game. After that dry spell, Young said it felt like the team had to start from scratch at their next matchup.
Despite the difficulties of the season, Troy players came to each practice focused.
"They just wanted to work on basketball," Young said. "They kept the drama outside."

Finding evidence of that level of commitment requires digging past the team record. As the year progressed, the Trojans performed better against their rivals. For example, Troy fell to Thompson Falls 76-13 in their season-opener but narrowed the gap to 59-26 in a follow-up game less than a month later.
Late in the season, Troy secured a win against Stillwater. Young said the victory came thanks to improvements in the Trojan's ball handling and defensive skills.
In their Feb. 23 playoff game against Eureka, the Trojans got ahead in the opening quarter but faded to 70-25 by the end of the matchup.
Young commended the efforts of the two eighth-graders, Cody Todd and Brody Kelso, who played for Troy against the Lions.
"They are the definition of brave," he said. "They never complained or hesitated."
The team said goodbye to seniors Malachi Montgomery and Jace Fisher this year.
For returning players, Young said hard work in the offseason would be the key to future success. Putting in work outside of practice would be the best way for the team to advance on the individual level.
"I want to thank [assistant coach] Jeff Hawk and the players and fans for making a memorable season even more memorable," he said.
---