Cuffe deems voter ID bill as one of the most important of his career
by
WILL LANGHORNE
The Western News
|
March 9, 2021 7:00 AM
State Sen. Mike Cuffe (R-Eureka) never thought he would carry legislation like Senate Bill 169. But when presenting the act, which would revise voter identification laws, the six-term congressman said it might be one of the most important bills he will sponsor in his career.
"We believe our elections are conducted in a fair and honorable fashion. We simply want to make a good process better," Cuffe said during a Feb. 3 meeting of the Senate Committee on State Administration. "Senate Bill 169 simply assures us that only Montanans are able to vote in Montana elections."
State law currently requires voters to present photo identification that includes their name to cast an in-person ballot. Under Cuffe's bill, voters with certain forms of accepted photo identification, including student IDs, would need a secondary form of ID, such as a utility bill, bank statement or paycheck, at the polls.
Election judges would still accept Montana driver's licenses along with military, state and tribal photo identification cards as standalone forms of photo ID.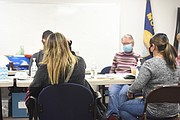 The bill would make similar changes to identification requirements for voter registration. Residents would still be able to use the last four digits of their social security number instead of a photo ID when registering.
To create the bill, Cuffe worked closely with Secretary of State Christi Jacobsen. Speaking at the committee meeting, Jacobsen said the legislative action was spurred by feedback she had received from Montanans.
A battery of attorneys have vetted the bill and compared it with legislation in other states, Cuffe said. The senator called the bill a step in the right direction noting that it walked the line between demands from other lawmakers to relax or tighten current election regulations.
Opponents of the bill argued that the new requirements would disenfranchise American Indians, some of whom are unable to afford or have to travel long distances to get driver's licenses. Seniors and those with disabilities who do not drive, and college students, many of whom do not have in-state driver's licenses, would also have difficulty casting their ballots under the bill.
Katjana Stutzer, of Montana Public Interest Research Group, pointed out that the requirements would create more work for election officials, resulting in further government expenses.
"It is our concern that this bill, though well-intentioned, would have the effect of disenfranchising voters who have grown accustomed to using the system as it currently exists and have been able to do so without creating any substantial claims, any widespread evidence whatsoever of voter fraud," said Sam Forstag, of American Civil Liberties Union of Montana.
When testifying at the committee meeting, some proponents made unsupported claims about voter fraud during the 2020 general election.
"After witnessing the national election a couple months ago, some of us feel it was the most corrupt, third world, banana republic, election we could even imagine and have no further faith in our elections," said resident Cindi Hamilton.
Hamilton later struck these comments after State Sen. Janet Ellis (D-Helena) raised an objection.
While ruling against a challenge from former President Donald Trump's re-election campaign in September, a federal judge wrote there was no evidence of a single instance of voter fraud in any Montana election during the last 20 years.
Although Cuffe said that voter fraud could have gone undetected in previous elections, he clarified that he was not arguing that any had occurred. He pitched his bill as a way to quell any concerns about illegal voting.
"We all want the same thing: fair and free elections that cannot have integrity called into question," said Cuffe.
Senate Bill 169 passed three readings in the Senate and will be crossed over in the House. During a Feb. 8 State Administration Committee meeting, the bill received a 5-3 vote. Senators approved the bill with 31-19 votes in two subsequent readings.
Along with Senate Bill 169, Cuffe has supported compensating Montana for the construction of the Libby Dam. In a March 2 interview, Cuffe pointed out that Canada received compensation under the terms of the Columbia River Treaty for valleys that flooded during the construction of the dam. Montana was awarded no such benefits.
Senate Joint Resolution 21 states that the Libby Dam put thousands of acres of land in Lincoln County underwater. This led to a decrease in property tax revenues and losses of timber sales and wildlife and fish habitats. The resolution also asks that Canada's right to divert water from the Kootenai River be removed from the Columbia River Treaty.
The resolution passed three readings in the Senate with only one dissenting vote and has crossed over to the House.
Cuffe has also worked to protect Montana farmers and ranchers from livestock predators. Under Senate Bill 58, the state's livestock loss mitigation and livestock loss reduction funds would receive a yearly boost of $300,000 and $100,000 respectively.
The bill received near-unanimous support in the Senate. The House Agriculture Committee gave the bill its full support.
Cuffe has carried other legislation that would revise forest lands property taxes, a forest lands taxation advisory committee, eliminate the secretary of state's microfilm requirements and revise junk disposal laws. The senator has also sponsored a resolution to honor the 75 anniversary of the end of World War II.

---