Students launch anti-mask campaign; school officials encourage civic engagement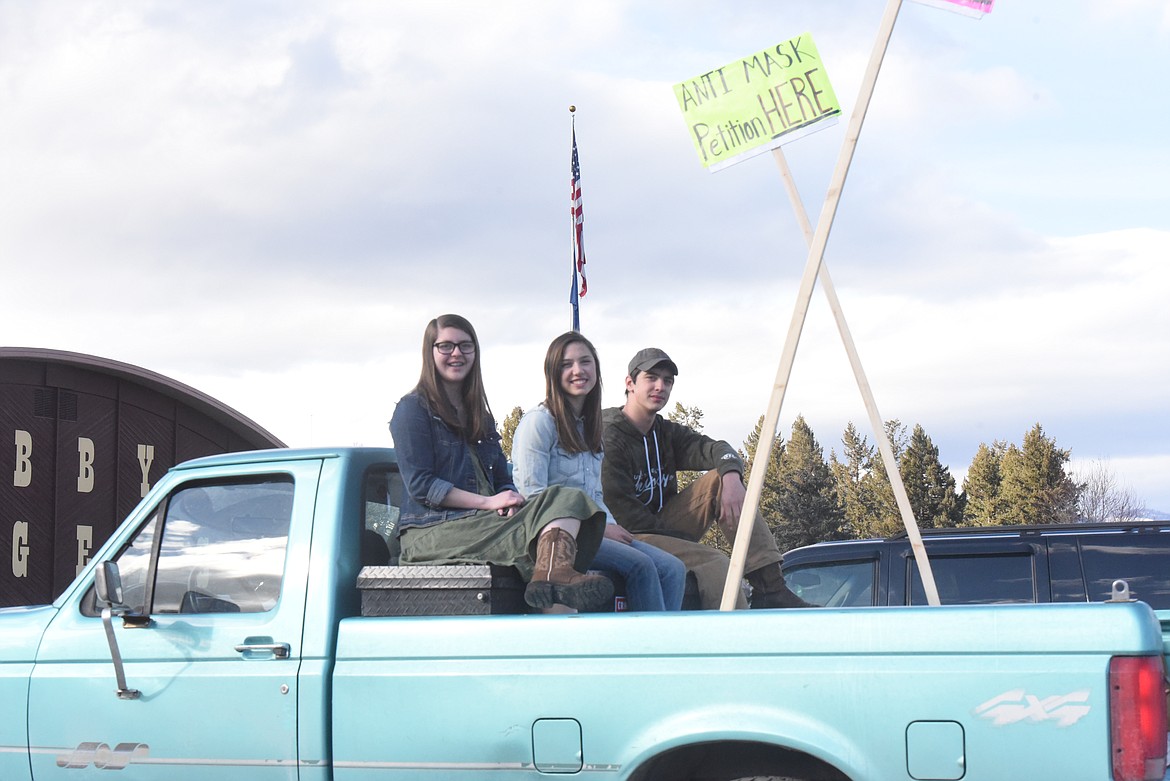 High school students from left Alaina Moore, Samantha Newton and Jake Newton gathered signatures for their anti-mask petition in the parking lot of Libby Middle High School. (Will Langhorne/The Western News)
by
WILL LANGHORNE
The Western News
|
March 5, 2021 7:00 AM
Hoping to end mask requirements at Libby Public Schools, a group of students are circulating a petition among community members.
Samantha Newton, a junior at Libby Middle High School, said she and several of her classmates were tired of dealing with the face-covering requirements. Following Gov. Greg Gianforte's decision to rescind the statewide mask mandate in early February, the group felt local schools should follow suit.
"We just feel like students should really have the choice at this point," said senior Alaina Moore while gathering signatures for the petition on March 1.

Since in-person learning resumed at Libby Schools last fall, administrators have required students and staff to wear masks while on campus. Superintendent Ron Goodman has credited face coverings as one of the key factors in mitigating the spread of the virus within schools and keeping classrooms open.
"We don't want to be in masks any longer than anybody else," Goodman said during a January school board meeting. "But we also want to have kids in schools as long as we can."

Newton described wearing a mask in classrooms as irritating and distracting. She and Moore say school staff members are excessively strict in their enforcement of the policy.
"Teachers even told students that they're killing her if they would refuse to wear [a mask]," said Moore.
Both Newton and Moore admitted that some of their teachers have serious health conditions. If asked to wear a mask by a staff member who had a medical issue, Newton said she would. But she also said that it might be best for at-risk staff to stay away from schools during the pandemic.
"If they are so, so susceptible we believe they shouldn't be at school in the first place," she said. "I know that affects learning but so does wearing masks."
Although school staff told students they would receive mask breaks throughout the day, Newton said teachers have not followed through on the promise.
Ruth Vanworth-Rogers, Libby Middle High School principal, however, said staff members give students face covering breaks. During pauses in instruction, she said teachers allow students to spread out and remove their masks for five-minute periods. Teachers are also understanding if students need to lower their masks occasionally to take a breath, according to Vanworth-Rogers.
In addition to circulating a petition, the students said they had wanted to organize a protest against masks. Moore and Newton nixed the idea, however, after their mothers received calls from school administrators.
"My mom got a call saying that if I followed through with that, they would basically kick me out of school because I'm encouraging kids not to follow what they want us to," Moore said. "But I believe that legally we should have been allowed to protest still."
Vanworth-Rogers said the school only reached out to parents to make sure they were aware of what their children were planning. She rebutted the allegation of trying to stop a protest, arguing that students have a right to voice their opinions.
It may have been a miscommunication. Due to the district's mask requirements, Vanworth-Rogers said they could not protest unmasked inside school buildings.
More so, Vanworth-Rogers supported the students' activism. She viewed the movement as good practice for future civic engagement. To help the students express their opinions, Vanworth-Rogers said she shared the district's policy on how to address the school board.
Newton said the board had invited her group to an upcoming meeting.
"We plan to take our signatures there and make a statement, try to get on the agenda and not just show up to speak," she said.
At recent board meetings, members have voiced support for continuing mask requirements until the threat of the virus abates. During a Feb. 22 meeting, member Bgee Zimmerman said lawyers recommended the district keep its requirements and adopt a new policy reiterating the practice. Doing so could avoid potential lawsuits, Zimmerman said.
State legislators have passed a bill that protects private entities from legal liability were someone to die or be injured after being exposed to the coronavirus on their premises. No such protection exists for public schools.
Goodman also noted that the executive order that lifted the statewide mandate asks schools to follow best practices recommended by the Centers for Disease Control and Prevention. The CDC recommends masks as one of the most effective methods of mitigating the spread of the virus through a community.
Newton pointed out that other Montana school districts have lifted their masks requirements. Thompson Falls, Big Fork and Florence-Carlton are among the districts that have stopped asking students to wear masks on school grounds.
Depending on the state of the pandemic at the end of April, Libby might switch from a mask requirement to a mask recommendation. During a March 1 meeting, Goodman said that high-risk staff could be vaccinated before May. Still, there remain too many unknowns for the board to set a firm policy.
"We can't just say we're going to do this come the third week in April," he said. "We have to understand what's taking place with the pandemic and COVID-19 at that time."
Before presenting their petition to the board at an upcoming meeting, Newton said her group hopes to garner around 250 signatures from students and 250 signatures from parents.
In addition to holding signing events in the school parking lot, the group has dropped off a petition at 7 Seeds Coffee House.

Regardless of the number of signatures the group receives before meeting with the school board, Moore said the group will continue circulating their petition heading into the summer.
---