Driver of sedan likely to receive citation after collision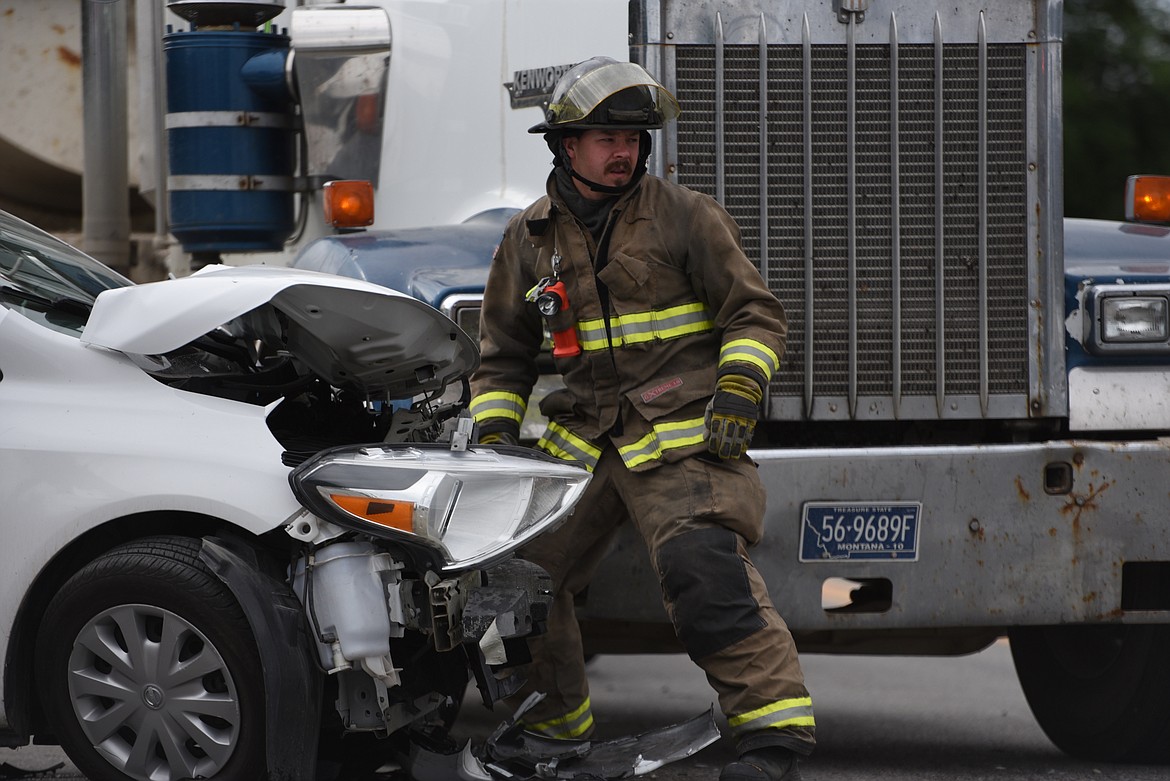 A firefighter with the Libby Volunteer Fire Department inspects a wreck at the intersection of U.S. Highway 2 and Minnesota Avenue in Libby. (Derrick Perkins/The Western News)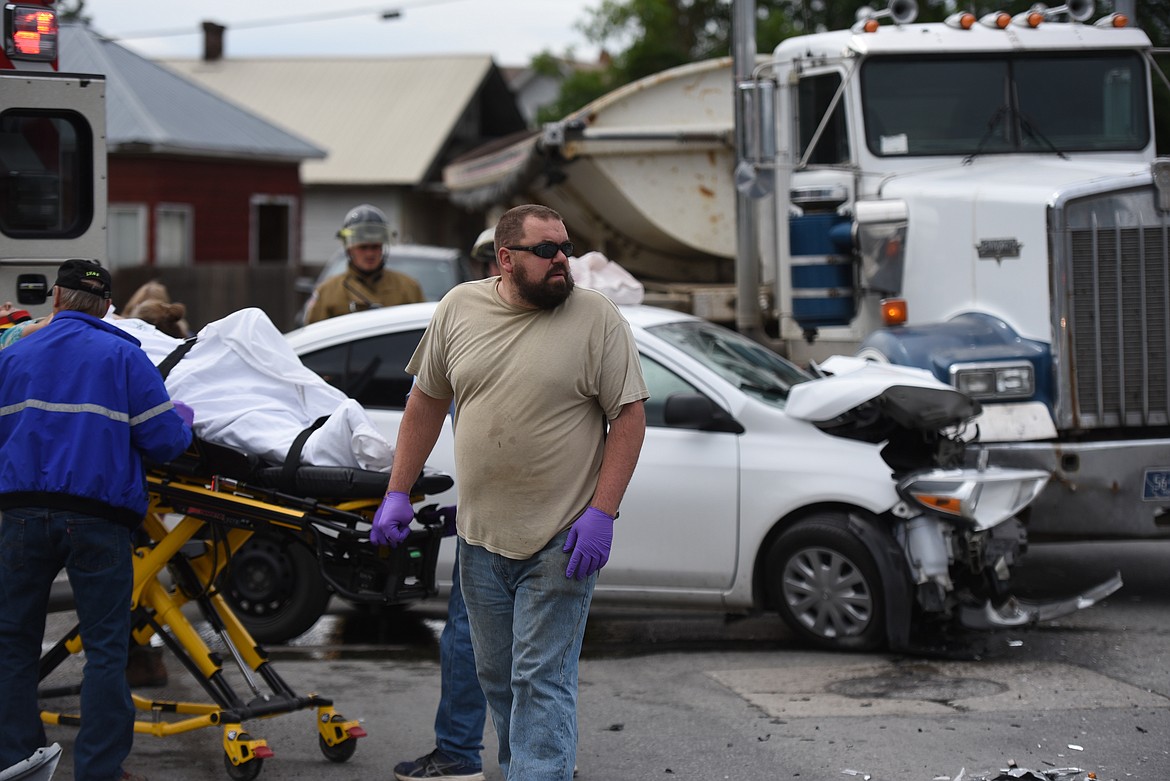 First responders work the scene of a traffic accident near the intersection of U.S. Highway 2 and Minnesota Avenue. (Derrick Perkins/The Western News)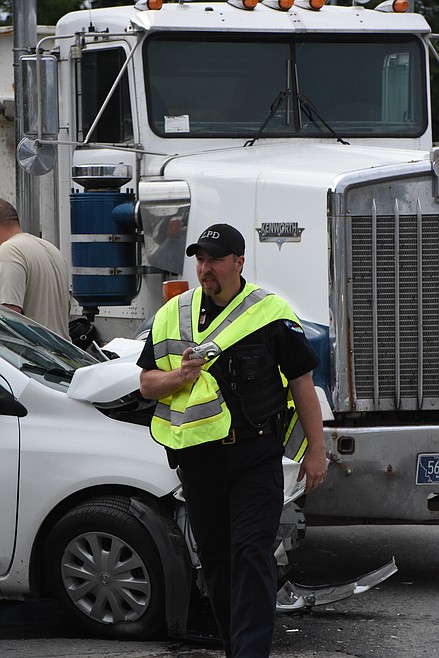 Libby Police officer Ronald Buckner at the scene of a traffic accident on June 8. (Derrick Perkins/The Western News)
Paramedics with the Libby Volunteer Ambulance service treat a motorist involved in a wreck at the corner of U.S. Highway 2 and Minnesota Avenue on June 8. (Derrick Perkins/The Western News)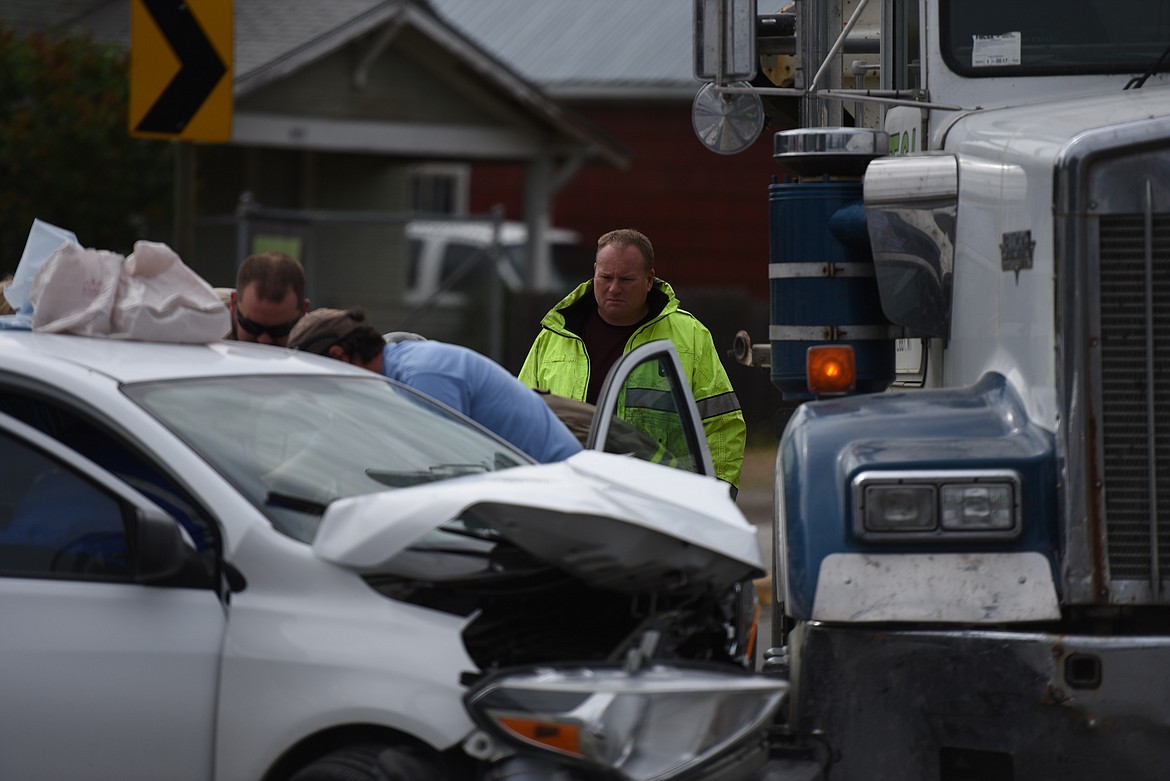 Scott Beagle of the Libby Volunteer Fire Department watches as paramedics treat a driver involved in a June 8 wreck at the intersection of U.S. Highway 2 and Minnesota Avenue. (Derrick Perkins/The Western News)
Previous
Next
by
DERRICK PERKINS
Editor
|
June 11, 2021 7:00 AM
Investigators say the collision between a sedan and a dump truck that snarled traffic along U.S. Highway 2 about midmorning June 8 occurred after the driver of the smaller vehicle failed to yield.
Libby Police Chief Scott Kessel described the evidence as "pretty clear cut." While the driver of the sedan came to a halt at the stop sign at the intersection of U.S. Highway 2 and Minnesota Avenue, she pulled out into the road as the truck bore down on her.

"It was like she didn't even see him — one of those type of things," Kessel said.
The crash scattered debris, mostly from the sedan, across the highway. First responders temporarily shut down several lanes as they extricated the driver of the sedan.
She was later taken to Cabinet Peaks Medical Center. Kessel did not have an update on the status of the woman's injuries, but described her as alert as members of the Libby Volunteer Ambulance service evaluated her on scene.
Kessel credited the driver of the rig with quick thinking. He saw the sedan pull out and swung left to avoid colliding with the driver's side door. The truck was unloaded at the time of the crash, giving the driver extra maneuverability.

"He had enough reaction time, seeing it unfold in front of him, or it would have been much worse," Kessel said. "Had he been loaded, he probably wouldn't have been able to try and maneuver successfully toward the front of the car."
Kessel said a citation likely was forthcoming for the driver of the sedan.
The scene of the accident was just a stone's throw from where residents were cleaning the grounds of Libby's giant eagle statue. Volunteers immediately sprung into action, sweeping up debris around the crash.
While Kessel appreciated the motive behind the move, he encouraged residents to leave the scene of an accident or crime as-is until the investigation is complete.
"Just leave all the parts and pieces where they are," he said. "I appreciate people trying to be helpful."
---