Bernhard departs county health board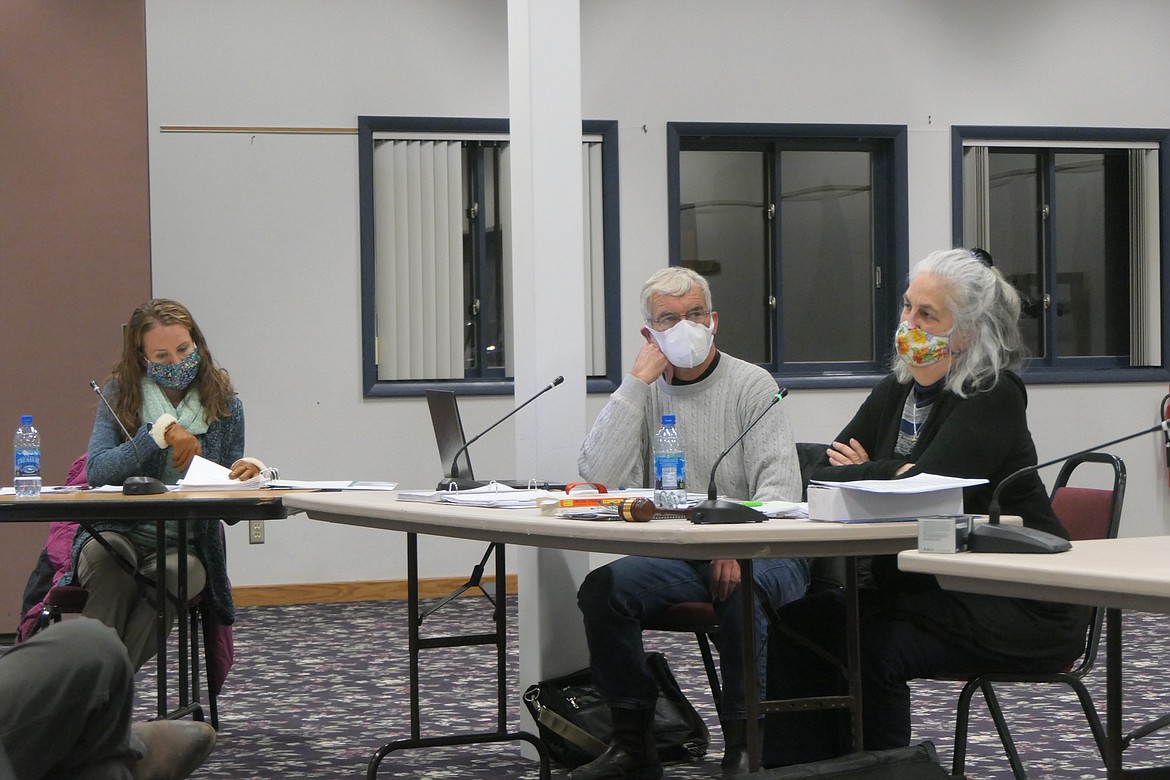 Members of the Lincoln County Health Board meet in the Ponderosa Room in Libby on Feb. 9. (Derrick Perkins/The Western News)
by
WILL LANGHORNE
The Western News
|
June 11, 2021 7:00 AM
After a four-month stint on the Lincoln County Health Board, Scott Bernhard has tendered his resignation.
Though the Eureka town councilor departed from the panel in May, Kathi Hooper, county health department director, announced Bernhard's resignation during a June 8 meeting of the board. Bernhard was not immediately available for comment but in his letter of resignation he cited his family's move to Deer Lodge as his reason for stepping down.
County commissioners appointed Bernhard to the board in late January after north county residents voiced their support for his candidacy. The appointment came a week after the health board nominated Jeffery Peterson, another Eureka resident, as their favored candidate.
Along with his experience on the Eureka town council, Bernhard brought with him a background as a U.S. Army veteran and firefighter. Before joining the panel, he had raised questions about the severity of the coronavirus pandemic and called public health measures, including masks, ineffective. Earlier this year, he told The Western News that he would not recommend "to anybody that they get vaccinated."
Many of Bernhard's supporters, who packed a commissioner's meeting in January, had previously called on officials to dissolve the health board and unseat the county's public health officer.
At the time, several described Peterson as the "establishment" choice for the seat on the panel. Before his nomination, Peterson had worked as a contractor on outreach efforts for the health department.
While commissioners rarely overrule board recommendations, Mark Peck, then county commissioner for Libby, emphasized that the panel needed more representation from non-medical professionals.
"I think we need diversity on that board," Peck said at the time. "I don't want a bunch of doctors deciding sanitation any more than I want a bunch of sanitarians deciding medicine."
Commissioners later indicated that they had hoped to mollify those residents with the selection of Bernhard.
Since November, a series of resignations and appointments has led to a significant reshuffling of the health board's membership. Throughout the process, north county residents have advocated for more representation on the panel.
The board's seven members feature one representative from Libby, Troy and Eureka, three members appointed by county commissioners as well as one commissioner. The three commissioner-appointed members all lived near or around Libby as of late last year.

In December, Peck stepped down from the commissioner's seat on the board, making room for Commissioner Josh Letcher of Eureka. George Jamison, a commissioner appointee to the board, left his seat soon after, allowing Bernhard to join the panel.
During this week's health board meeting, Hooper told members the county would advertise Bernhard's open seat as "north Lincoln County preference." Hooper said the county would favor north county candidates as that was the original intent behind Bernhard's ascension.
Interested candidates must submit their letter of interest or application to the county clerk and recorder's office by July 2 at 5 p.m.
---