Tennis squads end season with winning records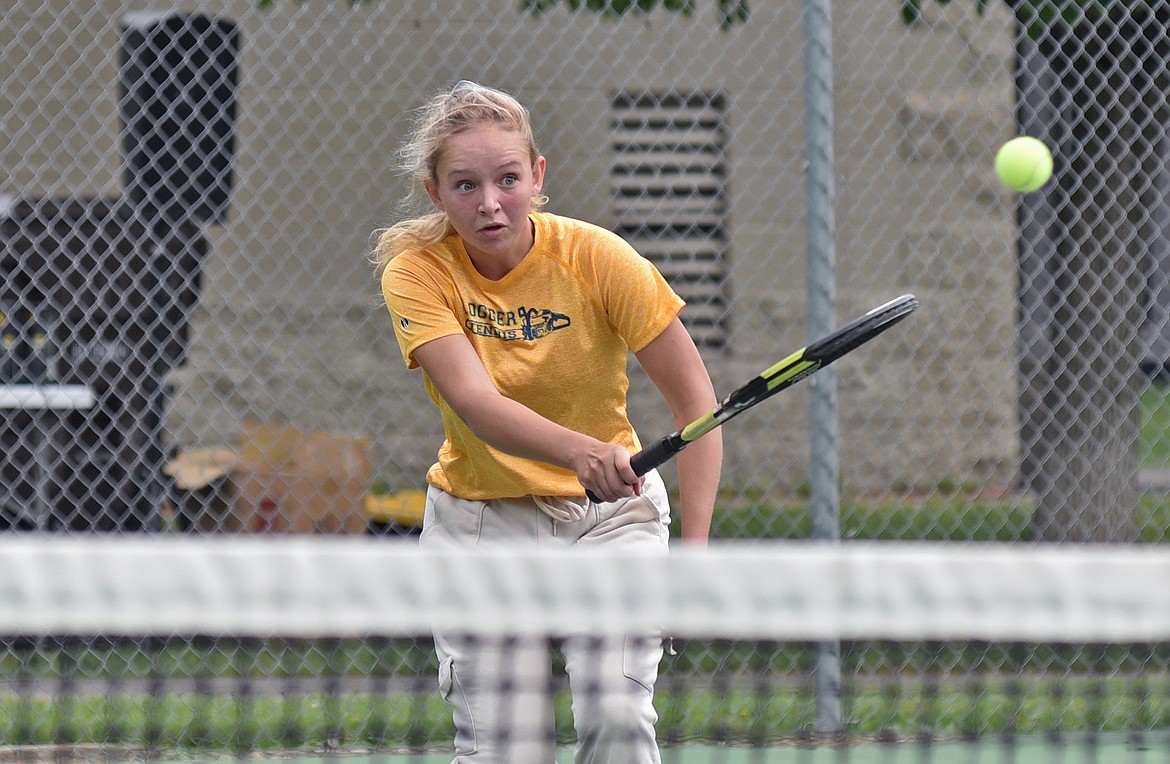 Laneigha Zeiler returns a ball during last week's Class A tennis tournament. (Whitney England/Whitefish Pilot)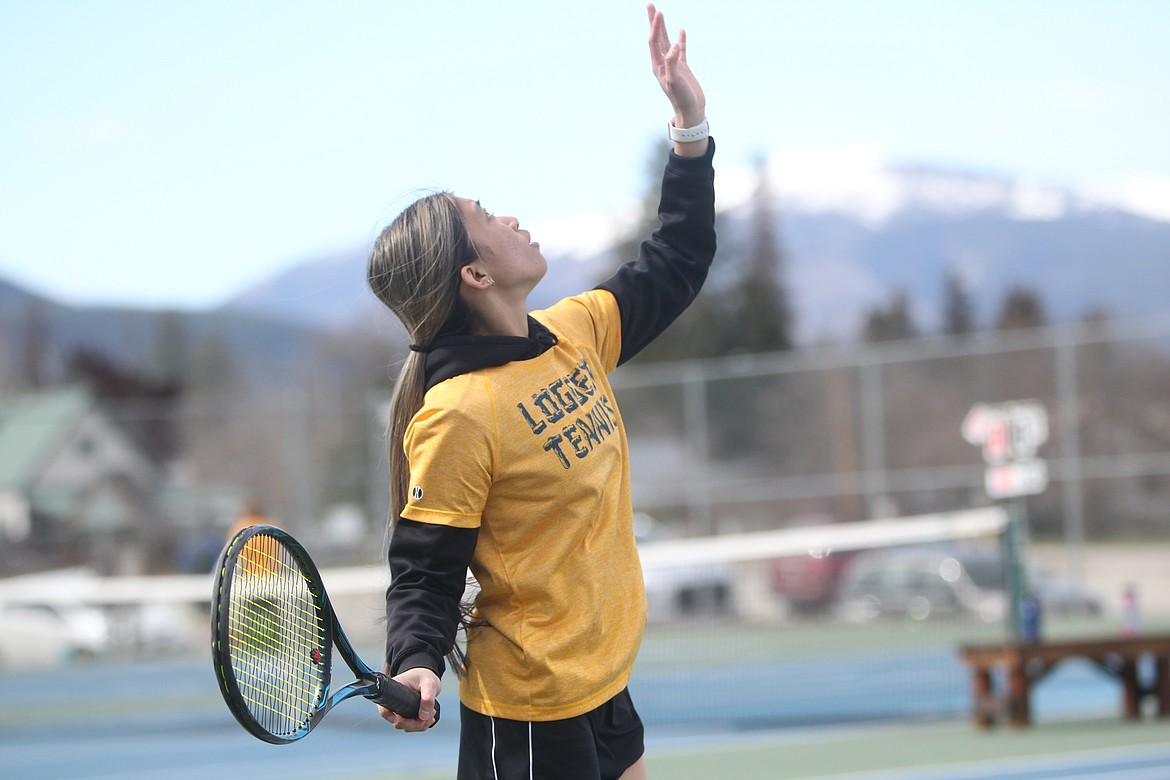 Ivy Pierce serves during the Lady Loggers top doubles match against Whitefish April 13. (Will Langhorne/The Western News)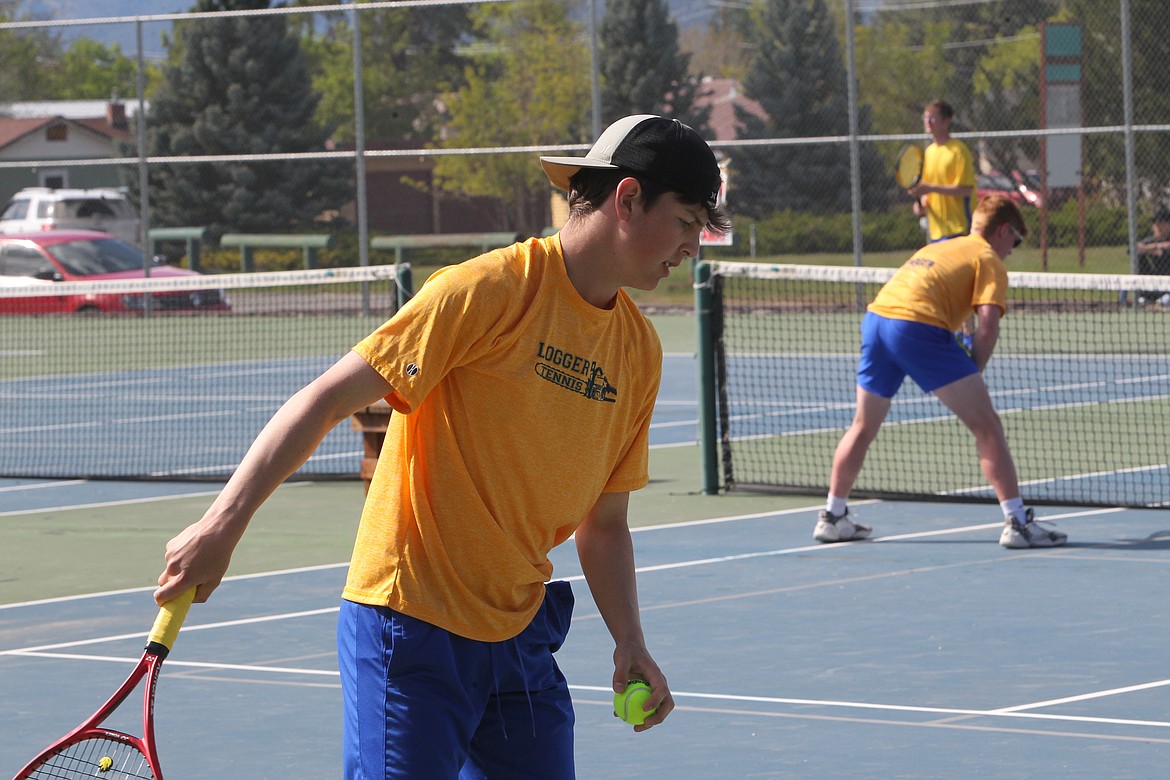 Colton Halvorson prepares to serve during a May 14 match against Columbia Falls. (Will Langhorne/The Western News)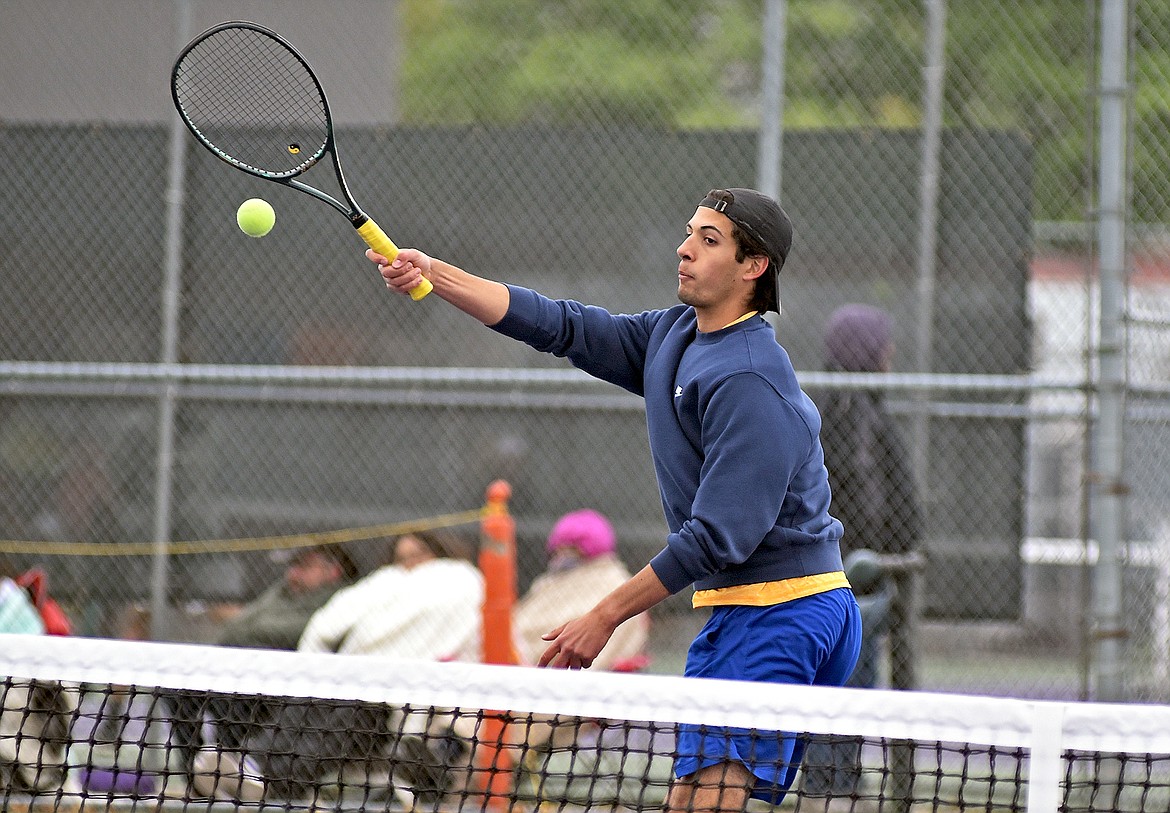 Michael Hollingsworth hits a volley in a closely contested match against Ronan's Beau Decker at the Western A Divisional Tennis Tournament in Polson on Friday. (Whitney England/Whitefish Pilot)
Previous
Next
by
WILL LANGHORNE
The Western News
|
June 8, 2021 7:00 AM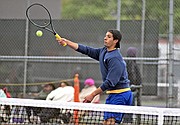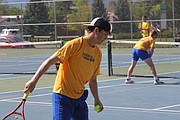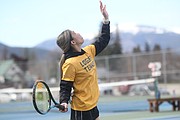 In a break with recent history, the Loggers' tennis squads came away from their seasons with winning dual records and two bids for the state championship.
Head coach Kyle Hannah applauded the efforts of all the athletes on the 11-5 girls and 9-7 boys teams. Having worked with 13 of the teams' 30 players for four years, Hannah said sustained work ethic was Libby's key to success this season.
"As a coach, one of the biggest compliments you can get is a kid coming back every year because of the love of the game," he said.
Michael Hollingsworth and Laneigha Zeiler, two of the team's returning seniors, hit the road at the end of May to represent Libby at the Class A state tournament in Billings. Zeiler had placed third in the northwestern divisionals at Polson and Hollingsworth had taken fourth.
"They both, for the last two years, have put in countless hours of extra hitting with [assistant] coach [Terry] Oedewaldt," said Hannah.
Zeiler saw success in her first match against Custer County's Grace Gundlach, securing a 6-2, 4-6, 6-1 victory. In the second round, Zelier fell 6-3, 6-0 to Hamilton's Eliana Foss. She went on to face Corvallis' Madeline DeLeo, who she beat 6-4, 6-3. Only one match away from placing, Zeiler lost 6-2, 6-0 to Whitefish's Lauren Brown.
"She went two and two at the state tournament which is very respectable," said Hannah.
In the first round of the boy's tournament, Hollingsworth fell to Custer County's Dalton Polesky, the top player out of the northeastern conference and ultimately the Class A singles champion. Hollingsworth went on to face Butte Central's Hank Jagodzinksi in his next round. After winning the first set 4-6, Hollingsworth lost the second 0-6.
In the third set, Jagodzinski seemed poised to walk away with a quick win after racking up a 5-1 lead. But Hollingsworth didn't let him off easy. The Logger battled back, suffering a narrow 7-5 loss.
"He could have easily laid down the racket and called it quits but he gave himself a chance to win," said Hannah.
Along with coaching competitive players, Hannah said he appreciated working with less experienced athletes. Many students who first started playing this year went from taking hopeful swings to consistently hitting balls over the net.
To expand the Logger team, Hannah has suggested starting a late-night middle school program. In an end-of-the-year report, he concluded that this initiative could help players build a competitive background before they reached high school.
"We are extremely competitive with kids that only play four, sometimes three years," he wrote in the report. "I can't imagine what it would be like if kids started earlier."
But even if a player doesn't end up with more wins than losses, Hannah always considers it a success to have taught them the fundamentals of the sport.
"The most important thing in my book is having fun and it's a lifelong sport," he said. "For me to give kids a tool for a healthy lifestyle for the rest of their life is pretty rewarding."
---