Peck says governor's office has thrown its weight behind fiberboard plant effort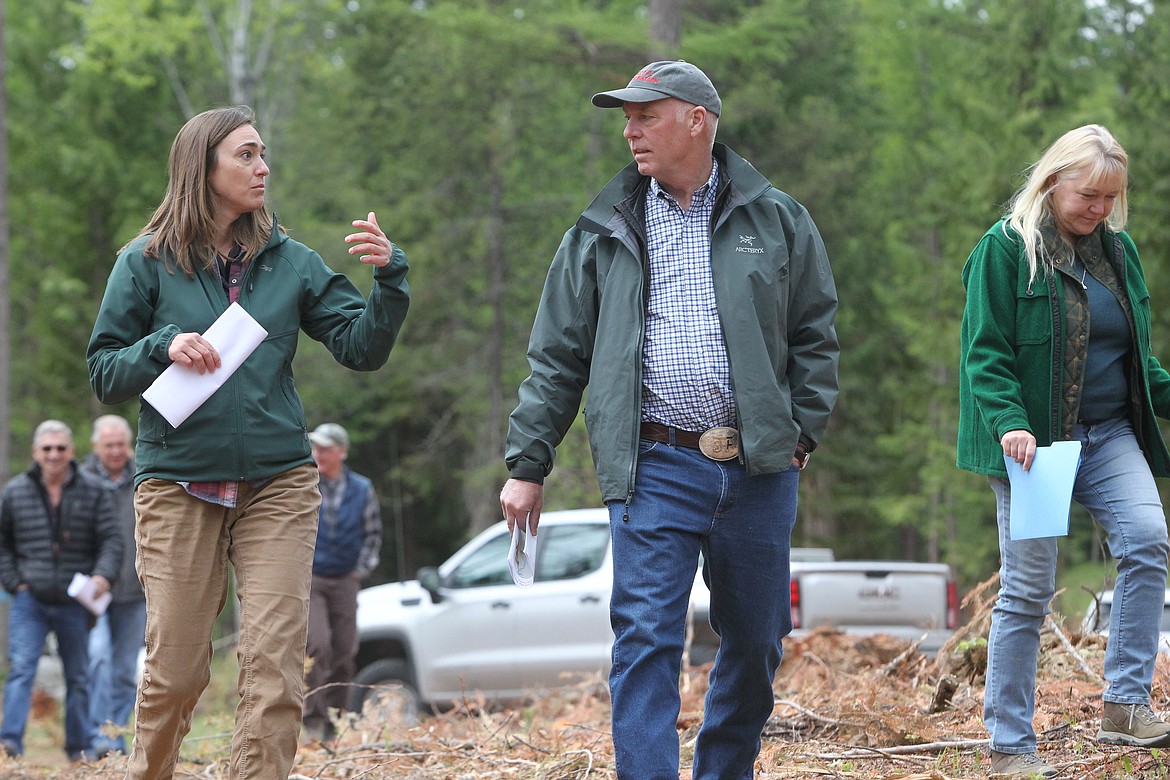 Gov. Greg Gianforte tours the Ski Dale Good Neighbor Authority project with Jodi Turk of DNRC on May 21. Gianforte touted the need for more forestry management in Lincoln County during his first visit to Libby since his election.
by
DERRICK PERKINS
Editor
|
June 8, 2021 7:00 AM
It's early days yet, but County Commissioner Mark Peck (D-1) said last week that efforts to bring a medium-density fiberboard factory to Libby are gaining steam.
"The support is lined up from industry and from the governor's office," Peck said, pointing to interest from federal agencies, private companies and politicians on both sides of the aisle to jumpstart the region's wood industry.
Peck made waves last month when he revealed plans to lure a fiberboard factory to Libby during a visit by Gov. Greg Gianforte to the area. County officials were working to house the plant in the structure commonly known as the Stinger building on port authority property, he said.
If it comes to fruition, the factory could employ 40 workers per shift, creating between 150 and 200 jobs for the region, according to Peck.
The revelation came on the heels of Peck announcing his resignation from the Lincoln County Board of Commissioners. Just six months into his second term — Peck won reelection in November — the Libby representative to the board opted to take a new position as a shared stewardship coordinator with the port authority.
The role, newly created, will see Peck serving as a liaison between businesses and government agencies to improve management of the forestland surrounding Lincoln County's communities. Fuel reduction is of particular import, especially where the forest abuts infrastructure and private property. The state Department of Natural Resources has listed Lincoln County as leading Montana in acres at risk of wildfire and degradation.
Peck — and state officials — see returning manufacturing to Libby as one way to treat the forest.
Peck reiterated that plan while updating residents on the project during last week's commissioner meeting. Healthy forests filter carbon, he said. To get back to a healthy forest, officials have a few options before them.
"We can process wood and keep it in homes and houses for 100 years or we can put it in slash piles or let it burn and it becomes a direct carbon shot," Peck said.
The severity of wildfires in recent years and the resulting carbon released into the atmosphere has made the timber industry more palatable to left-leaning lawmakers, Peck said. Managing forests has emerged as a priority among typical opponents of logging, he said, pointing to the Biden Administration's stance on forest management.
Earlier in May the White House released new steps the administration planned to take to mitigate climate change, including $1.7 billion hazardous fuels and forest resilience projects.
"It's a win-win situation all the way around," Peck said. "I'm glad to see that, from a political standpoint, they're coming to the science of the thing and not politicizing it."
Peck also said that members of Gianforte's cabinet had phoned in recent days. During his stop in Libby, the governor pledged to support efforts to bring manufacturing back to southern Lincoln County.
"The governor doesn't let dust settle on that," Peck said. "But there are a lot of things that need to happen to pull it off."
---