Farmers to Families program wraps up in county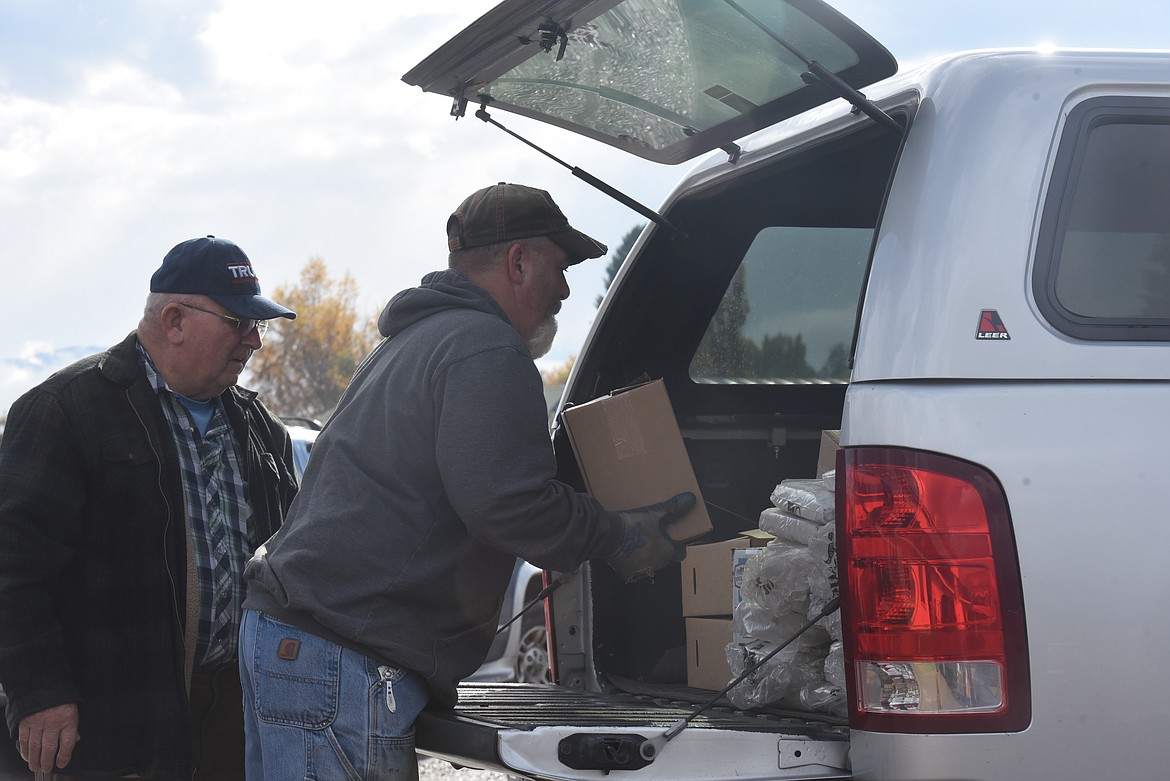 Duane Kelley, a volunteer with Lincoln County Food Box Distribution, loads boxes into the back of pickup on Oct. 21.
Will Langhorne/The Western News
by
WILL LANGHORNE
The Western News
|
June 4, 2021 7:00 AM
Lincoln County Food Box Distribution Program volunteers wrapped up their final meal giveaway last week after a year of helping locals weather the pandemic and the associated economic crisis.
During the latest iteration of the program, which ran from Feb. 11 to May 27, Roxanna Escudero, program organizer, said the group gave away 34,560 pounds of food each week to Libby and Troy residents. While Escudero has heard rumors of another federal program providing produce boxes for distribution later this summer, she isn't holding out much hope.
Since the start of the pandemic, the food giveaways have provided a safety net for many Lincoln County residents. Last year, volunteers served roughly 1,456 families each week during distribution events.
At a giveaway in October, Ada Westlake, a Libby resident who had recently suffered a heart attack, said she depended on the meals to make it through the month. Debbie Switzer, who picked up meals for the Western Montana Mental Health Center, said the distributions were a lifeline for many patients struggling with mental illness.
As of April, Lincoln County had the third-highest unemployment rate in the state at 7.2 percent, according to the Montana Department of Labor and Industry.
The local program was a branch of a national distribution network set up by the U.S. Department of Agriculture in May of 2020. To help farmers and consumers manage the economic disruption brought on by the pandemic, officials set aside more than $6 billion over the past year to fund the Farmers to Families Food Box Program. The program worked by purchasing agricultural products and dispensing them through a partnership of regional and local distributors.
Since distribution began, USDA has delivered nearly 174 million boxes of fresh produce, milk, dairy and cooked meats, according to a May 28 press release from the department.
With the program wrapped up, Escudero said she would miss the chance to work with the other volunteers every week.
"Our volunteers were incredible," she said. "I couldn't have asked for better people to be a part of the program."
To make the program possible, many volunteers took time off of work. Often they had to show up as early as 7 a.m. and occasionally worked as late as 5 p.m. Escudero noted that women comprised the majority of the group and the program relied heavily on help from senior volunteers.
Escudero said she planned to coordinate with Montana Food Bank Network in Missoula to see if Lincoln County could receive produce boxes later this summer.
---