Utility work, possible redevelopment displaces Troy renters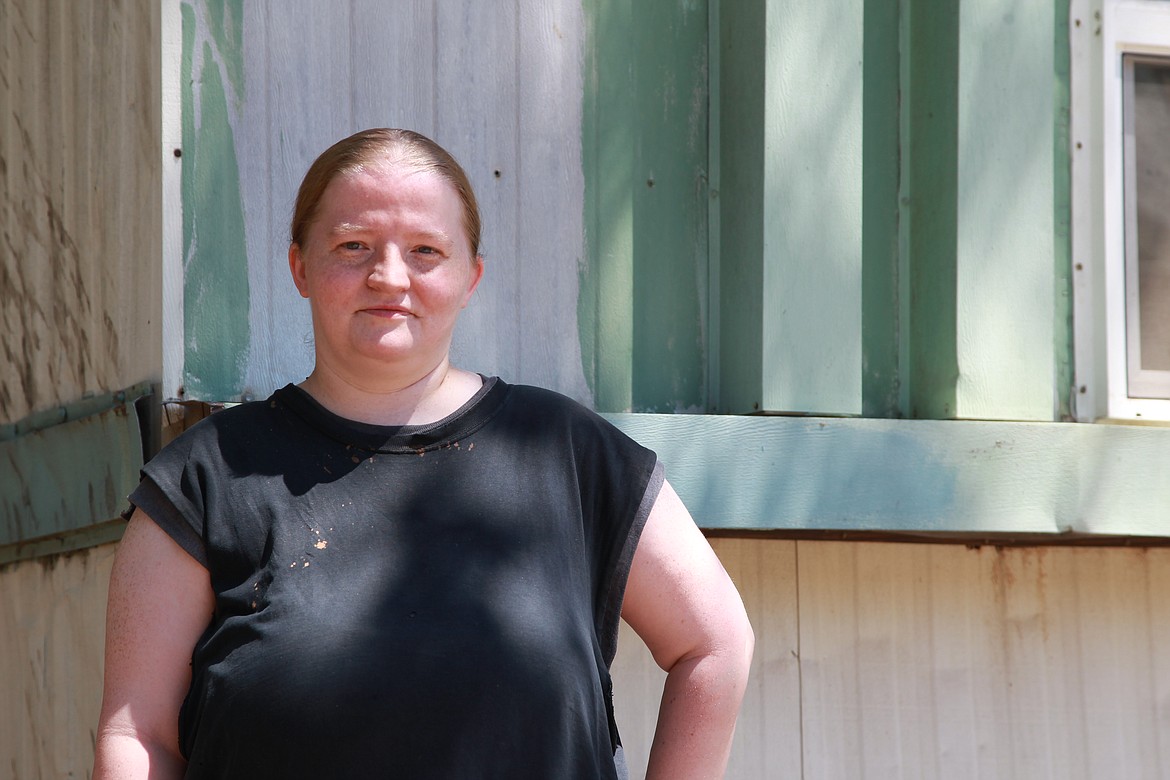 Natasha Chapel stands in front her mobile home on June 30. By August 31, she will have to have moved out of Troy Mobile Home Park according to the terms of a termination of tenancy notice. (Will Langhorne/The Western News)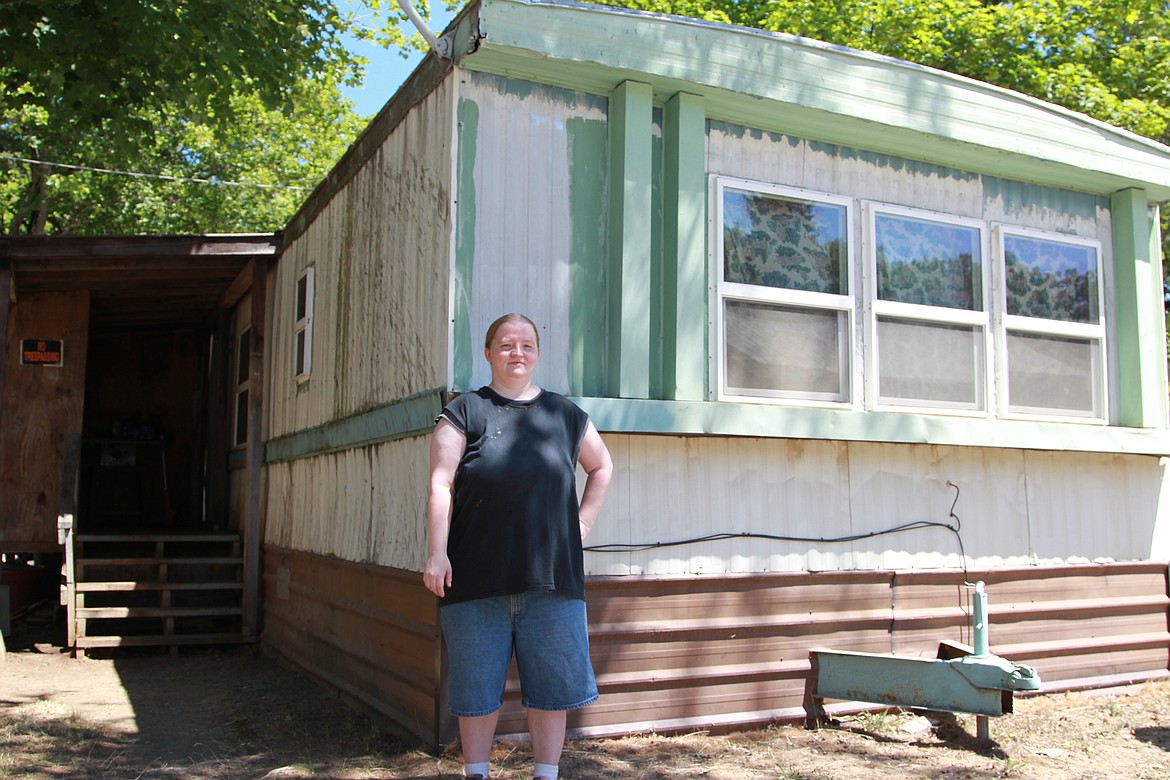 Natasha Chapel stands in front her mobile home on June 30. By August 31, she will have to have moved out of Troy Mobile Home Park according to the terms of a termination of tenancy notice. (Will Langhorne/The Western News)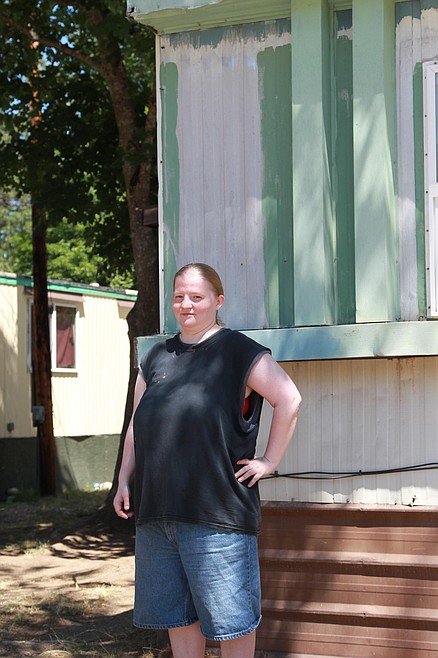 Natasha Chapel stands in front her mobile home on June 30. By August 31, she will have to have moved out of Troy Mobile Home Park according to the terms of a termination of tenancy notice. (Will Langhorne/The Western News)
Previous
Next
by
WILL LANGHORNE
The Western News
|
July 27, 2021 7:00 AM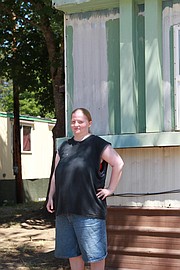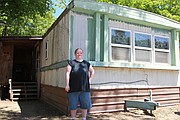 Natasha Chapel was at a loss when she received her termination of tenancy notice.
A resident of Troy Mobile Home Park, Chapel got by on less than $800 a month. When she received the notice in early June, she suddenly faced the cost of moving her trailer and finding new, affordable housing in just two and a half months.
"It took me three or four days just to calm her down," said John Olson, Chapel's uncle.
Mentally disabled, Chapel relies on Olson to handle her finances. After reviewing his niece's options, Olson had trouble fathoming how they would pay for the move.
"We're talking about thousands of dollars to move that trailer," said Olson. "Where's that money to come from?"
At least four tenants received notices from Craig Stark, park owner, in early June. In the notices, Stark cited upcoming utility main replacements as the reason for terminating his tenants' leases. Stark also alerted tenants that their lot rents would increase to $325 per month starting August 1. Olson said Chapel previously paid $264 in a month for rent and water.
Kim Vargas, who lives next door to Chapel with her husband and two children, said she and her family couldn't afford the rent increase or the $2,000 it would cost to move their trailer. While she hoped to find a buyer for their mobile home, Vargas worried they might have to tear it down.
"We're probably going to have to live in a hotel for a month until we can find a place," said Vargas.
Olson and some residents at the mobile home court said they had heard that Stark intended to put cabins on the lots once he had replaced the utility mains. Stark equivocated in an interview, saying there could be truth to the rumor, but that it was still too early to say what he intended to do with the lots.
"There's a lot of work to be done," he said.
Dave Norman, public works director for Troy, confirmed the park's utilities needed serious repairs. At least one water meter and some galvanized pipe in the park have started leaking.
While some residents wondered why Stark couldn't fix the utilities with the trailers still in the park, Norman said this approach could stretch the project timeline from a couple months to a few years. In Stark's shoes, Norman said he would have done the same.
Still, Norman sympathized with the trailer park residents, noting the limited local affordable housing options. Even with his city wages, Norman said the current real estate market was stifling. Many homes for sale in Lincoln County now top $300,000.
"How do you make a payment on that when you're making $22 an hour," Norman said. "It's going to get way worse before it gets better."
Looking for outside help, Olson turned to Danielle Maiden, the resident-owned communities program (ROC) manager for NeighborWorks Montana.
In 2018, Maiden helped homeowners at the Hartmanns Trailer Court in Libby buy the park from their landlord and create the Libby Creek Community. Under the terms of the cooperative, residents can vote on an annual budget and elect a board of directors to deal with everyday business.
Rather than giving their lot rent to a park owner, residents can reinvest it in the needs of their community. Members of the cooperative also do not need to stress over a landlord steadily raising their rents or evicting them without cause.

While residents might see their rents increase temporarily as the cooperative works to purchase their trailer court, Maiden said the cost of living in a resident-owned community can be at least $100 less than in nearby communities. Considering that mobile homes are often the only housing option available to low income families, Maiden said it is all the more important to give these residents a stake in their community.
"Manufactured housing is the only affordable housing that is not subsidized in the country," she said.
Olson was hoping to set up a similar community in Troy but Maiden said there were too few residents facing tenancy terminations to start a cooperative. A resident-owned community requires at least 10 units for the lot rent to cover the costs of the park.
Olson contacted Montana Legal Services Association to look into the legality of the termination of tenancy. After an initial conversation with a lawyer, Olson said he believes that Stark should have given his tenants at least 90 days' notice before requiring them to move out.
As of July 19, Stark said residents had not talked with him about extending the time until their leases were terminated.
The MLSA lawyer coordinating with Olson was unavailable for comment but Megan Dishong, an attorney with the organization, was able to speak generally about evictions.
An eviction differs from a termination of tenancy notice in that an eviction is the legal process a landlord must go through to have a tenant removed from their property. A termination occurs when a landlord ends their rental agreement with a tenant. A termination can, however, be the first step in an eviction.
Dishong said Montana saw a 35 percent higher rate of evictions in February of this year than in February of 2020. A significant portion of this increase came from rural communities like Troy. In urban centers that are facing a severe housing crunch, she said some landlords had begun issuing no-cause evictions to raise their rents.
While Dishong did not have any statistics on mobile home evictions, she said manufactured housing residents often switch to a month-to-month lease after the terms of their initial lease expire. This means in most cases, mobile home park landlords only have to give a month's notice before evicting their tenants.
"Tenants don't realize they are vulnerable," said Dishong. "In 30 days they can be homeless."
Hope may be on the distant horizon for residents looking for more local affordable housing options. Developers announced plans to construct 24 units of affordable housing in Libby earlier this month.
Along with offering rents as low as $450, the project would draw on coordinators with the Community Action Partnership of Northwest Montana to help residents build assets.
"This would be safe, affordable and maintainable for the individual who resides there and then we'd also have something that would happen in perpetuity," said Cassidy Kipp of Community Action Partnership during a July 6 Libby City Council meeting. "That's the vision for low income housing."
But developers expected it would take until March 2023 to complete the units, too late for Troy Mobile Home Park residents looking for immediate housing options.
With less than two months until the end of Chapel's lease, Olson was still searching for a place to move his niece's trailer. He was, however, glad to have support from Montana Legal Services and said he was coordinating with Community Action Partnership to see if the organization could offer any help.
"At least we have some time to move," said Olson. "People in higher places know what is going on."
---