Roby receives one-year sentence after jury finds her guilty of misdemeanor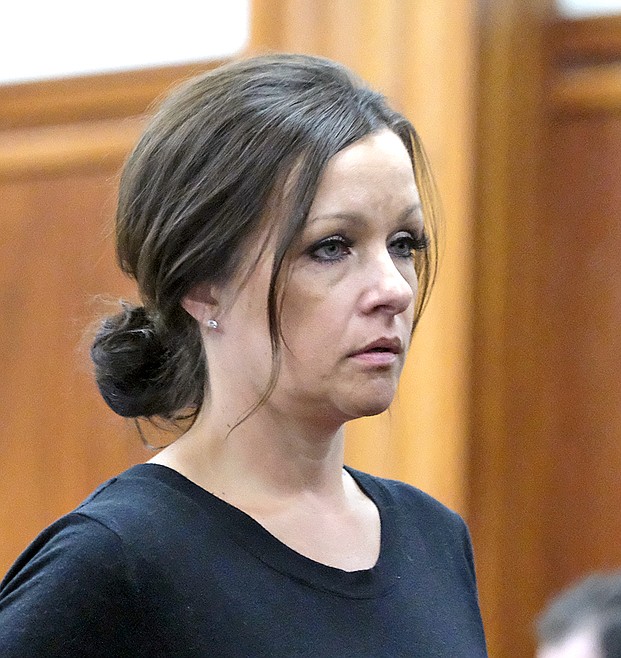 Sadie Roby, 40, at her sentencing in Lincoln County District Court on July 12. (Paul Sievers/The Western News)
by
WILL LANGHORNE
The Western News
|
July 16, 2021 7:00 AM
A Libby woman accused of assaulting her husband received a one-year sentence in Lincoln County District Court on July 12.
Sadie Roby, 40, will serve the term in the Lincoln County Detention Center with 72 hours suspended. District Judge Matthew Cuffe also required Roby to take 40 hours of anger management and a Love and Logic Parenting class after a jury found her guilty of misdemeanor partner or family member assault.
"This is a serious situation, not only because it happened but with the circumstances surrounding it and the way it happened," said Cuffe.
Roby was charged after a gathering at her house on Farm to Market Road last year turned violent. A group of friends and family including Roby's husband, Jason Roby, and her niece, Haylee Cannon, got together for drinks at the home on Oct. 4.
In the early morning hours, Sadie Roby and Cannon allegedly got into a fight over whether or not Sadie Roby's young children should spend the night at the house. Witnesses testified that Sadie Roby hit her husband during the scuffle. Trevor Cannon, Haylee Cannon's brother, told the jury he saw Sadie Roby kick Jason Roby once in the legs and once in the groin and then hit him twice in the face.
Jason Roby testified that his wife had not assaulted him.
Lincoln County Sheriff's Office deputies Luke Hauke and Derek Breiland said they did not see any marks on Jason Roby's face when they responded to the scene. The deputies did, however, find the inside of Jason Roby's mouth was bleeding. Jason Roby said the blood came from long-term gum disease but Hauke said the injury appeared to be a puncture or laceration wound.
As part of the dispute, Roby was also charged with strangulation of a partner or family member, a felony, after allegedly attacking Haylee Cannon. Roby received an assault on a minor charge after allegedly hurting or threatening to hurt her youngest son. The jury acquitted Roby of the felonies, but Cuffe noted that the presence of the young children made the misdemeanor charge all the more serious.
"There can be no argument that the kids shouldn't have seen that," said Cuffe.
---