Ronan Maidens school Lady Loggers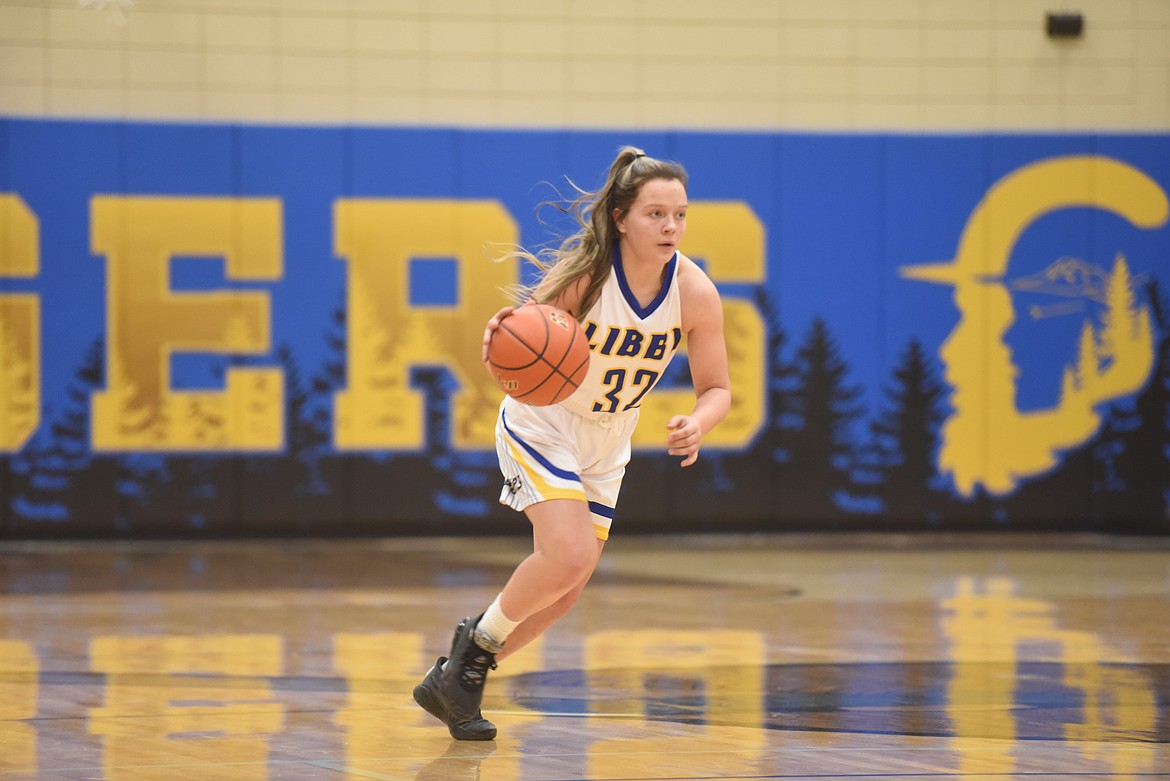 Sophomore Kinzee Boehmler dribbles the ball during the Lady Loggers' Jan. 23 game against Ronan. (Will Langhorne/The Western News)
by
WILL LANGHORNE
The Western News
|
January 26, 2021 7:00 AM
The Lady Loggers fell to the Ronan Maidens 60-24 on Jan. 23.
While Libby was able to stick with Ronan for the opening quarter, the Lady Loggers began to fall behind in the second. In the latter half of the matchup, the Maidens dominated the court.
Seniors Elise Erickson and Olivia Gilliam-Smith were Libby's top scorers with seven and six points respectively. Ronan senior Jaylea Lunceford led the Maidens on the scoreboard with 19 points.
The Lady Loggers racked up most of their points in the first quarter. Libby head coach Jackie DeShazer said Erickson found her confidence as a shooter the previous night during a game against Whitefish.
Coming out hot in the matchup against Ronan, Erickson sunk a three in the opening minutes. Thanks to buckets from seniors Faith Vaught and Gabby Fantozzi and free throws from Gilliam-Smith and sophomore Rylee Boltz, the Lady Loggers finished the first quarter behind just 13-9.
In the second quarter, Ronan presented Libby with a grating full-court press. Gilliam-Smith said the Lady Loggers focused on making diagonal cuts. The execution sometimes fell short, she said.
"It didn't seem that we could really get the person open in the middle so we kept passing into the [defense]," Gilliam-Smith said.
By halftime, the Maidens had stretched out their lead to 29-16.
Throughout the game, Lunceford challenged the Lady Loggers' defense in the paint. Standing at five-foot-nine inches, she held a height advantage against many of the Libby players.
DeShazer said at times the Lady Loggers shifted pressure from Lunceford to Ronan junior Areanna Burke. In Libby's first game against Ronan this season, Burke sunk four three-pointers. During the Jan. 23 game, Lady Loggers effectively shut her down; Burke was only able to put two points on the scoreboard.
After the game, Gilliam-Smith noted the tempo of the game sagged in the second half.
"We started off really strong in the first half," she said. "In the second half, we kind of lost a bit of our intensity."
At the end of the third quarter, the Lady Loggers trailed the Maidens 48-20.
Despite the loss, DeShazer was proud of her squad for the progress they have made since they last faced the Maidens.
"It's night and day between what it was when we were down there in Ronan," she said. "They don't give up and they work hard the entire time."
The Lady Loggers will hit the road to play Troy on Jan. 28.
---