Helen Mar Bledsoe, 90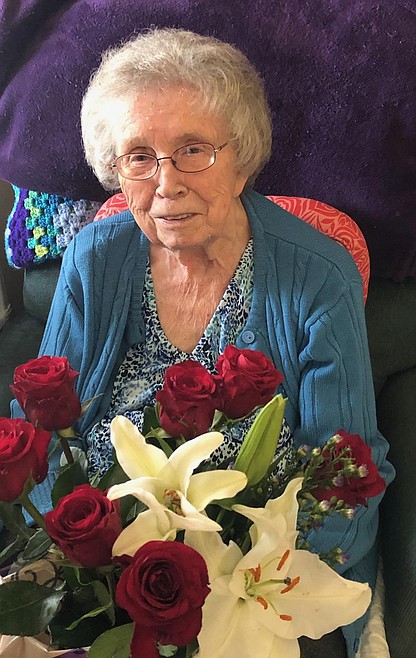 Helen Mar Bledsoe. (Courtesy photo)
|
January 22, 2021 7:00 AM
Heavenly Father gently took Helen Mar Bledsoe, who had her son at her side, by the hand and led her home to be with the Lord on Jan. 12, 2021, at the age of 90. Helen Mar was born July 27, 1930, in Berkeley, Calif., to Martin Clarence Buell and Helen Henrietta McCulloch Buell.
While still in high school, Helen Mar was active in the International Order of the Rainbow for Girls; a Masonic youth service organization that teaches leadership training through community service. She carried the values she learned while in the Rainbow Girls throughout her life.

Helen Mar's first job after high school was working as an operator for Bell Telephone in the San Francisco Bay area.
August 21, 1949, she joined the U.S. Marine Corps and proudly served through December 21, 1951, attaining the rank of Sergeant. While in the Marine Corps, Helen Mar met and married Otis Wayne Bledsoe, a career Marine. Together, they had six children: David, Laura Ann, Kathryn, Deborah, Timothy and Cyrus.
Helen Mar loved her dapper Marine husband and supported his military career, moving the family to multiple duty stations. She managed the home front during his multiple deployments to South Korea in the 1950s and South Vietnam in the 1960s. During his last deployment to Vietnam in 1969, Helen Mar moved with her children to Libby, where she became an active member of the community and St. John Lutheran Church.

While her children were growing up, Helen Mar was active in PTA, served as a Cub Scout/Boy Scout den mother and helped her children with school activities.

She also worked as an administrative assistant for Dr. Wallestad for three years. In 1976, she began work at St. John Lutheran Hospital (now Cabinet Peaks), where she worked until she retired. Her volunteer work at the hospital continued after retirement.
Helen Mar was a longstanding member of a support group for Women in the USMC.

She was a lifetime member of The Lutheran Church Missouri Synod and a faithful ambassador for Christ in everything she did. She served in St. John's Hospital Women's Auxiliary, St John's Lutheran Church LWML (Lutheran Women's Missionary League), attending several conferences over the years. She also served with the Alter Guild.

She served as a board member for St John's Lutheran School and was the director of the board for St. John's School and Day Care. She also served as a board member for Recovery Northwest, and was an active member of the Libby Women's Club.
In her spare time, Helen Mar enjoyed reading mystery novels. Her favorite authors were Agatha Christie, Tony Hillerman and Arthur Conan Doyle.
Helen Mar was preceded in death by her husband, Otis Wayne Bledsoe, in 1995; her parents, Martin and Helen Buell; her brothers, Martin and Robert; and sister-in-law, Rosemary Buell.
She is survived by her six children and their spouses: David and Kim Bledsoe, Laura Ann Bledsoe, Kurt and Kathryn Bledsoe Peck, Scot and Deborah Bledsoe Webb, Timothy Bledsoe, and Cyrus and Connie Bledsoe; 13 grandchildren, 24 great-grandchildren, four great-great grandchildren; and many nieces and nephews.
Helen Mar deeply loved her children and grandchildren and will be greatly missed.
Funeral services are planned for Jan. 29 at 11 a.m., at St John Lutheran Church followed by a burial with full military honors at City of Libby Cemetery. Viewing will be from 1 p.m. to 7 p.m. on Jan. 28 at Schnackenberg Funeral Home.

In lieu of flowers, Helen Mar requested donations be made to the Veteran's Memorial Bricks in Libby.

Arrangements are by Schnackenberg Funeral Home in Libby. Online condolences and memories may be shared at www.schnackenbergfh.com.
---