Crismore signals exit from health board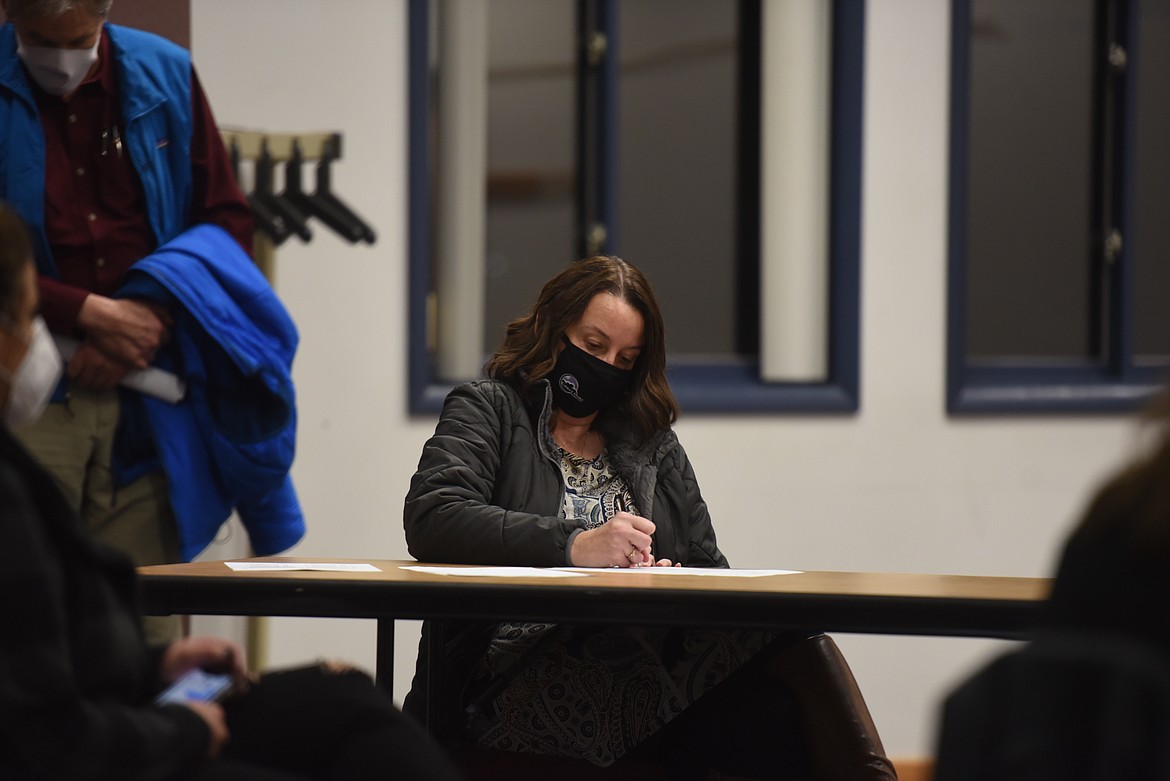 Laura Crismore, Libby representative to the Lincoln County Health Board, during a meeting in 2020. (File photo)
by
WILL LANGHORNE
The Western News
|
January 22, 2021 7:00 AM
Citing a busy schedule and a perceived interest in more diverse membership on the Lincoln County Board of Health, Laura Crismore has announced her departure from the panel.
Crismore is the fourth board member to step down or aside in the past five months.
Libby Mayor Brent Teske broke the news during a Jan. 19 city council meeting. Crismore, the city's representative to the board, sent Teske an email that weekend signaling her intention to resign.
As a quality risk manager at the Cabinet Peaks Medical Center with a master's degree in health administration, Crismore boasts more medical qualifications than many of her fellow board members. But that's not what residents or the county's elected officials have called for in recent weeks.
In her email to Teske, Crismore mentioned that at the last health board meeting, she heard "several times that we need more on the board that are not strictly medical."
Crismore also said her workload had spiked during the pandemic and she felt she was not dedicating enough time to the board.
"As we are somewhat revamping the board of health I believe it is a good time for me to step down and give someone else the opportunity to fill this role," said Teske, reading from Crismore's email.
The shifts in board membership began in November when Maggie Anderson, former Troy representative, left her seat at the end of her term. Troy Mayor Dallas Carr tapped Jim Seifert, a retired pharmacist with 40 years of experience, to take her place.
A month later, Lincoln County Commissioner Josh Letcher (D-3) replaced Commissioner Mark Peck (D-1) on the board. The move came after a group of residents from the Eureka area, largely against state and local pandemic measures, pressed commissioners to increase north county representation on the panel.
Health board membership was heavily skewed towards the county seat at the time. All three of the commissioners' appointees lived in the Libby area. Counting Crismore and Peck, five Libby area residents sat on the seven-person health board.
As Eureka's representative on the board commissioners, Letcher assumed Peck's role in a show of good faith. Though Peck brought past medical experience from his service in the U.S. Air Force, he considered his role on the board as that of a liaison. In the weeks since, commissioners have stressed that Letcher does not specifically represent his Eureka constituents on the health board.
But in hopes of adding more north county representation to the panel, George Jamison, a commissioner appointed member from the Libby area, agreed to make way for a Eureka area replacement. That will put, from a purely geographical perspective, three north county residents on the health board.
Libby City Administrator Jim Hammons* said earlier this week that he was beginning the process of advertising the city's now-open position on the health board. Libby City Hall will accept applications, which include a letter of interest and a resume, through Feb. 5. Applications can be dropped off between 8 a.m. and 4:30 p.m., Monday through Friday.
*The spelling of Hammons's name was corrected
---