Wicked winter storm leaves thousands in dark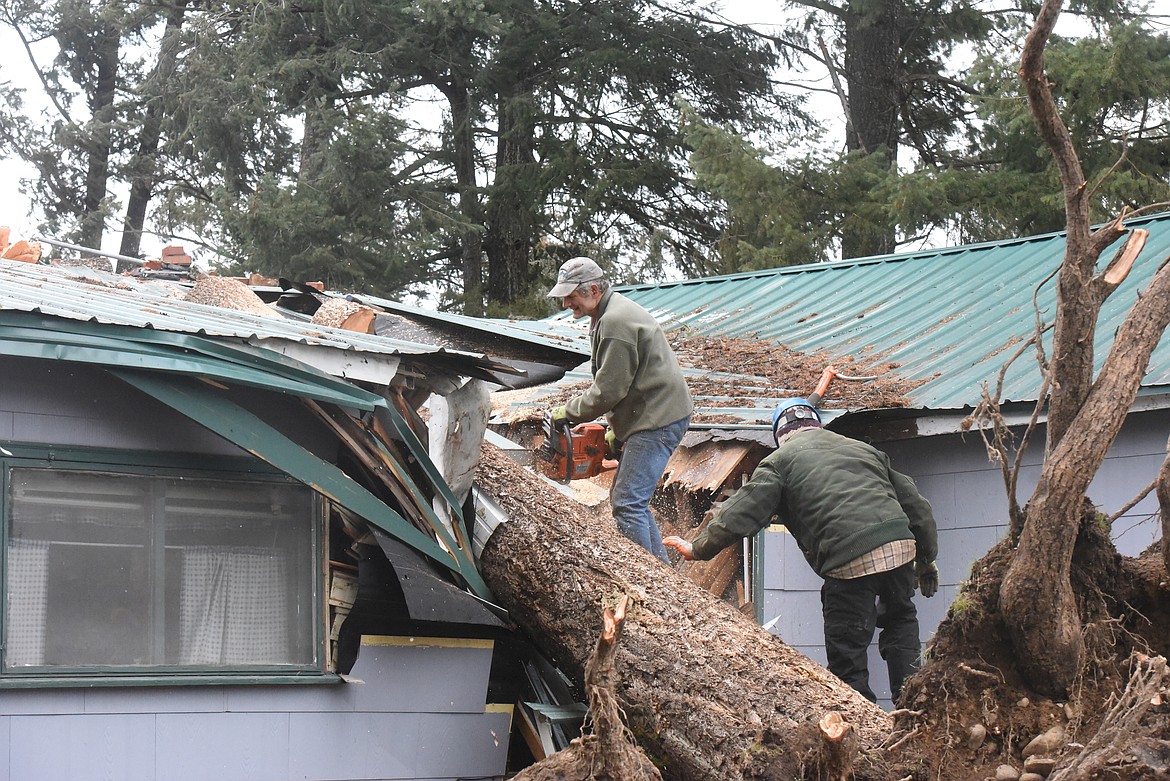 Tim Schertel, left, and Ben Schertel, right, cut up the tree that fell on Gary Neff's home on Jan. 13. (Will Langhorne/The Western News)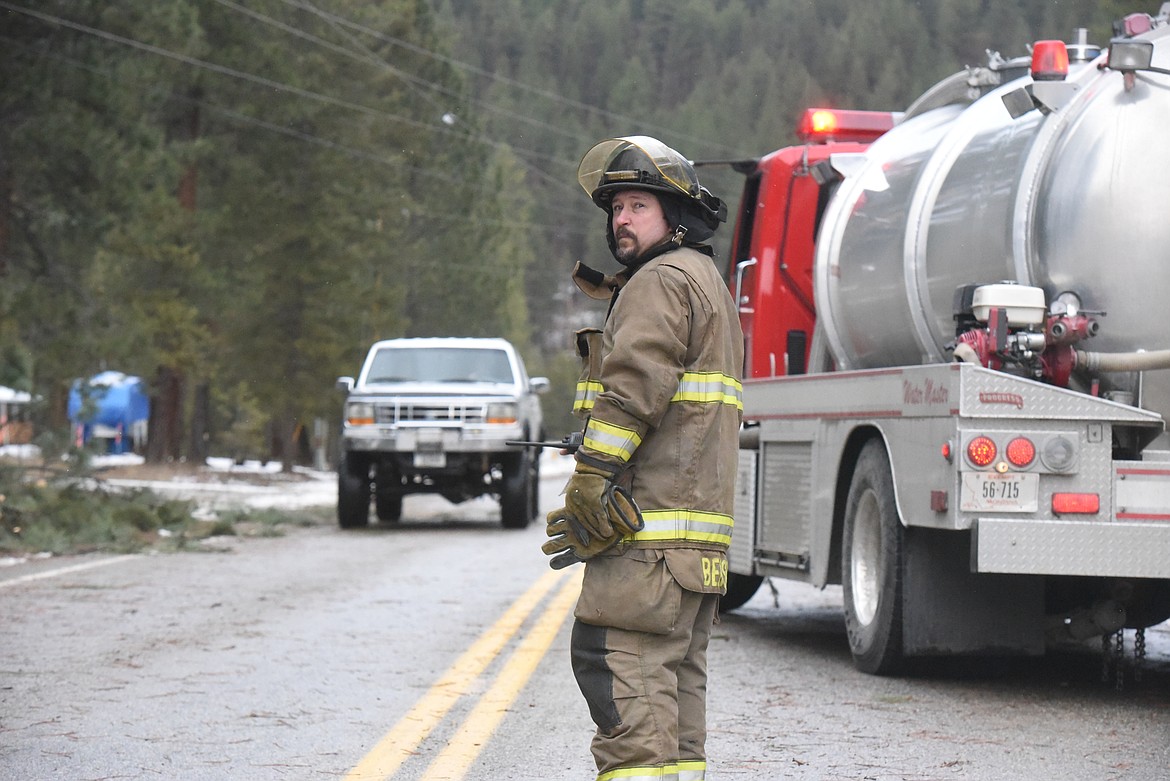 Libby Volunteer Fireman Neil Benson directs cars around a drooping power line on Kootenai River Road. Heavy winds downed power lines and trees on Jan. 13 throughout Lincoln and Flathead counties.
Previous
Next
by
WILL LANGHORNE
The Western News
|
January 15, 2021 7:00 AM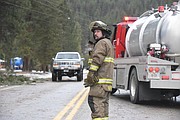 Gary Neff's morning took a turn when a tree crashed into his master bedroom around 9 a.m. While Neff and his wife were in their living room at the time, they saw the adjoining wall bow in and debris come flooding through the roof.

"I watched the whole thing happen," said Neff while a crew worked to remove the tree from his home on Balsam Street later on Jan. 13. "It scared the hell out of me."
High winds toppled trees and downed power lines across Lincoln and Flathead counties on Jan. 13. The National Weather Service in Missoula recorded gusts between 50 and 60 mph in the area. One station near Libby saw a gust of 80 mph. Wendy Ostrom-Price, a spokeswoman for Flathead Electric Cooperative, said service members recorded gusts of over 100 mph.
The storm kept local first responders and utility company employees busy throughout the day.

By the time Libby Fire Department volunteers Vince DeShazer and Neil Benson responded to a drooping powerline on Kootenai River Road, they were on their third call in less than five hours. Judging by chatter on the scanner, it wouldn't be their last that day.

"We've been running since 7 [a.m.]," said DeShazer as he directed cars around the low hanging cable.
Department volunteers responded to calls from Farm to Market Road south of town to Bobtail Road to the north.
Ostrom-Price said the storm ranked among the top five worst she had seen in her 13-and-a-half years with the cooperative. The utility company had 10 crews dispatched on Wednesday morning; one was operating in Libby, three were in Kalispell and several were in Columbia Falls and West Glacier. By Thursday, Flathead Electric had recruited two four-man crews from Rocky Mountain Contractors and another four four-man crew from outside of the Flathead.
"There was so much damage we just had service members responding to 911 calls just to make it safe for people," Ostrom-Price said on Thursday.
In some cases, utility crews would repair a downed power line only to watch it topple minutes later.
Flathead Electric reported over 150 outages affecting more than 16,500 members. The affected area spanned from Libby in the west, Big Mountain in the north, Swan Lake in the south and Nyack in the east.
The Plummer Center, site of Libby School Pre-Kindergarten and Kootenai Valley Head Start, was among the buildings that lost power. Libby administrators said in a press release they would close the building on Jan. 14 as they expected the power would still be out.
Ostrom-Price said some cooperative members might go without power until Jan. 15. As of Thursday morning, outages were still affecting roughly 8,000 members.
Crews will likely continue working throughout the weekend to secure trees that were weakened by the storm. Ostrom-Price urged residents not to approach downed lines.

"If you want to survive, assume it's live," she said. "We've seen people coiling wire after a storm."
Troy Mayor Dallas Carr said that city was spared the brunt of the storm. Though Troy experienced a power outage, it lasted only about 30 seconds.
Alex Lukinbeal, a meteorologist with the National Weather Service in Missoula, said the storm was caused by a Pacific cold front moving across northwest Montana.
---