Loggers squeak out a win over Indians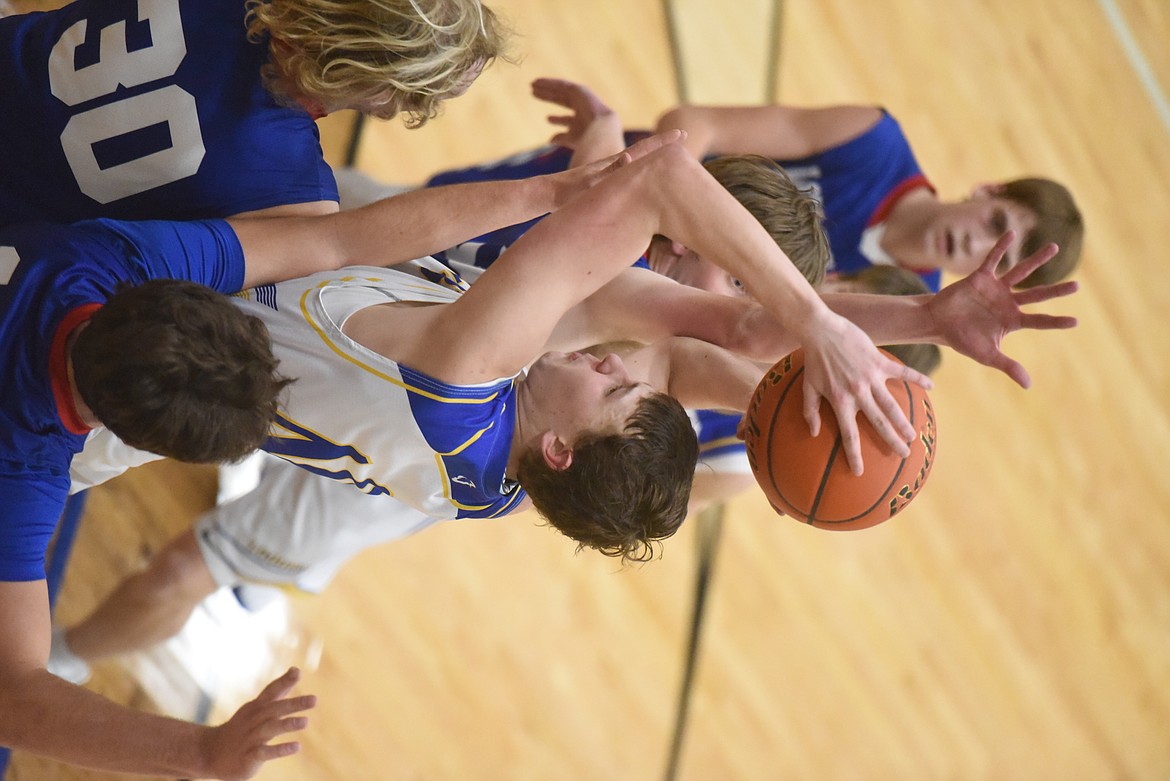 Junior TJ Andersen takes a shot during the Loggers Jan. 8 game against Columbia Falls. (Will Langhorne/The Western News)
by
WILL LANGHORNE
The Western News
|
January 15, 2021 7:00 AM
Breaking with recent history, the Loggers defeated the Browning Indians in a 48-45 nail-biter on the road.
The Jan. 9 matchup left Libby's boys varsity basketball team with a record of 1-2 on the year. Juniors Caden Williams and TJ Anderson led the Loggers on the scoreboard with 15 points each. Jesse Carlson was Browning's top scorer with 14 points.
Libby head coach Josh Bean said the Loggers' success came from their ability to control the tempo of the game. The Indians, known for their run-and-gun style, have secured past victories by wearing Libby down.
Browning opened the Jan. 9 game strong, but the Loggers kept pace.
"The first quarter ended up being a track meet [but] we were able to keep up with them in the scoring column," said Bean.
Libby closed out the first quarter leading 22-21. From then on, the rhythm of the game slowed dramatically. Bean said the Loggers were able to take care of the ball despite the Indians' aggressive press defense. Libby also excelled at securing rebounds. Senior Ryker McElmurry led the pack with seven rebounds. Sophomore Cy Stevenson, junior Ryder Davis and Andersen each racked up five rebounds.
Thanks to their ball-handling skills, the Loggers came out of the first half with a lead of 34-29.
"[We] just kind of maintained steady throughout the rest of the game," said Bean.
Points-wise, the third quarter was the quietest of the game. Libby secured six points courtesy of Andersen and Davis. Browning added another seven points on the scoreboard.
In the fourth quarter, the Indians continued to narrow the margin, racking up nine points to the Loggers' eight. Recalling the final seconds of the game, Bean said the Indians' last push nearly cost Libby the game.
"We talked about scenarios … the only way we could lose the game is to foul a three-point shooter and to let him get the ball off," Bean said. "Which is what we did."
With 1.5 seconds left, the three point shot fell short. Fortunately for the Loggers, he missed all three free throws.
Browning presents a challenge to Loggers each year. Although Bean relished the away win, he noted that the Indians are hampered by tight coronavirus restrictions this season. When they heard that the Indians' basketball season might be canceled, several of Browning's top players transferred to nearby schools in Cut Bank and Heart Butte. Academic ineligibility stemming from a shift to remote learning further weakened the Browning squad. The Indian's fan section — which normally shows up in force — was severely curtailed by Browning's spectator restrictions.
"We caught Browning in a good situation for us," Bean said.

The next time the Loggers face off against the Indians, however, Bean suspects it will be on different terms. Browning will likely regain players out for academic ineligibility by their scheduled Jan. 30 rematch.
---