Browning Indians tower over Lady Loggers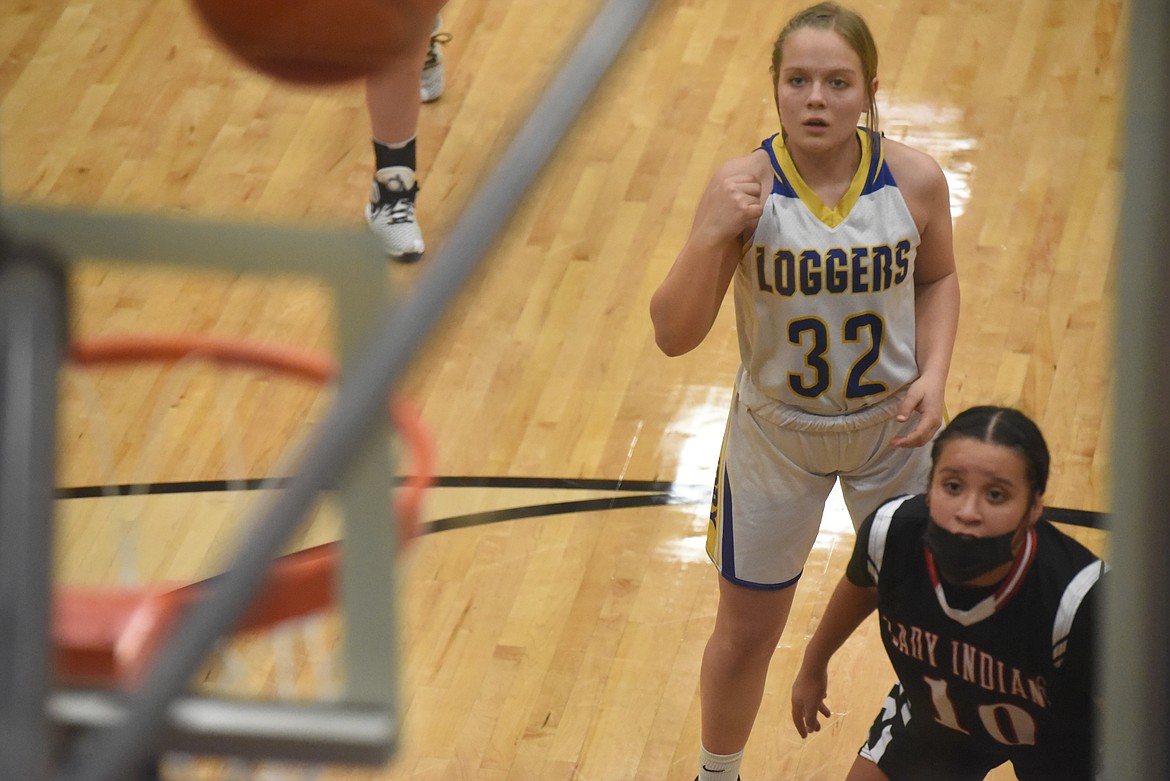 Sophomore Kinzee Boehmler, watches her shot during Libby's Jan. 9 game with Browning. (Will Langhorne/The Western News)
by
WILL LANGHORNE
The Western News
|
January 12, 2021 7:00 AM
Giving no quarter up or down the court, the Browning Indians vanquished the Lady Loggers 61-19.
The Jan. 9 loss left the Libby girls varsity basketball team with a record of 0-3.
Libby Coach Jackie DeShazer said coming off a 65-16 loss to Columbia Falls the night before made facing Browning that much more challenging. Like the Indians, the Wildkats are near the top of the Montana Class A Northwest Conference.
Both teams favor an aggressive up-and-down style that can be exhausting to play against on back-to-back nights.

Despite the adversity, the Lady Loggers showed heart in both games.
"The effort is there, the tenacity is there," said DeShazer.
Senior Elise Erickson led the Loggers on the scoreboard with six points. Senior Gilliam-Smith followed with five points. The Lady Loggers secured the bulk of their final score — 14 points — in the first half.
Browning's top scorer, sophomore Mecca Bull Child, racked up 12 points. By halftime, the Indians had put 35 points on the scoreboard.
DeShazer noted that Browning was a particularly difficult team to face, skilled both inside the paint and beyond the three-point line. Defensively, the Indians mounted a withering full-court press starting in the second quarter. The pressure on both sides of the court yielded more turnovers from the Lady Loggers.
Throughout the game, DeShazer had to change Libby's defense based on the presence of one of the Indians' standout players. At 6-foot-4-inches, Browning senior Abby Bull Calf towered over the court.
When Bull Calf was in the game, DeShazer had the Lady Loggers play man-to-man defense. When Bull Calf was on the bench, Libby switched to a zone defense to keep pressure on the Indians' three-point shooters.
The Browning game highlighted the Lady Loggers' low team-wide shooting percentage.
"We just got to get the ball in the hole more," said DeShazer. "A lot of times we're getting some really good shots. We just can't get them in."
Coming away from the Browning and Columbia Falls games, DeShazer reflected on the benefit of tempering her inexperienced players against some of the best in the conference.
"We're still early in the year," she said. "We're seeing great athletes — tall athletes — press us last night and tonight. They will learn and get better at that."
Once the Lady Loggers build up their fundamentals, DeShazer said they could start "throwing different tricks out of the bag" later in the season. Erickson echoed these sentiments following the game.
"We can just try and get better," said Erickson. "It's the beginning of the season, we've got a lot to learn."
Looking ahead to Libby's next matchup against Ronan, another team that likes to run-and-gun, DeShazer said the Lady Loggers would be working on stopping fast breaks and getting back on defense.
The Lady Loggers will hit the road Jan. 14 to face Ronan.
---