Year in Review, Part IV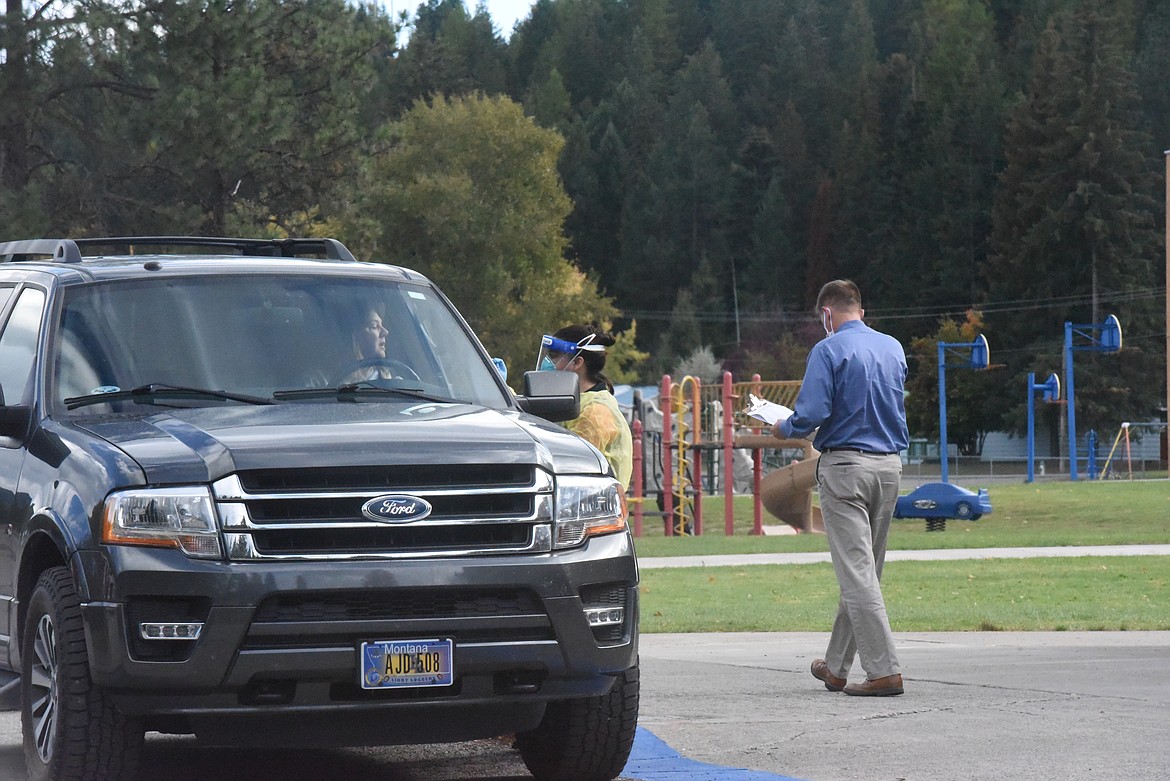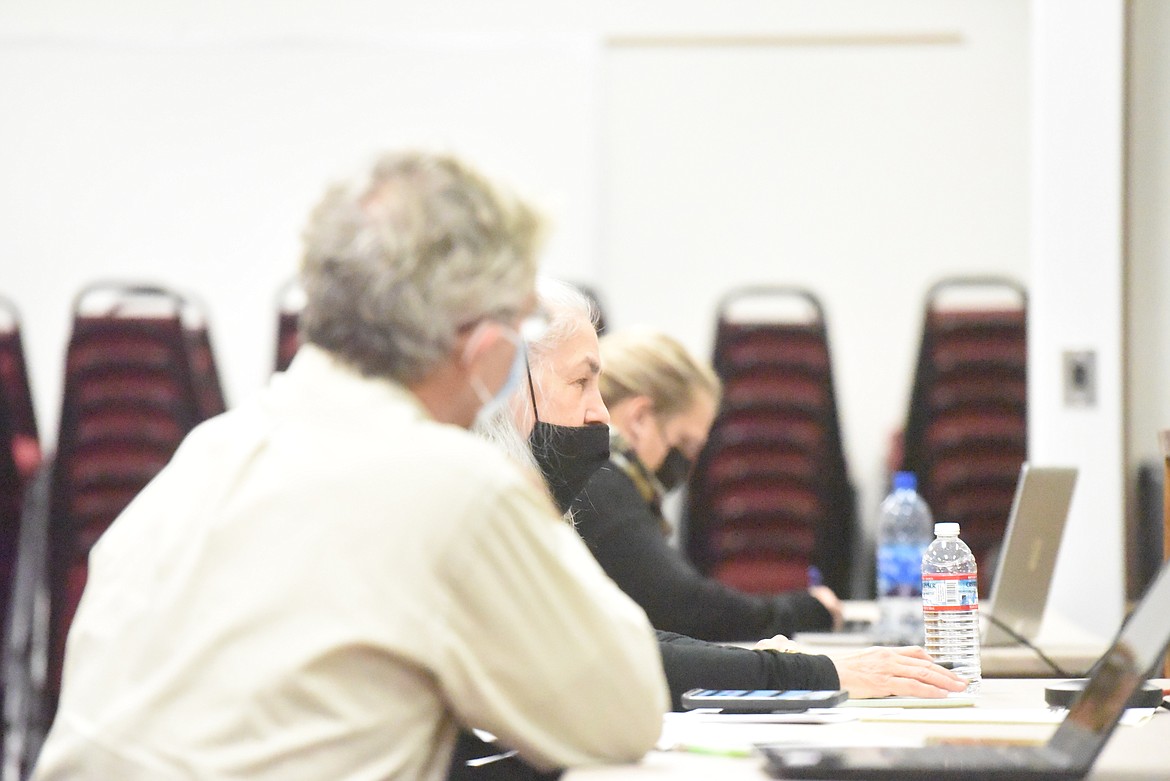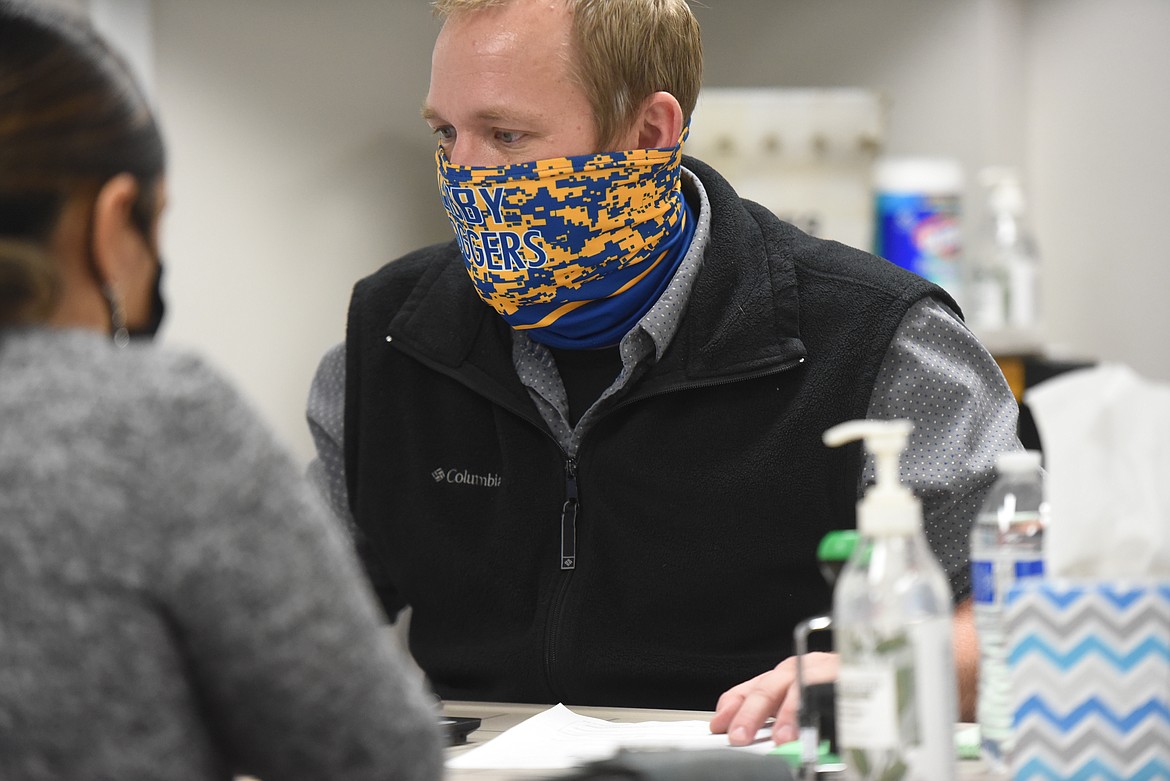 Chris Nelson, Lincoln County election administrator, assists at voter at the North Lincoln County Annex in Eureka on Election Day.
Will Langhorne/The Western News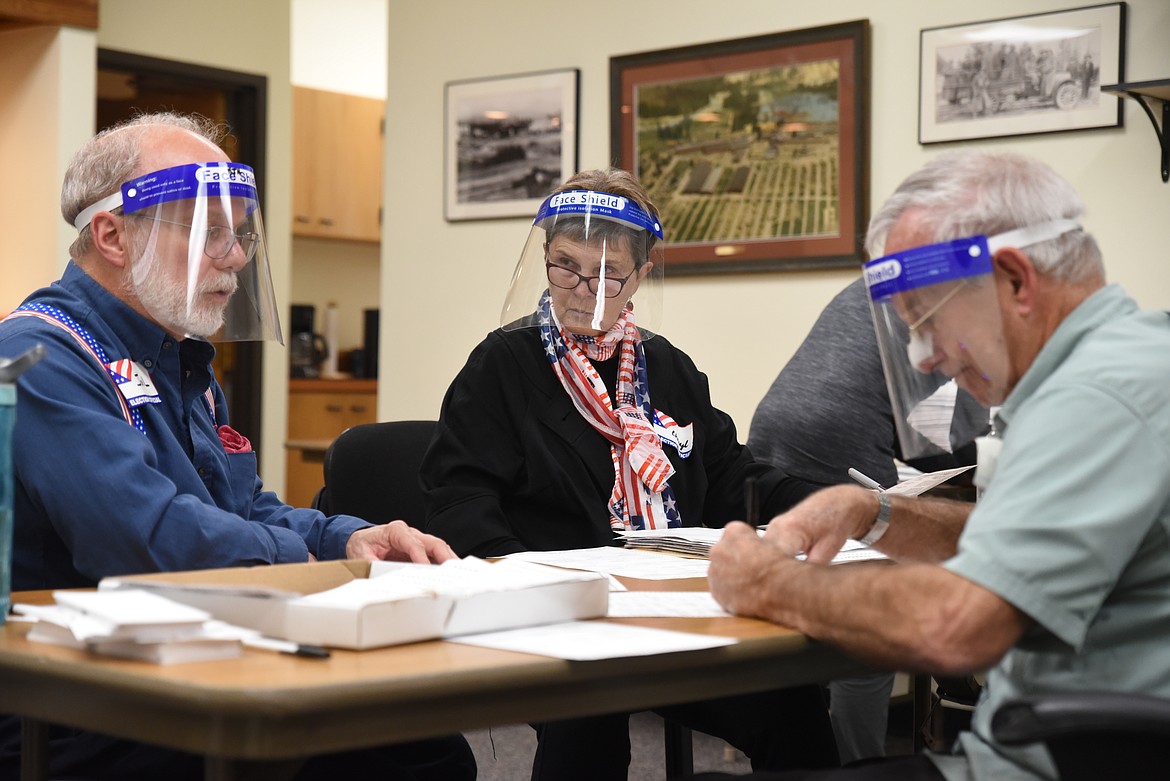 Election judges process votes at the Lincoln County Courthouse on Election Day.
Will Langhorne/The Western News
Previous
Next
by
WILL LANGHORNE
The Western News
|
January 8, 2021 7:00 AM
Join The Western News in taking a look at the biggest stories of the second half of 2020, an unforgettable year.
Oct. 9
Ballots headed out to county voters
Less than a month out from Election Day, preparations for the county's mail-in ballot plan were in full swing.
Chris Nelson, election administrator, said officials would send out ballots to over 12,000 active voters in the county starting Oct. 9. Residents could expect to receive their ballots within 10 days of the mail-out date.
In advance of the mailing, residents looking to get their ballots early could stop at the county courthouse. As of Oct. 2, Nelson said absentee ballots were available for pick up in-person.
Oct. 13
DEQ responds to commissioners's letter
State environmental officials responded to a letter sent by Lincoln County Commissioners opposing the demolition of the Rainy Creek Dam with uncharacteristic speed.
In the response, Shaun McGrath, director of the Department of Environmental Quality, thanked commissioners for their input in the deliberations surrounding the future of the former W.R. Grace mine.
The missive sent by county commissioners called on state agencies and EPA officials to tailor their cleanup solutions to a set of local requests. Their primary concern was the retention of the Rainy Creek Dam, or Kootenai Development Impoundment Dam.
Created to hold back asbestos-laden tailings, the structure is undergoing renovation work. Commissioners worried that if the dam to be replaced by several new dams closer to the top of Vermiculite Mountain, the Kootenai River could be exposed to material the Rainy Creek Dam had held back for years.
Commissioners also called on state and federal officials to manage water runoff, limit construction, create an interagency fire response plan and develop a public outreach and educational campaign focused on the site.
Oct. 30
Libby Middle High School switches to remote learning on Oct. 19
Libby administrators suspended in-person learning at the Libby Middle High School and Libby Elementary School after health officials confirmed more coronavirus cases in the district.
Superintendent Ron Goodmanclosed the elementary school on Oct. 14 after learning the virus had spread between school staff the day before. As staff members became infected, Goodman realized that the district would not have the numbers to keep the elementary school open. He suspected that health department officials would quarantine too many employees for the school to keep holding in-person classes.
Students at the elementary school remained on a remote learning schedule until Oct. 28. Middle high school students went remote for a week beginning Oct. 19.
Oct. 30
EPA closes Libby office as state inks funding deal for ARP
EPA officials closed up shop after overseeing more than 20 years of asbestos cleanup in Lincoln County. Beth Archer, community involvement coordinator with the EPA, said the agency shuttered its Ninth Street center on Oct. 23.
During their tenure, EPA officials oversaw more than $500 million spent and over one million cubic yards of contaminated soil removed as part of cleanup efforts.
While EPA officials continue to study the W.R. Grace vermiculite mine site, they have completed clean up in all other operable units. Oversight and maintenance of residential and commercial properties in Libby and Troy was transferred to the Montana Department of Environmental Quality in July.
Although funding from the EPA was delayed by nearly three months, DEQ will have access to millions of dollars for continued maintenance costs
Nov. 3
Residents again lobby commissioners to reject pandemic measures
A coalition of residents opposed to mask mandates and vaccinations, again urged county commissioners to revise local public health responses to the coronavirus and defy statewide COVID-19 restrictions.
During an Oct. 28 county commissioner's meeting, the group presented arguments for the second time in two weeks that a possible vaccine would alter the DNA of Americans and that local pandemic measures were unconstitutional.

The local lawmakers offered little more than moral encouragement. Following the meeting, County Commissioner Mark Peck (D-1) said there were no plans to disband or reshuffle the health board. He also dismissed any accusations that Dr. Brad Black, public health officer, was profiteering from the pandemic.
Nov. 6
Duram Gunderson headed back to Helena; Brooks, Peck secure reelection
Up and down the ballot, Lincoln County went red in the Nov. 3 general election,
Voters returned incumbent state representatives Steve Gunderson (R-Libby) and Neil Duram (R-Eureka) to Helena. Republican County Commissioner Mark Peck (D-1) and Republican District Court Clerk Tricia Brooks ran unopposed in their respective races.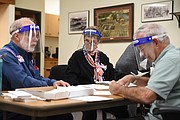 Republican candidates for U.S. Congress and gubernatorial races handily won Lincoln County. President Donald Trump secured 8,516 votes while former Vice President Joseph Biden trailed with 2,812 locally.
Lincoln County voters narrowly supported Constitutional Initiative 118, which would allow the state to set a legal age for purchasing, consuming or possessing alcohol. Initiative 190, which would legalize the possession of marijuana also saw a slim majority of support in Lincoln County. A legislative referendum, which would remove local government authority to regulate the carrying of permitted concealed weapons passed in Lincoln County.
Nov. 13
Second COVID-19 death at the Libby Care Center
Administrators at the Libby Care Center of Cascada confirmed a second death related to COVID-19 in November.
Rachel Toland, facility administrator, told the Lincoln County Health Board that ten residents had contracted the virus since Oct. 14. Two of the patients recovered while six remained in the center's COVID-19 unit. Administrators reported the first resident death related to the virus on Oct. 29.
As of Nov. 10, seven employees had tested positive for the virus. Six had recovered and one remained under quarantine.
Nov. 17
Hecla completes remediation work at Troy Mine
Hecla Mining Co.reached a crucial milestone after four years of restoration at the Troy Mine.
Officials said the company completed remediation efforts at the mine's tailing storage facility. The achievement led the Montana Department of Environmental Quality to release a third — or $7,953,340 — of the reclamation bond they hold on the site.
Following a plan laid out by DEQ officials, Hecla has placed more than 500,000 cubic yards of soil, planted more than 200,000 seedlings and seeded over 350 acres of the site since 2017.
In coming years, the mining company will focus its efforts on the restoration of the former mill facility.
Nov. 20
Elementary school closes again
Libby Elementary School switched to a fully remote schedule which it maintained for most of the rest of the month.
Superintendent Ron Goodman announced the change after health department officials placed an additional nine staff members at the school in quarantine. In total, 13 employees at the elementary school were in quarantine when the switch occurred.
Health officials were unsure if the virus had spread within the building. They were, however, seeing an increase in the number of students that had tested positive or were symptomatic.
On Nov. 11, the Libby Middle High School went remote. Both schools resumed in-person instruction on Nov. 30.
Nov. 20
Konzen remembered as tireless educator, elected official
Lincoln County lost a committed local educator and elected official in November.
John Konzen, 77, died Nov. 3 leaving behind a nearly 50 year legacy of public service. During his career, Konzen worked as the athletic director for Troy Public Schools, the principal of Troy Junior and Senior High School and as a Lincoln County commissioner.
As an educator, he was one of the first in the region to adopt Advanced Placement and college dual credit courses. He also led the integration of computers and networks in schools in the area.
While on the board of commissioners, Konzen gave input on school and community issues to state lawmakers. His advocacy for improving rural education even took him to Capitol Hill.
"He was a guy that was more than willing to do his part and more than that," said his son-in-law Wally Winslow. "It seemed like he had a bottomless reservoir of time to allocate."
Nov. 24
New election administrator resigns from post
No more than a week after Election Day, Lincoln County's newly appointed election administrator resigned from his post.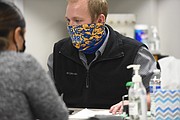 Chris Nelson handed in his letter of resignation on Nov. 9, according to Robin Benson, county clerk and recorder. While Nelson did not respond to phone call requests for comment, County Administrator Patrick McFaddensaid Nelson left the job for personal reasons.
McFadden said he could not discuss the specifics of the resignation. Susan Ames, office manager for the Montana Secretary of State's Office said she was not aware of any complaints filed against Lincoln County election officials.
County Commissioner Mark Peck (D-1) commended Nelson's handling of this year's election process and said he was sad to see him go. Nelson assumed the position of election administrator in August when former Election Administrator Leigh Riggleman stepped down. County officials gave no reason for Riggleman's resignation.
Nov. 27
Federal and state officials investigate illegal grizzly bear killing
Authorities investigated the illegal killing of a grizzly bear four miles from the Yaak on Pipe Creek Road.

Wynne Zellmer, a Yaak resident, said a neighbor called him around 11 p.m. on Nov. 20 after spotting the carcass of an adult female grizzly bear in the driveway of his secondary property. It appeared poachers had shot the bear and dumped it on his lot. Its legs had been removed and it was partially skinned.
Dillon Tabish, regional information and educational program manager for Montana Fish, Wildlife and Parks said state and federal officials were investigating the death. Residents with tips may call 1-800-TIP-MONT (1-800-847-6668). In addition to a state reward of at least $1,000, callers may receive $50,000 from environmental groups for any information that leads to a conviction.

Dec. 11
Letcher replaces Peck on health board
The county commissioner seat on the health board swapped hands as part of a drive to make the group more representative of the county.
County Commissioner Josh Letcher (D-3) of Eureka replaced Commissioner Mark Peck (D-1) of Libby. The change came after a push from north Lincoln County residents to secure more seats for the Eureka area. Residents committed to this approach after their lobbying efforts to disband the health board and oust Health Officer Dr. Brad Black failed.
This pressure put Dr. Sara Mertes's position on the board in peril. With her term expiring at the end of the calendar year, north Lincoln County residents opposed her reappointment. County commissioners held off on their nomination of Mertes at a subsequent meeting.
Dec. 15
Board backs health officer but not health order
Lincoln County Health Board members offered praise to the county's top doctor but withheld endorsement for future public health measures.
For the second time in nearly two weeks, Dr. Brad Black returned to the board with an updated local health order that would bring the county's pandemic measure up to date with Gov. Steve Bullock's tightened restrictions.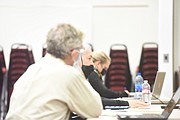 Jim Seifert, board member, made a motion to show support for Black. County Commissioner Josh Letcher (D-3), pointed out that the action item before the board was on Black's proposed health order and whether its members supported him. Seifert later withdrew his motion.
Dec. 18
Hunters restricted from former Weyerhaeuser lands
The Georgia-based reality company that purchased 630,000 acres of Weyerhaeuser timberlands in Montana has begun selling off parcels.
While Southern Pine Plantations pledged to maintain public access after it purchased the lands in March, not all of the new owners in Lincoln County seem to be following their lead. Eric Moody, a land specialist with the company, said Southern Pine encourages buyers of large tracts of land to retain public access.
In Lincoln County, however, the company has not conducted a sale of that size. Locally, buyers have shown a preference for smaller parcels on which they were more likely to build a house than dedicate to public use.
Dec. 25
Commissioners cannot dismiss health board
Due to a system of checks and balances, the Lincoln County Board of Commissioners does not have the authority to unilaterally disband the health board.
Commissioner Mark Peck (D-1), former member of the board, said officials choose a city-county health board model. The board is thus a joint enterprise between commissioners, mayors and city councils.
The health board itself is constrained by certain restrictions and obliged to carry out certain responsibilities. One of the board's key duties is the appointment of the public health officer. While the health officer may issue orders without the board's approval, the board has the power to replace him.
---