Greenchain ready for the mat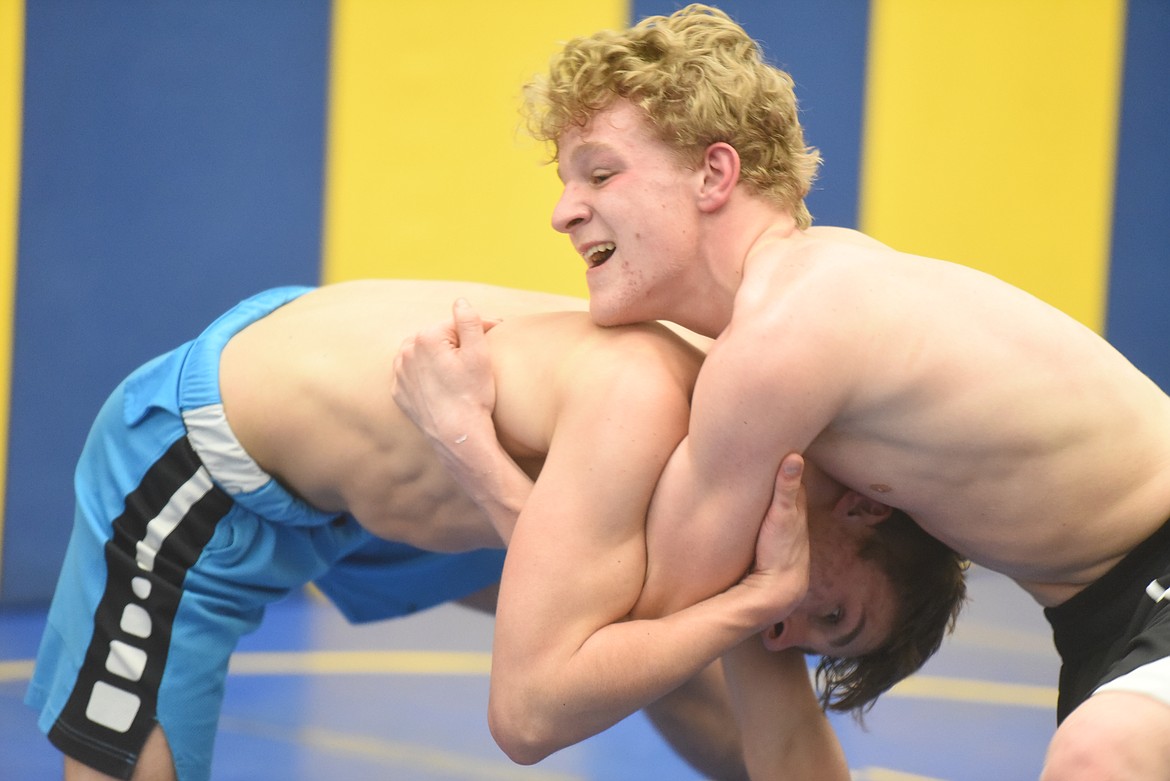 Seniors Zack Morrison, top, and Xander Spady, bottom, grapple during a Jan. 5 wrestling practice. (Will Langhorne/The Western News)
Will Langhorne/The Western News
by
WILL LANGHORNE
The Western News
|
January 8, 2021 7:00 AM
After a month of honing their technique and conditioning, Greenchain wrestlers are getting ready to grapple in their Jan. 8 season-opening dual.
For the seniors on the team, this year presents a welcomed and somewhat unexpected final shot at the state championship.
"[We're] taking in everything we can because of the pandemic," said Zack Morrison, "I didn't even think we'd be able to wrestle this year so it feels good to be out here."
In his sophomore year, Morrison placed high at divisionals but fell short at the state tournament. Last year, wrist surgery kept him off the mat. Back in shape, he's set his hopes on securing a divisionals title and placing high in the state final.
"I'm really hoping the season gets to carry on and we don't get shut down or anything," said Tucker Masters, another senior.
After a strong showing at divisionals last year, Masters fell short of placing at the state championship in the blood rounds. In his final year on the team, his sights are set on winning divisionals and placing first or second at state.
Coach Dean Thompson said the team is heading into the season with a solid month of training under their belts. Due to new statewide guidelines designed to mitigate the spread of the novel coronavirus, Libby wrestlers were able to train throughout December before their first matchup against Ronan.
"We've got to go over a lot of technique … at the beginning of the season," said Thompson. "The last couple weeks after Christmas we started hitting them with more conditioning."
To help bring younger wrestlers up to speed, Thompson has counted on the help of Masters, Morrison and the other seniors on the team: Cody Crace and Xander Spady, who placed fourth at state last year.
Masters said the key for the team this year would be staying mentally tough. Morrison agreed, saying confidence would be a focal point for his season.
"Just not losing before I get on the mat," he said. "No matter who I'm wrestling, just going out there and give it all I've got."
Roughly 18 students came out for the team this year, including three freshmen from Troy. Greenchain wrestlers will have the chance to compete in 13 different weight categories ranging from 113 pounds up to a 285-pound heavyweight class.

Owing to guidelines designed to limit contact between teams, wrestling squads will compete primarily in duals with one other school at a time rather than multi-team tournaments. Thompson said it was a shame to miss out on classic competitions the team had attended for 20 or more years, such as the Tri-State Tournament in Coeur d'Alene, Idaho, the Superior Tournament and the Rocky Mountain Classic.
Nevertheless, he admitted that competing in smaller-scale duals would bring the Logger squad closer together.
"We're just glad we're on the mat wrestling," he said.
---