Gianforte: Public health directives will change in coming weeks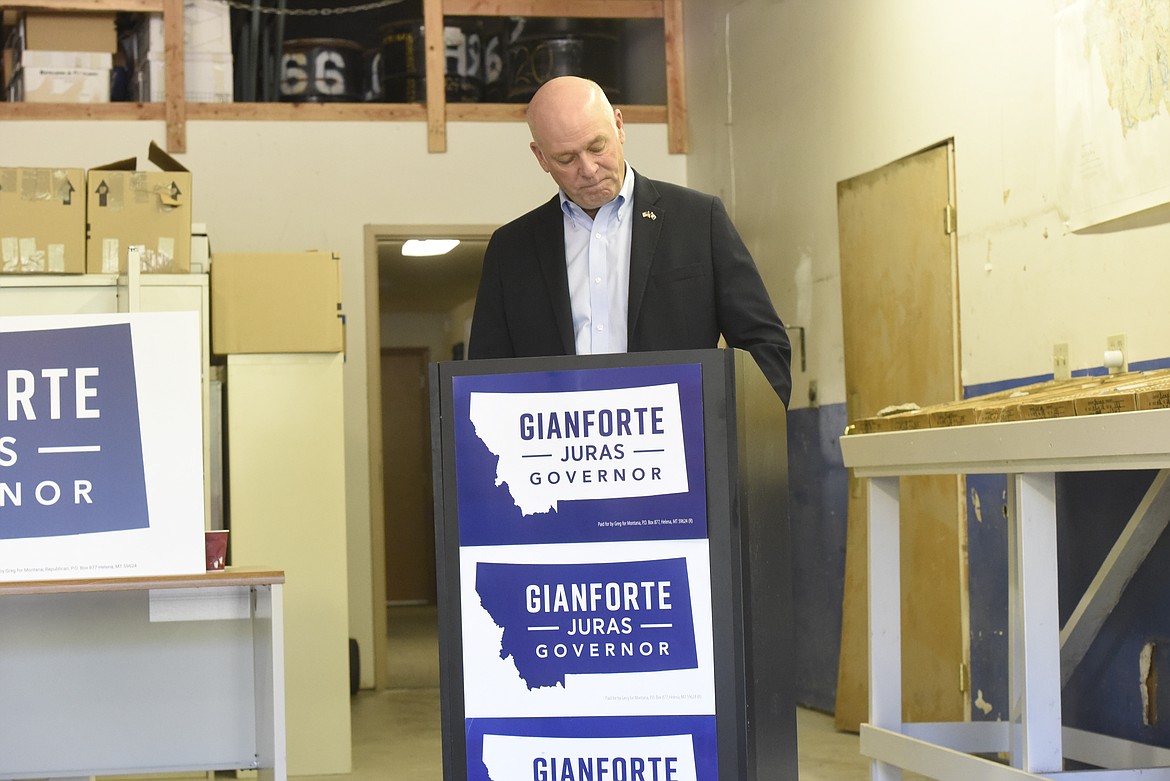 by
WILL LANGHORNE
The Western News
|
January 8, 2021 7:00 AM
Gov. Greg Gianforte said he would not immediately repeal the statewide mask mandate despite leveling criticism at the directive while on the campaign trail.
The newly sworn-in Republican governor announced Jan. 5 that he would wait to rescind the mandate until more vulnerable people receive the coronavirus vaccine and legislators put a bill on his desk that would protect schools, places of worship, business and nonprofits following public health guidelines from lawsuits.
Without specifying how many vulnerable people would need to be vaccinated before he lifted the mandate, Gianforte said residents could expect changes in the statewide health orders in a matter of weeks, not months.
In the wake of the press conference, Kathi Hooper, county health department director, said Public Health Officer Dr. Brad Black would rescind his local order when the statewide directive expired.

Both the statewide and local mask mandate require face coverings to be worn in indoor public spaces and outdoor events where social distancing is not possible or ignored. Black's order was briefly more stringent than those enacted by former Gov. Steve Bullock in that it did not include a case count threshold. Bullock did away with the four case threshold as cases increased statewide late in the year.
During the Jan. 5 press conference, Gianforte said his coming public health policies would reflect the public and economic crises in Montana.
Business owners have reacted most passionately to directives that limit their capacity to 50 percent and require bars, restaurants and casinos to close by 10 p.m. Gianforte said he would have "news within days on some of these business restrictions."
Speaking generally, Gianforte described his forthcoming policies as including incentives for following public health guidelines rather than imposing restrictions. These incentives would include protection against litigation for businesses, nonprofits, places of worship and other entities that adhere to public health policies. He also said he would work to expand coronavirus testing at no cost to residents, but did not provide specifics.
To protect those most vulnerable to the virus, Gianforte announced modifications to the state's vaccine distribution plan. After frontline healthcare workers receive their doses, officials will prioritize Native Americans, Montanans over 70 or between the ages of 16 and 69 with underlying health conditions. The latter two groups make up about 250,000 residents.
The change means some essential workers will receive their vaccines later than they would have under the plan developed by the Bullock administration.
At least one organization has already voiced its opposition to the new plan. Montana Federation of Public Employees, the state's largest union, condemned both Gianforte's intent to drop the mask mandate and his decision to delay vaccinations for teachers, school employees and other front-line workers.
"The threat to lift Montana's mask mandate coupled with the decision to delay vaccinations for education and frontline workers undermines and delays efforts in nearly every Montana community to keep schools open and our economy moving forward," Amanda Curtis, president of MFPE said in a Jan. 5 press release.
Gianforte defended his plan saying that by protecting those most vulnerable, his administration would minimize deaths and hospitalizations from the virus. If a teacher or front-line worker has an underlying health condition or is over 70, their access to the vaccine is fast-tracked under the new policy.
"We are not out of the woods yet," he said. "We continue to see deaths, we continue to see infections. That's why it's important that we continue the rollout of this vaccine and focus on the most vulnerable in our communities."
As of Jan. 6, Montana had seen 1,015 deaths related to the coronavirus and 84,060 confirmed cases, according to the state Department of Public Health and Human Services.

Under Gianforte's vaccination plan, the general public is expected to receive doses in July.
More than 23,000 Montana health care workers have received their first vaccine dose. Another 41,000 vaccine first doses are slated to arrive in the state within the coming weeks.
---