An energized Loggers squad prepares for the court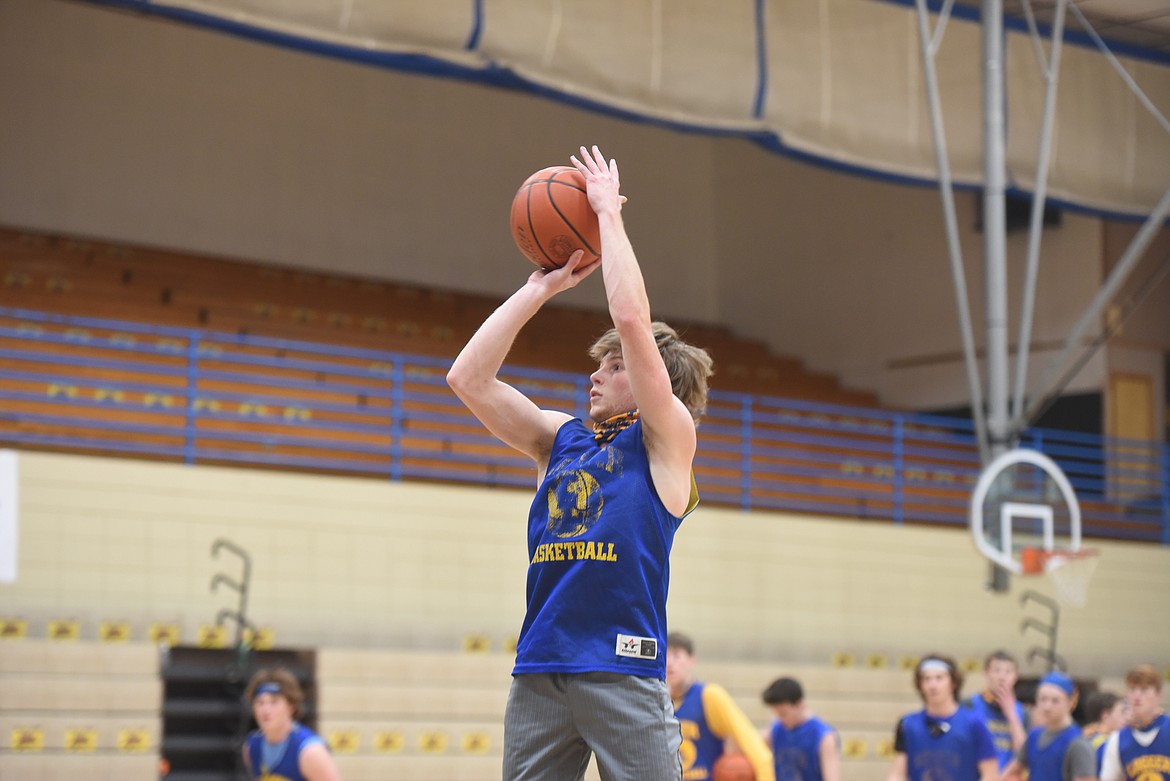 Senior point guard Jay Beagle takes a shot during practice on Dec. 16. The Logger basketball team started preparing for this year's delayed season on Dec. 7. (Will Langhorne/The Western News)
Will Langhorne/The Western News
by
WILL LANGHORNE
The Western News
|
January 5, 2021 7:00 AM
Although their season might have been delayed by a month, the Libby Loggers were ready to hit the courts dribbling on Jan. 2 in their first game against Frenchtown.
"Practice has been going really well," said coach Josh Bean before a Dec. 16 practice. "The kids have a lot of energy ... It just goes to show that they've had more time off than they've ever had between football and basketball."
In an attempt to flatten the coronavirus pandemic curve, the executive board of the Montana High School Association decided to delay the start of winter sports. Basketball teams across the state began practicing on Dec. 7.
Adapting to new practice guidelines has presented certain challenges. Keeping athletes grouped in pods throughout drills has required extra thought and coordination. Following sanitization recommendations has tacked time on to training.
"Never in my life have I ever cleaned the basketballs after a practice," said Bean.
Despite this year's unconventional hurdles, the Logger's preparation for the upcoming season progressed smoothly. Bean attributed the players' fluidity in moving between drills to their experience. Four to five of the team's best players saw significant time on the court last season.
As in years' past, Bean plans to use the Logger's tried and true man-to-man defense. Reinforcing the mechanics of this system will be one of the team's primary focuses going into the season.
Coaches are also hoping to develop defensive rebounding skills before the first tip off. Bean noted that this deficiency has plagued Libby in the past.
"Several times at practices, we're after kids for not boxing out," he said.
While the team has some length this year, Bean has found that the Loggers lack in weight compared to other squads. Teaching players to use their height to their advantage against beefier opponents has been an important point in this year's training.
The Loggers haven't organized any weight training practices, but coaches do open the weight room for players who are interested in increasing strength.
The team's strategy for this season is to get the one or two seed in the Class A western conference. This would secure the Loggers an automatic buy into divisionals.
"[We'll] play hard at divisionals and see where we can get from there," said Bean.
Senior point guard Jay Beagle said that, while he appreciated the rest between this year's football and basketball seasons, it was a shame to have lost some of the conditioning. To stay in shape, senior guard Ryker McElmurry said he had been going to open gyms to work out.
Caden Williams, junior strong forward and shooting guard, deemed the Loggers' offense this year stronger than last year's.
Many of the Loggers expressed confidence about their season opener against Frenchtown. As long as the squad played hard, they would walk away with a favorable result.
"The one thing we are going to attack this [season] with is to be grateful and cherish every moment that we have an opportunity to play this great game," Bean said. "We're going to work hard and do the best that we can to get ready for our season."
The Loggers season opener against the Broncs will be played at home.
---