Greenchain wrestlers look forward to hosting divisionals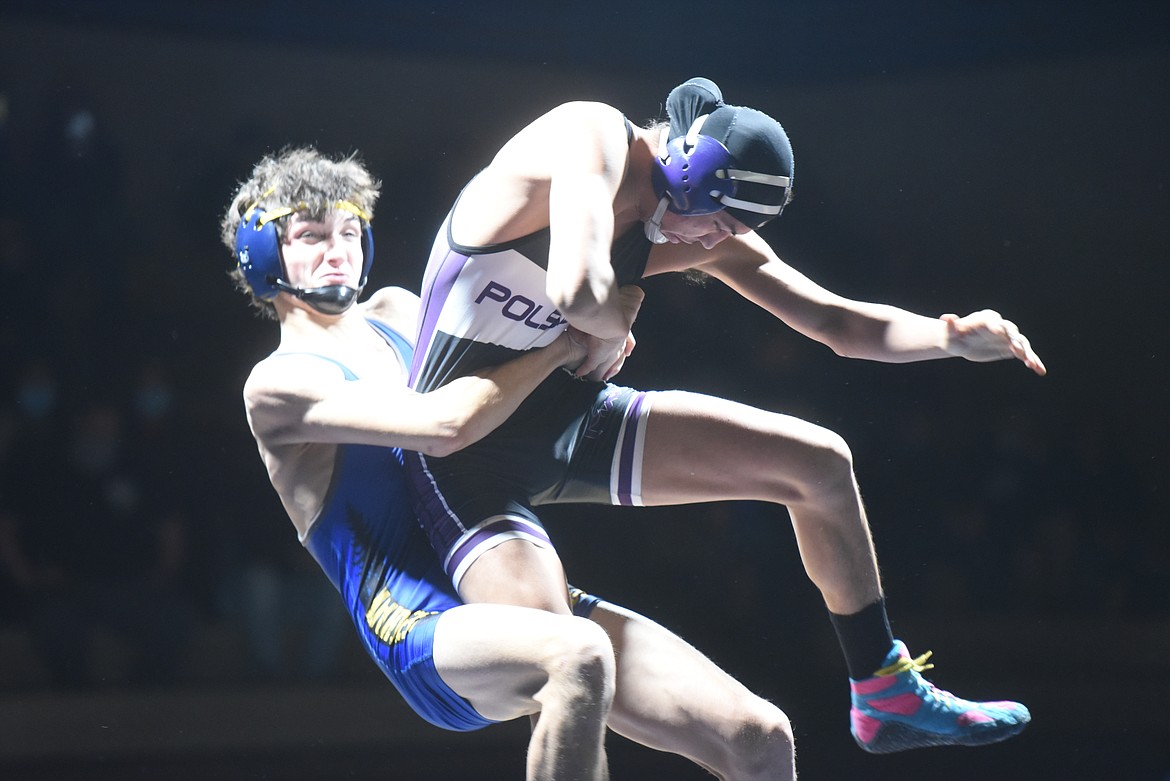 Libby senior Cody Crace flips Polson's Caleb Pierre in the 152 pound class. (Will Langhorne/The Western News)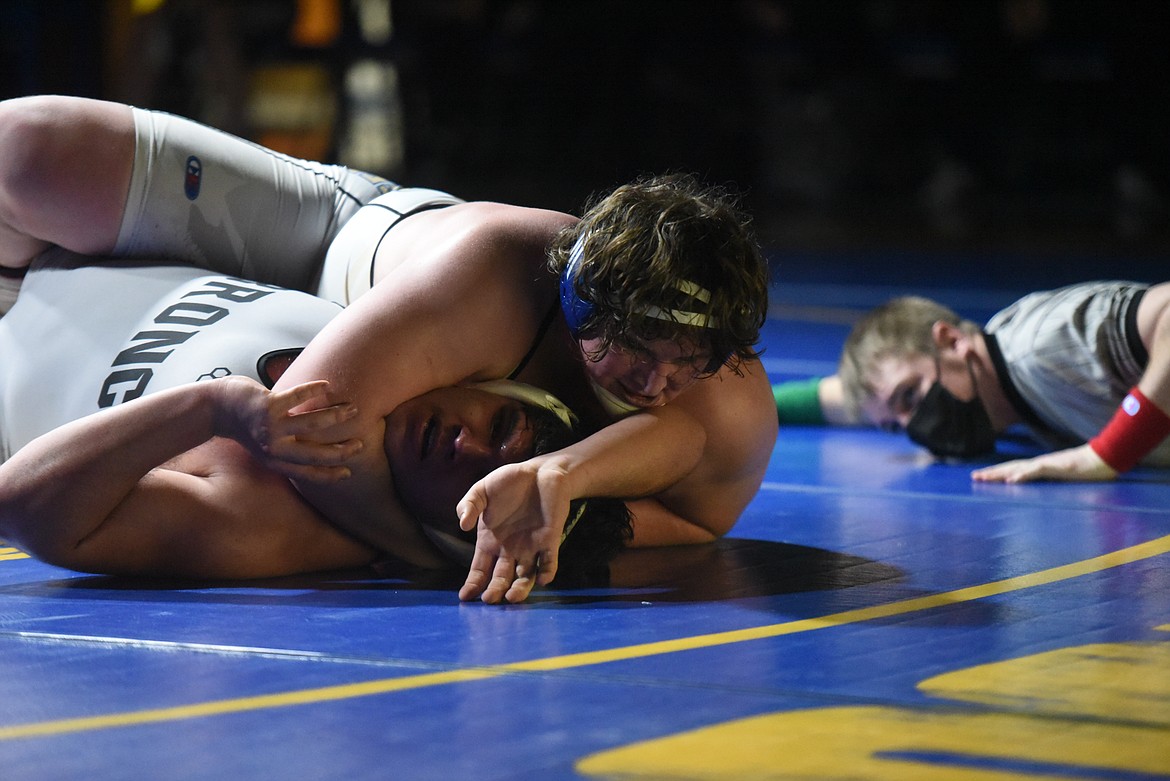 Greenchain junior Aydan Williamson pins Frenchtown's Philip Herald during a Feb. 5 dual. (Will Langhorne/The Western News)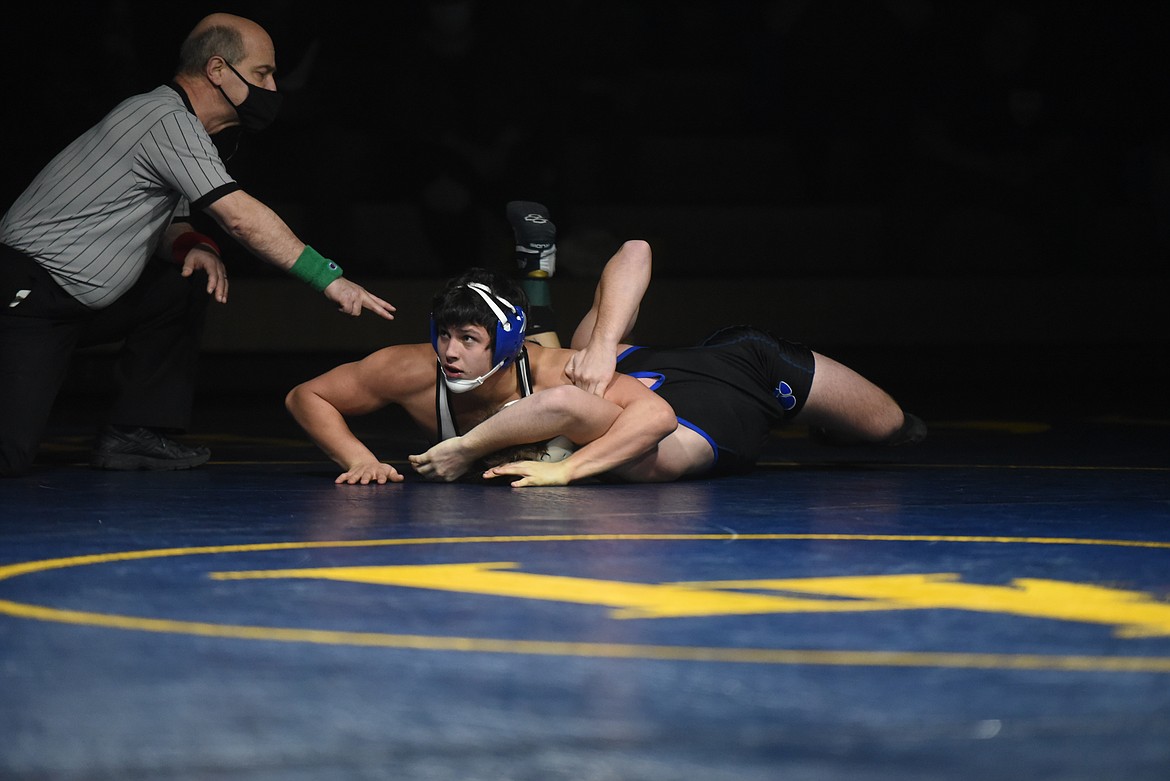 Libby Freshman Jace DeShazer pins Wildcat Rowdy White in the 160 pound category. (Will Langhorne/The Western News)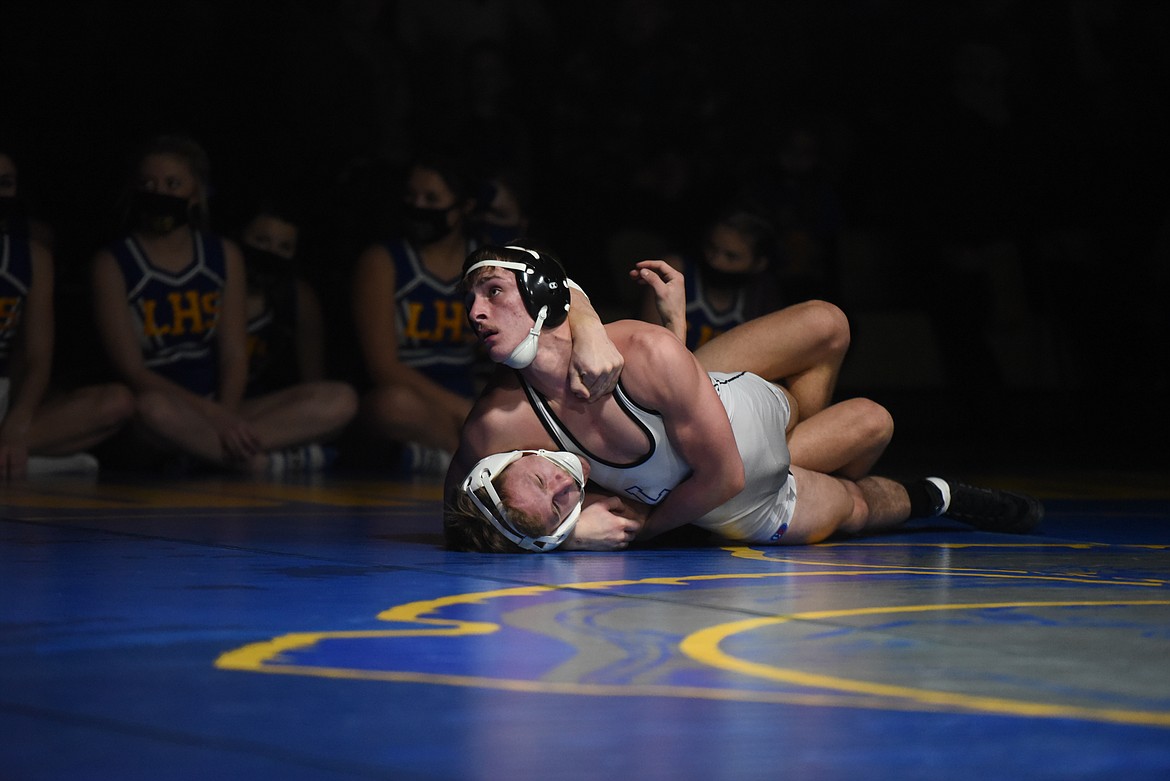 Libby senior Xander Spady pins Frenchtown's John Warner during a Feb. 5 dual. (Will Langhorne/The Western News)
Previous
Next
by
WILL LANGHORNE
The Western News
|
February 26, 2021 7:00 AM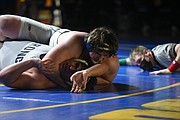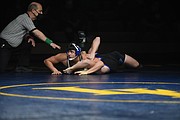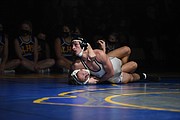 For the first time in nearly two decades, Libby is set to host the Western Class A divisional wrestling tournament. Athletes and fans from 11 other schools will converge on Ralph Tate Memorial Gymnasium from Feb. 26 to 27.
Greenchain wrestlers were elated by the news, which was first announced earlier this month.
"We've heard rumors about it all season and I've always been really excited about a home divisional," said senior Zack Morrison during a Feb. 23 practice.
Fellow senior Xander Spady noted that his parents wouldn't have been able to travel an away match due to work. It would be special to have them in the stands for his last divisional tournament, he said.
Dean Thompson, head coach of the joint Libby and Troy team, said his squad was looking strong. While the Greenchain took fourth place at last year's divisionals, the team has only lost one wrestler since. Thanks to this depth, the team has a shot at taking home the tournament trophy.
"We're hoping that if the kids can compete, we can get wins out of everybody," said Thompson.
Senior Cody Crace echoed his coach's high hopes for the tournament, saying the team was putting in extra work to get ready. He pointed to a practice earlier that week when the wrestlers had expected to run 14 sprints. For an added challenge, the team tacked on another six intervals.
"I feel like we're coming on stronger than ever," said Crace. "We're definitely reaching our peak, which is a perfect time of year to be doing that."
Crace, who will be wrestling in the 152-pound category, expects his toughest matchup of the weekend to be against Frenchtown's Smokey Stoker. During a Feb. 5 home dual, Crace pulled off a hard-fought 4-2 win by decision against Stoker. To beat the Bronc again, Crace said he would stay off his feet and work getting near falls to rack up points without a pin.
Over the course of the season, Crace fell once, to Sidney/Fairview's Aden Graves.
Junior Aydan Williamson, who will wrestle for the Greenchain in the heavyweight category, has seen two losses, one to Sidney/Fairview's Brodey Skogen and one to Fergus's Dylan Morris, this year. Despite boasting a high statewide ranking, Williamson said he was being careful not to get cocky going into the tournament.
Williamson said his toughest matchups will be against Frenchtown's Philip Herald and Polson's Aaron O'Roake.
Morrison, who is competing in the 132-pound weight class, said the biggest matches of the weekend for him will be against Browning's Quenton Campos and Corvallis' Nate Davis. While Morrison has beaten both wrestlers this season, he said they could still pose a challenge.
"They're a lot lankier and taller than me and I'm a shorter guy so I have to stay solid in my wrestling," he said.
Morrison saw 10 wins and five losses this season.
Spady said he expected all his opponents in the 138-pound category to pose difficulty, but said he wasn't worried about one in particular.
"I'm going to take it one match at a time," he said. "I don't care who it is."
Spady has 14 wins and eight losses going into the tournament.

Greenchain senior Tucker Masters, who will be wrestling at 182 pounds, likewise said he wasn't thinking about one match in particular. He planned to hit the mat thinking he could beat anyone he faced. His strategy for the tournament will be to push the pace in the first period and secure the first takedown. Masters racked up 15 wins and six losses this season.
Freshman Jace DeShazer, who will represent the Greenchain in the 160-pound class, distinguished himself this season with 16 wins and four losses. His top challenger will be Frenchtown senior Gavin McLean.
DeShazer fell twice to McLean this season, but said he beat wrestlers who have bested the Bronc in the past. The key to taking the senior down, DeShazer said, will be getting in shots.
Jim Germany, Libby athletic director, said the tournament will feature lighter-weight classes in the mornings and heavy-weight categories in the afternoons. Championship matches are on Saturday.
Germany told school board members Feb. 1 that he expects around 140 wrestlers to compete. The district will host two spectators per wrestler. By grouping masked fans in socially distanced pods, Germany said the district would be able to safely accommodate the crowd.
---