Petition seeks to lift mask requirements at local public schools
by
WILL LANGHORNE
The Western News
|
February 23, 2021 7:00 AM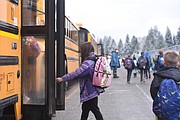 Urging community members to stand against a vaguely defined dictatorship, Lincoln County residents began circulating an online petition last week to repeal mask requirements at local schools.
The appeal also aims to stop the alleged harassment of business owners who do not require masks.
"It's time to take a stand against the dictatorship," wrote Kimmy Green, Troy resident and creator of the petition, in the document's summary. "It's time to take back our freedoms."
Green declined a request to comment for this article.
As of 12:30 a.m. Feb. 22, 279 people had signed the petition on change.org.
Libby and Troy school officials said they were not planning to lift their mask requirements because of the petition. Though Gov. Greg Gianforte rescinded the statewide mask mandate on Feb. 12, superintendents of both districts said face covering requirements would remain in place until the threat of the coronavirus abates.
Ron Goodman, superintendent of Libby Public Schools, cited masks as one of the district's most effective tools for stopping the spread of the virus. Since the start of the school year, Libby schools have required students and staff to wear face coverings while on campuses.
Referring to the executive order that lifted the state mask mandate, Goodman said schools are still asked to "make reasonable efforts to follow school guidelines and best practices recommended by the [Centers for Disease Control and Prevention] and the Montana Office of Public Instruction."
The CDC references studies that have found that cloth masks block between 50 to 70 percent of respiratory droplets carrying the coronavirus. Studies have also shown that cloth masks are effective at protecting wearers from the virus.
"We don't want to be in masks any longer than anybody else," said Goodman during a Jan. 11 school board meeting. "But we also want to have these kids in school as long as we can."
Public schools closed several times in Libby in the fall out of concern that the virus was spreading within the buildings. Classes carried on remotely during the closures.
Troy Superintendent Jacob Francom said the district's school board decided last week to keep their mask requirements in place. Troy students must wear masks in hallways but are allowed to take off their face coverings in classrooms. While these requirements may be less restrictive than those issued by the Libby district, Francom said Troy Schools has not seen a positive coronavirus in the past four weeks.
Unlike Libby Schools, the Troy district has maintained in-person learning throughout this academic year.
Francom said he understood the frustration that some residents feel about masks, pointing to other districts, including Thompson Falls, Big Fork and Florence-Carlton, which have dropped their face covering requirements.
"Our board wants to take it a little more cautiously," he said.
Throughout the pandemic, however, Troy Schools have eased some of their mask requirements. Francom said staff members are now allowed to take their face coverings off at meetings and basketball spectators may choose to remove their masks in the stands. Francom said the district has received little negative feedback regarding masks.
Beyond masks, Francom said Troy Schools have promoted hand washing and allocated funds and resources to disinfecting classrooms.
Faced with a polarized debate of face coverings, some local business owners have expressed uncertainty over whether or not to require masks.
"I've been agonizing over it for weeks," said Tom Gilmore, owner of the Libby ACE Hardware franchise on Feb. 12. "I don't know what we are going to do."
Bobbie Marken, co-owner of Trojan Lanes, said Feb. 12 she hoped to keep customers safe but was unsure about what policy she would adopt.
Libby Rosauers employees will keep wearing face coverings but shoppers will not be required to don masks, according to Manager Scott Erickson.
Kristin Smith, owner of Cabinet Mountain Brewery Company, said masks are still required in the venue. Customers will only have to wear face coverings when entering the brewery and while remaining unseated.
Smith said a Feb. 11 social post announcing the company's decision had received positive feedback from the community.
Green's petition is not the first appeal against masks to be circulated in Lincoln County. Last year, activists gathered signatures to repeal state and county mandates. They also asked local elected officials to depose the county public health officer and purge members of the county health board.
---