Lady Bulldogs run over Lady Loggers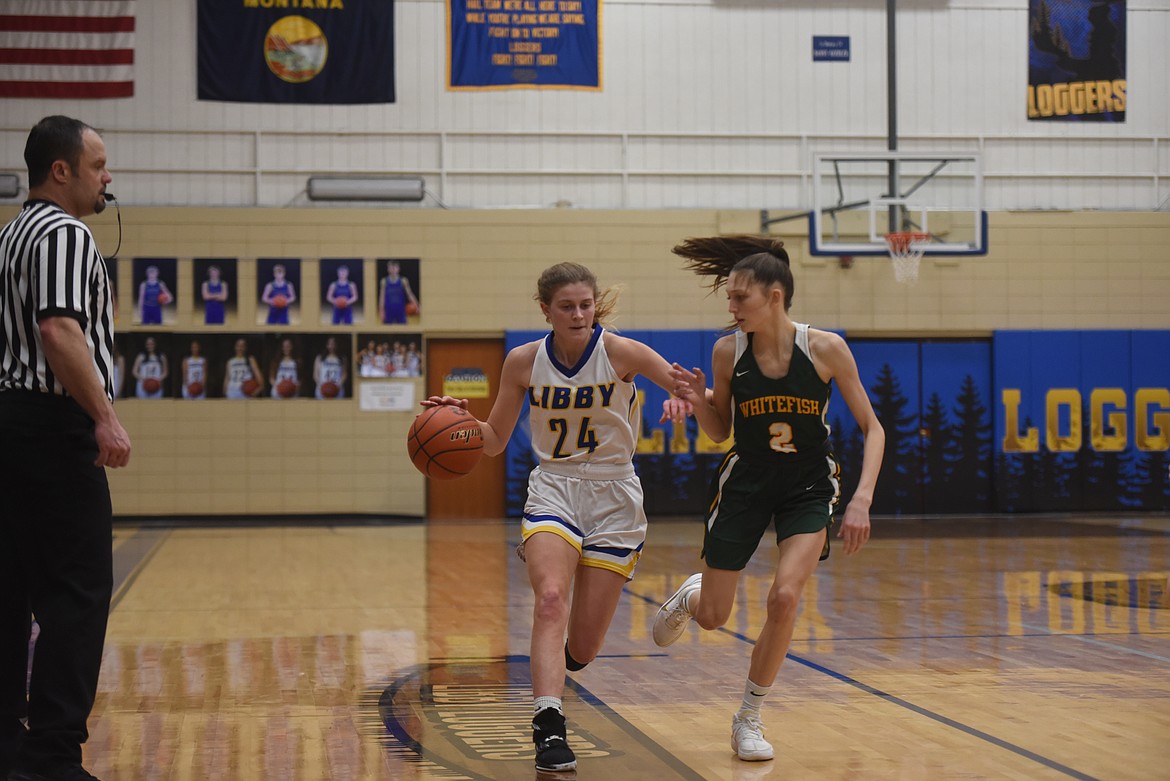 Sophomore Rylee Boltz goes up for a layup during the Lady Loggers Feb. 18 game against Whitefish. (Will Langhorne/The Western News)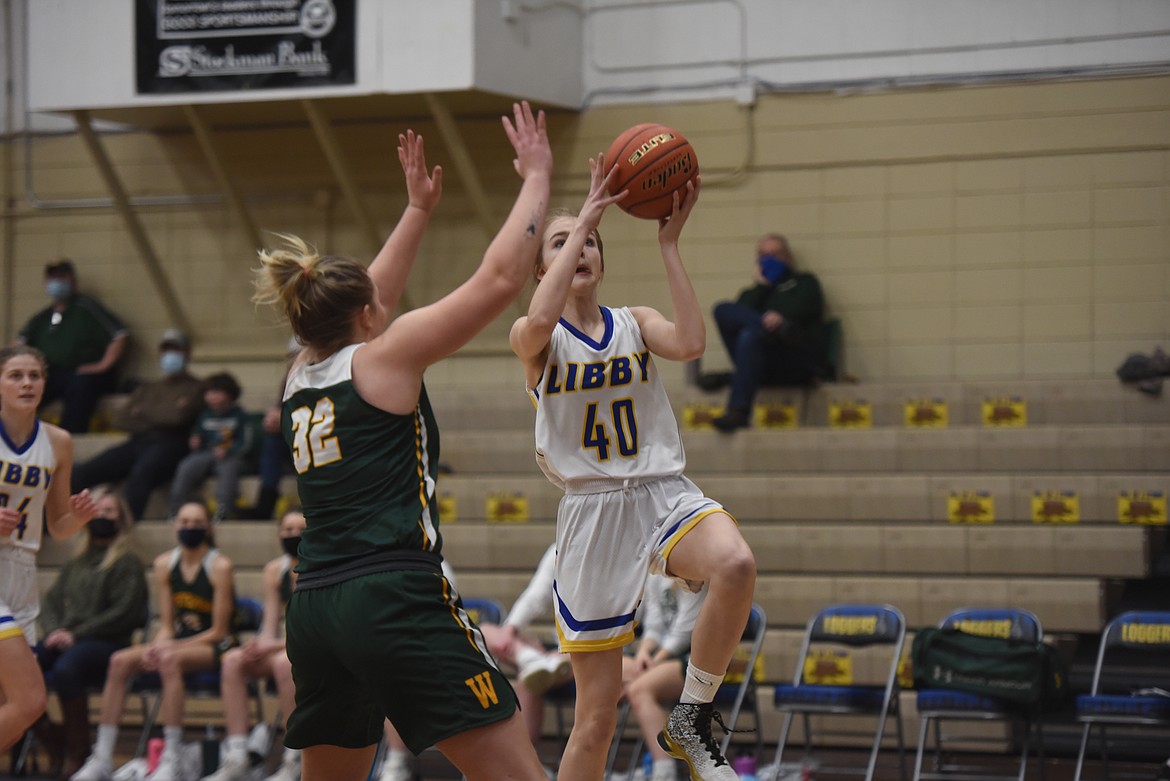 Sophomore Rylee Boltz goes up for a layup during the Lady Loggers Feb. 18 game against Whitefish. (Will Langhorne/The Western News)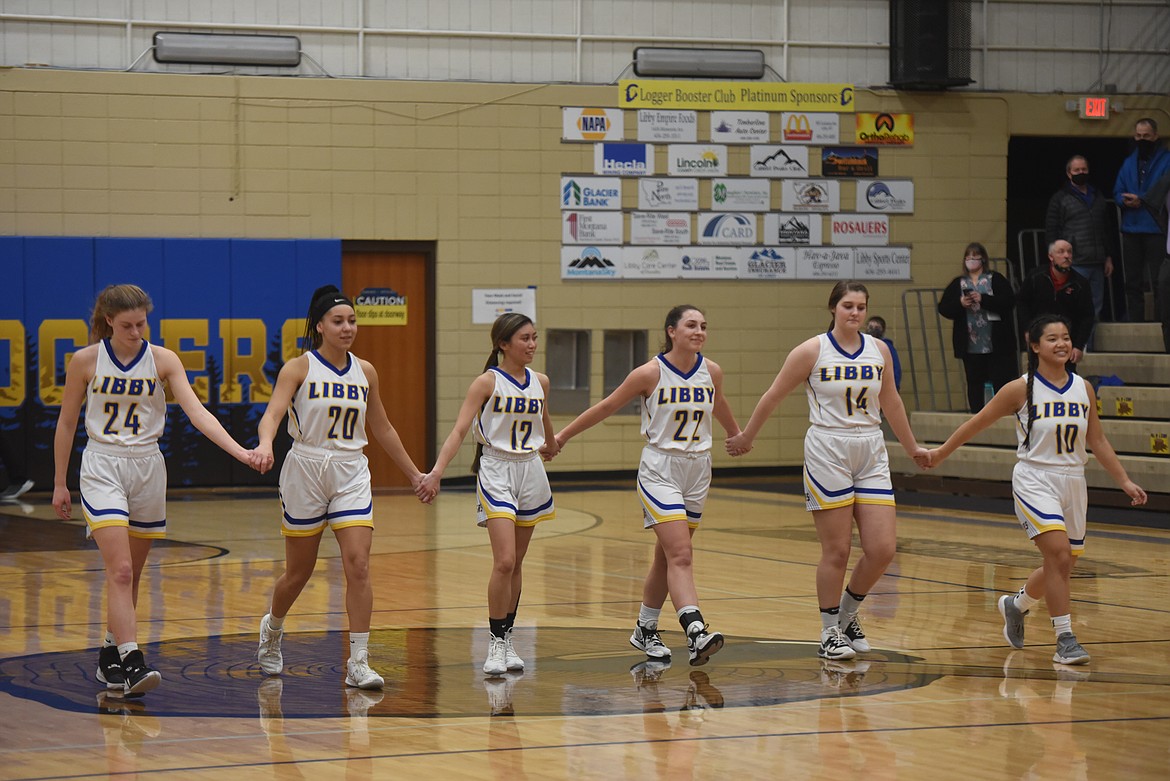 Libby seniors walk hand-in-hand at the end of their Feb. 18 matchup against Whitefish to celebrate their last home game. (Will Langhorne/The Western News)
Previous
Next
by
WILL LANGHORNE
The Western News
|
February 23, 2021 7:00 AM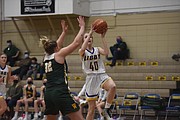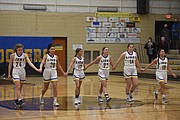 Raining shots from the perimeter and the key without abandon, the high-ranked Lady Bulldogs fetched a 68-28 win from Libby Feb. 18.
Sophomore Rylee Boltz and Taylor Munro led the Lady Loggers in their last home game with seven and six points respectively. Gracie Smyley was Whitefish's top scorer with 15 points.
The Lady Bulldogs began racking up their lead minutes into the first quarter. Libby coach Jackie DeShazer commended the spread of talent on the Whitefish team. Forward Jodi Walburn proved to be a rebounding and offensive asset in the paint for the Lady Bulldogs. Smyley and Ashton Ramsey showed their skills as three-point shooters.
DeShazer said Whitefish did leave some holes the Lady Loggers could have exploited. If Libby had boxed-out a little better in the first quarter, they could have limited the Lady Bulldogs second shot opportunities. While the Lady Loggers had good shot selection, they had trouble landing baskets.
"'They give you wheat and you can't make bread,' that's what they say sometimes," said DeShazer.
By the end of the first quarter, Whitefish had established a 15-4 lead.
The second quarter proved to be the Lady Bulldog's best. Smyley and Ramsey helped Whitefish secure 23 points. By the half, the Lady Bulldogs had a 38-10 lead.
In the second half, Libby began boxing-out better, allowing the Lady Loggers to secure more rebounds. Munro helped limit Walburn in the lane and landed a low-post basket. Sophomore Kinzee Boehmler and Boltz made five and three points respectively.
Going into the fourth quarter, the Lady Bulldogs were up 54-20.
Following the game, Libby seniors walked hand-in-hand down the court to commemorate their time at Ralph Tate Gymnasium.
"I'm going to miss it for sure," said senior Olivia Gilliam-Smith.
Ivy Pierce said she cherished many memories from her time on the team, especially those made on long bus rides to and from away games.
DeShazer said it was hard to let this year's class of seniors go.
"I've coached them on and off since they were seventh-graders," she said. "They're all amazing people and have great character."
DeShazer said the Lady Loggers will go on to play the Browning Indians in their Feb. 26 divisional game.
The Libby boys team enjoyed a little more success in their away game that night, securing a 43-36 win over Whitefish.
---