Helen Lorraine Jamison, 93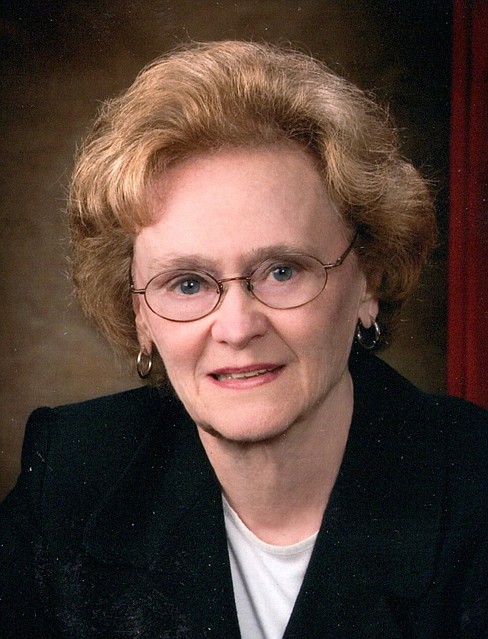 |
February 19, 2021 7:00 AM
Helen Lorraine Jamison, 93, of Taylorville, Ill., passed away Feb. 12, 2021, at Life's Journey Senior Living in Taylorville. She was born Jan. 10, 1928, in Edinburg, Ill., the second child of Frank and Clella (Huffman) Kauerauf.

Along with her two sisters and brother, she enjoyed growing up in Edinburg with close ties to her siblings. Her father was a printer, and she remembered helping him in the small print shop at their home that brought in extra money. She claimed to be especially adept at quickly moving sheets of paper in and out of the moving press. Through her mother, she developed a lifelong interest in learning, music and reading, but often remarked that she especially enjoyed playing baseball with her brother.
In about 1942, George Rhoads Jamison moved from Taylorville to Edinburg with his father, and thereafter Helen met the love of her life. They were married in 1946 and remained so until the time of his death on May 17, 2020, a marriage that spanned nearly 74 years.
The marriage produced two sons, George Frank and David Mark Jamison, born in 1946 and 1954, respectively. During their years in Edinburg they lived next to Helen's parents, resulting in close relationships with the extended Kauerauf family. George and Helen took Clella into their home after Frank died, where she stayed until the end of her life. In 1969, George, Helen and family relocated to Taylorville.
Helen always remarked that the happiest years of her life were raising her two boys. She entered the workforce as her sons grew older, working several years for the USDA in Springfield, Ill. She also began to pursue her teaching degree and became an elementary school teacher in Taylorville. She taught kindergarten and first grade for many years. She loved teaching and used her ample creativity and enthusiasm to both entertain and educate her young students.
Helen enjoyed singing and participated in many small groups, choirs and as a soloist. She would not hesitate to serenade her family at any given moment and in almost any setting. Her passion for reading grew with the years, and she was never hesitant to pick up a challenging book. She was an avid gardener and enjoyed cooking, and George was a faithful dishwasher and consumer. She also had a weakness for chocolate, and loved her dogs over many years.
Helen and George traveled widely throughout the U.S. and England. Grandchildren became a loving, caring focus for them. Many memorable visits and vacations together built lasting memories between them. Helen's vivid imagination and love for kids left many indelible memories for her grandchildren. She shared her keen wit and intellect, and her interests and passions, including playing pinochle. She was extremely competitive and reportedly was undefeated at Chinese checkers.
Her love for kids and family spread to great-grandchildren as the years progressed. As health issues closed in during the later years of her life, the presence or mention of grandchildren always sparked her interest, and a moment of respite.
Faith was foundational to Helen's life. She was active throughout her life in the Edinburg Methodist Church and the First Presbyterian Church in Taylorville. She participated in women's groups and classes, taught Sunday School, sang in choirs and groups, lead youth groups and supported many other activities. She left in her home many books and notes as evidence of her continued pursuit of her faith.
Helen was preceded in death by her husband, George; parents, Frank Grover (1895-1977) and Clella Stokes (Huffman) Kauerauf (1897-1979); two sisters, Betty Ann (1924-1985) and Marian Sue Sanders (1934-2014).
Helen is survived by her brother, Donald Eugene (Ruth) Kauerauf of Chatham, Ill.; sons, George (Mary Lou Goodpaster) of Libby and David (Joyce) of Taylorville, Ill.; her grandchildren via George, Daniel Wesley (Susan) and Cameron and Caden of Woodbury, Minn., Matthew Cameron (Cristina) and Catherine and Claire of Orlando, Fla., and Ann Elyse Jamison (Phil O'Neill) and Desmond of Madison, Wisc.; her grandchildren via Dave, Nicholas David (Jane) and Lillian and Claire of Westerville, Ohio, and Megan Claire of Taylorville, Ill.
She is also survived by many nieces and nephews who had graciously provided support for both Helen and George as their health declined.
Funeral arrangements are being handled by McClure Funeral Home in Taylorville. Given the pandemic restrictions, a private family service was conducted with Rev. Bill Kerns officiating. Friends were invited to join the family for a public graveside service on Feb. 18 at Oak Hill Cemetery in Taylorville.
In lieu of flowers, contributions may be made in Helen's memory to the First Presbyterian Church of Taylorville. Memories of Helen, or condolences to her family, may be shared online at www.mcclurefuneralhome.com.
---