Wait for vaccine leaves resident anxious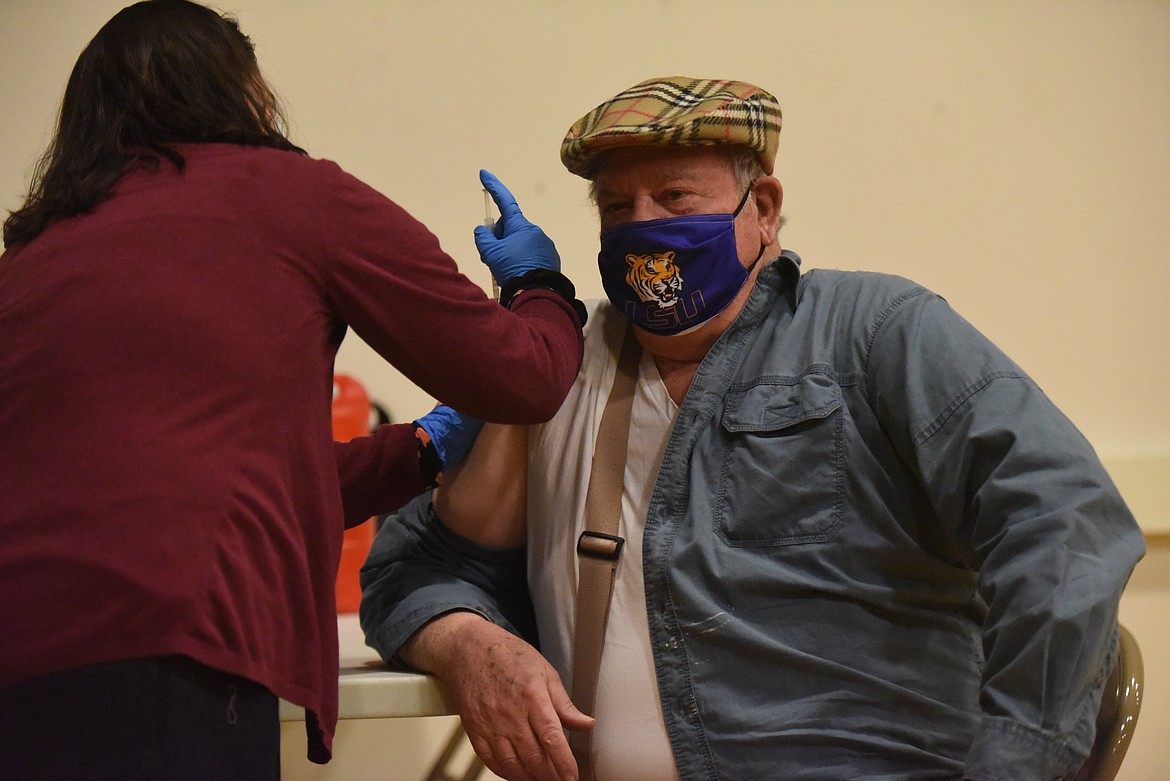 Michael Smith receives his first dose of the Moderna vaccine from Public Health Nurse Trista Gilmore on Jan. 21.
by
DERRICK PERKINS
Editor
|
February 16, 2021 7:00 AM
For Libby resident Dean Brousseau, the coronavirus vaccine cannot come soon enough.
At 69 years old and suffering from high-risk medical conditions, Brousseau added his name to the county health department's growing list a while ago. He's played the waiting game since, checking his phone for the long-anticipated call and worrying that an out-of-town trip could cost him his opportunity.
It's starting to wear on him.
"It's been quite a while now," Brousseau said. "I feel uncomfortable not being able to really do too much. You're hung out to dry there until you get the word and if I'm not there, if I happen to make a trip to Kalispell, and I'm out of the area, [I worry] you go to the bottom of the list."
Far from the daily fights on social media over the safety and efficacy of the vaccines and beyond the heated health board debates over whether the county should promote vaccinations, many residents like Brousseau just want to know when they can expect to get their first dose.
"A lot of them, and myself, have no idea if we're even getting the quantities of the vaccine and how many they're going through in a week," he said. "Any of that kind of information would be so helpful to us seniors that are kind of sitting in anticipation."
In late January, local health officials announced they expected to receive about 300 doses of the Moderna vaccine a week. But the list for eligible residents under Phase 1b of the state's vaccine distribution plan — those over the age of 70, Native American, a member of a minority group or with approved high-risk medical conditions — is several thousand names long with more coming in each day.
Speaking at a Feb. 9 county health board meeting, Public Health Manager Jennifer McCully said department staff were putting a dent in the backlog, but could not offer hard numbers.
"It's important to remember right now that we don't have a lot of vaccine and we are reaching out to those that want it," she said. "There is a large list, please be patient."
A day later, McCully and health department chief Kathi Hooper were pressed by county commissioners on how they were determining, week in and week out, who was getting a vaccine.
"We've been pulling randomly off that list when we're doing vaccines. … I think it's the most equitable way to do that," McCully said.
When County Commissioner Jerry Bennett (D-2) asked whether that was fair, given that residents could join the list at any time, McCully said it avoided forcing staff to determine who was most deserving of a vaccine. How do you decide between a 90-year-old in good health and a 60-year-old with medical conditions, she asked.
"We don't think it's fair to determine who gets it first," McCully said.
Adding to the problem is the lack of supply from the state, which is tasked with doling out the vaccine to counties. Lincoln County received a double supply last week, but as of Feb. 13 — more than a month after vaccine shipments began arriving — just 1,697 doses had been administered. According to the state's figures, 392 people in Lincoln County are fully immunized against the illness.
Neighboring Flathead County, with an admittedly much larger population, saw 9,090 doses administered by the same date. At last check, 2,710 residents were fully immunized.
The discrepancy, which is less stark if you break the number down to doses per 1,000 people, has led to more than a few residents to question the state's methods, especially given the prevalence of asbestosis in Lincoln County, a side effect of years of vermiculite mining in the area.
Officials at the state Department of Health and Human Services responded to those questions in a statement: "Factors that affect vaccine allocation to counties include the local jurisdiction's estimated population of those eligible to receive the vaccine in each phase, previous allocations to each specific provider, and the amount of vaccine that provider has left to administer."
They did not directly address how the presence of asbestosis in the community played into the calculations.
But both department officials and Gov. Greg Gianforte have made it clear they want more vaccine for Montana. During a Feb. 2 press conference, Gianforte said he had talked with the White House about securing a larger supply.
"We aren't receiving adequate doses from the federal government. Montana continues to receive one of the lowest allotments of doses per capita in the country," Gianforte said at the time. "While I recognize demand exceeds supply, [we have] proven our effectiveness in getting shots into arms. The number of doses we receive from federal government should reflect that."
Evidence of demand for the vaccine has become more apparent as well. Asked whether they were discussing a larger supply for the area with the governor's office, Lincoln County commissioners earlier this month said they would if residents requested it — they just hadn't heard any calls for them to do so.
That had changed by Feb. 10. County Commissioner Mark Peck (D-1) indicated that he had begun receiving phone calls, urging him to contact the governor. Both Peck and Bennett, who serves as board chair, offered to lobby the state on behalf of the health department.
"Is there someone we can call or send a letter to?" Bennett asked. "We just need the information. Just trying to get to the right person is difficult."
McCully told commissioners that lung issues were taken into account in the state's distribution plan. Those residents would become eligible for the vaccine in Phase 1c, which also includes essential workers, like teachers and grocery store employees, she said.
"Unfortunately, there's just not enough to go around," McCully said.
McCully also noted that the emphasis on frontline health workers in the first round of vaccinations makes it difficult to compare counties on a dose-by-dose basis. Counties home to large medical facilities, like Flathead, Missoula and Yellowstone counties, received a large supply early on.
"They were getting a lot of vaccine, because a lot of those people live there," McCully said. "It's starting to even out."
As for Brousseau's fear that missing out on a turn at the vaccine could move him to the bottom of the list, McCully has since sought to allay that particular concern. If an individual is selected for the vaccine, but unable to make it to a county clinic, they get rolled over to the next week.

Brousseau suggested that county staff consider drawing names two or three weeks in advance. That might alleviate some anxiety and let residents clear their calendars.
He said that two relatives, both well into their 90s, struggled mightily with being made to wait. Although they eventually received vaccinations, Brousseau and his brother fielded multiple phone calls a day from them asking about their status on the waitlist.
Still, he said he tried to take a position of understanding.
"We're dealing with a pandemic here and everybody has to understand that this isn't something where we should have known exactly what to do," Brousseau said. "I'm sure everybody is doing the best they can."
---