Fisher sees bright future at Tech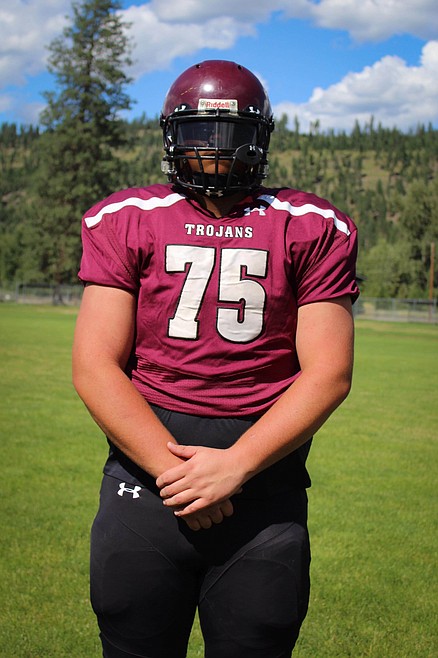 Troy senior Jace Fisher has committed to Montana Tech to play defensive tackle and nose guard. (Courtesy photo)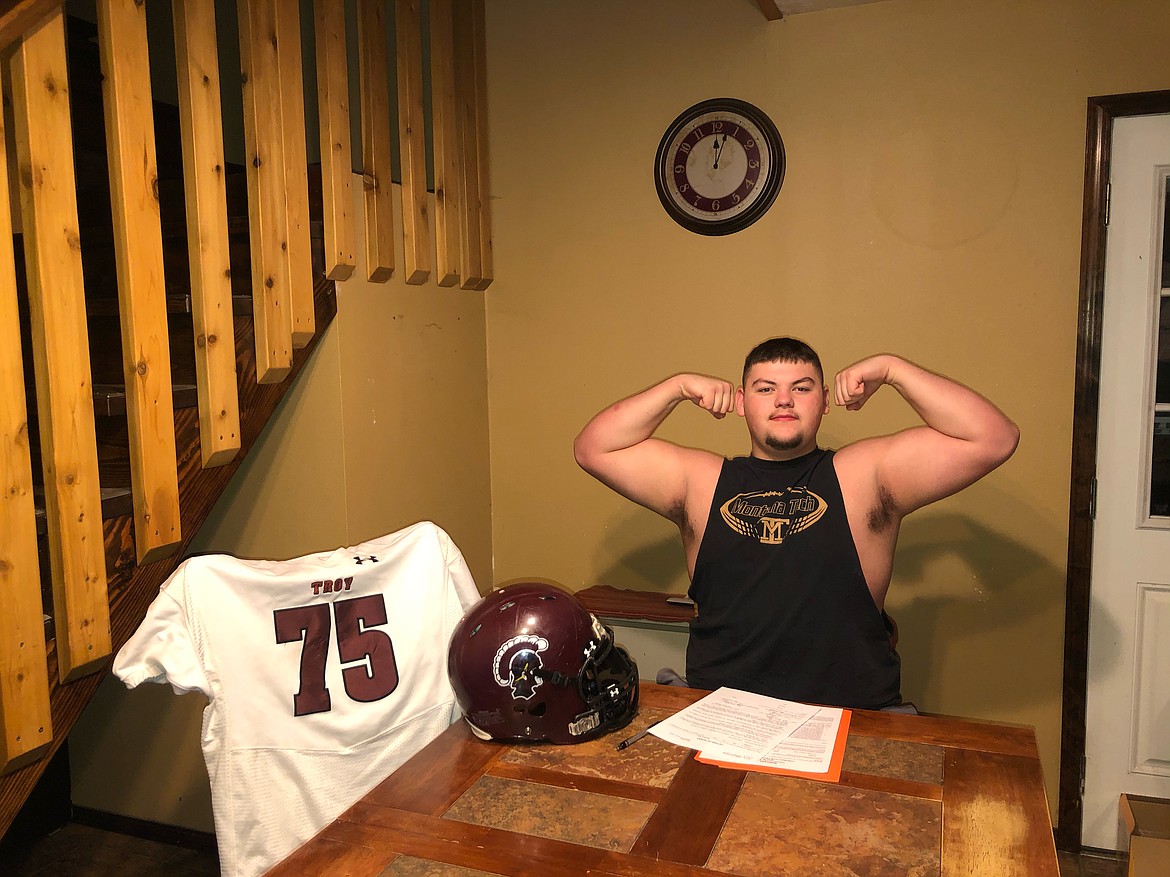 Senior Jace Fisher commits to Montana Tech. (Courtesy photo)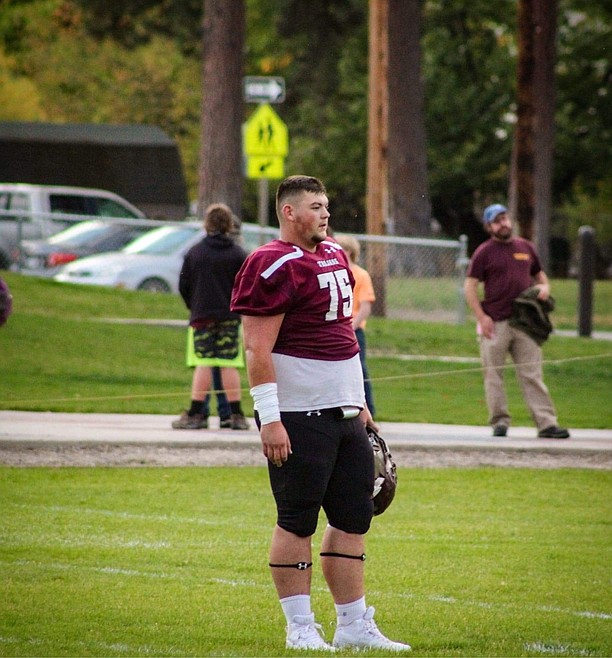 Troy senior Jace Fisher has committed to Montana Tech to play defensive tackle and nose guard. (Courtesy photo)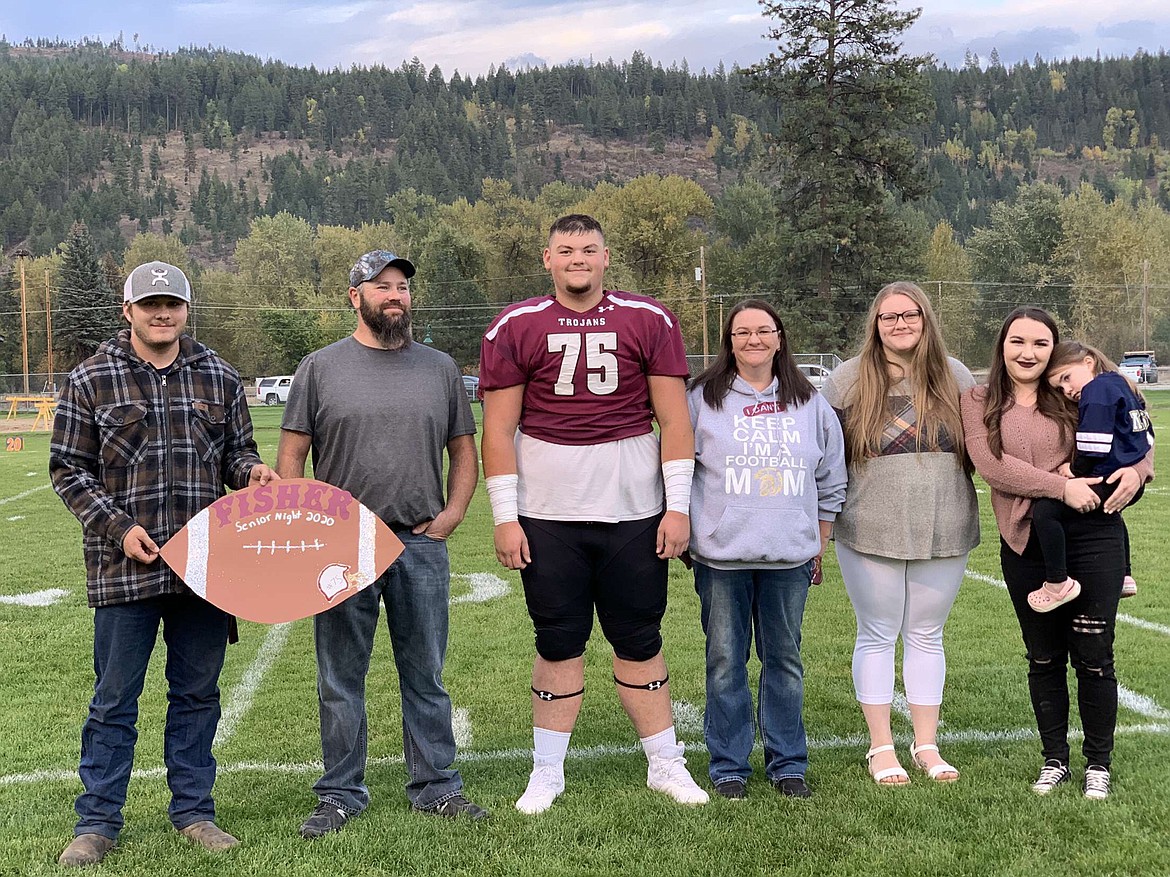 Troy senior Jace Fisher poses with family and friends has committed to Montana Tech to play defensive tackle and nose guard. (Courtesy photo)
Previous
Next
by
WILL LANGHORNE
The Western News
|
February 16, 2021 7:00 AM
Milliseconds after the snap, Thompson Falls' left guard found himself lying on his back. Lining up against Jace Fisher, Troy's 6-foot-6-inch, 310-pound defensive tackle, the guard might as well have been trying to hold back a bulldozer.
After shoving his way through the offensive line, Fisher scooped up the fumbled football, dropped by the stunned Blue Hawks quarterback, and ran. It took three Thompson Falls players and nearly 10 yards to bring him down.
It was plays like this one from Fisher's junior season that got him the attention of Montana's top collegiate football programs.
Coaching staff, including Montana State University high school relations coordinator B.J. Robertson, first noticed Fisher's unusual mix of size and agility while reviewing tape of other prospective recruits.
"MSU was looking at film from a team that just happened to be playing Troy," said Luke Haggerty, Trojan head football coach. "[Fisher] looked good and [Robertson] called for a character reference."
Fisher recalled how Robertson made him feel like part of the MSU family early on. In addition to walking Fisher through the recruiting process, Robertson made sure Fisher knew which core credits he needed to take to meet National Collegiate Athletic Association requirements.
"That's what they do, they build a great culture with family and [Robertson] made it possible and made it happen," said Fisher.
In May of 2020, Troy's star tackle received a scholarship from MSU and committed to playing for the Bobcats.

In January, however, Fisher's plans were complicated after the NCAA announced it would grant an additional year of eligibility to Division I football players in response to the coronavirus pandemic. Many MSU defensive linemen said they would be returning for another season, which meant Fisher was unlikely to see playing time during his freshman year.
Instead of riding the Bobcat bench, Fisher took a scholarship to play defensive tackle and nose guard for Montana Tech. After MSU, Fisher said Tech was his top choice.
"The football players and the coaches there … they bring so much life and activity to the field," he said. "It's like, 'Wow, this is what an amazing football program feels like.'"
Fisher pointed out that the Orediggers have won multiple championships in the Frontier Conference.
Fisher is excited to continue his gridiron career with Montana Tech. And the feeling is mutual. Participating in an Oredigger football camp in the summer of 2019, Fisher's athleticism and imposing frame caught the attention of head coach Kyle Samson.
"What really stood out was how athletic he was," said Samson. "For a kid that's [6-foot-6-inches], 300 pounds, he's got good moves."
When Samson heard Fisher was up for grabs this year, he pounced on the opportunity to add the Trojan to his roster.
While excited to play for the Orediggers, Fisher said his dreams of playing for MSU may still be realized; the NCAA allows players to make one transfer during their college careers and Bobcat coaches are still interested in bringing him on.
"[Robertson] told the coaches at Montana Tech 'We're coming back for [Fisher]," Fisher said.
Danel Fisher, Jace's mother, said she thought the opportunities presented by Tech were just as bright as the ones MSU had offered. While the uncertainty of the recruiting process amid the pandemic had left her worried at times, she said her son never stopped working hard.
"It's been stressful, … there's been a lot of twists and turns and waiting and what-ifs," she said. "But I'm just so proud of him, he has jumped through hurdles and hoops … he's worked for it."
When he was younger, Jace Fisher said he looked to football as an avenue in which he could channel frustration. Growing up without a father, he saw his success in the sport as a way to prove himself.
"Part of that was showing him I was not a part of his life and showing him I could do without him," he said.
Throughout Jace Fisher's high school career, the Trojans struggled with limited rosters. During his senior season, Troy had to cancel a game after four players were sidelined with injuries. Only seven Trojans were healthy enough to take the field at the time.
"We hate to forfeit a game," Haggerty said at the time. "It really stinks for the kids because they have been working so hard."
For committed players like Jace Fisher, dealing with Troy's shortcomings could be frustrating. Haggerty remembered one game during the 2018 season when the star player lost his cool.
After pulling Jace Fisher aside, Haggerty said they had one of the best player-coach moments in his career. The defensive tackle returned to the field with a positive attitude accepting there were some aspects of the game beyond his control.
While Jace Fisher poured his heart into Trojan football, he admitted he didn't always bring the same level of commitment to his studies. During his freshman year, he said he wasn't interested in passing classes. His attitude changed, however, when he had to sit the bench for two weeks during his sophomore year because of his academic record.
"I was like ... 'If I want to chase a bigger dream than just high school football, I had to get my head on straight,'" he said.
At Montana Tech, Jace Fisher said he hopes to pursue a bachelor's degree in athletic training and a minor in coaching. While his big dream is to go pro, Jace Fisher said he would relish the opportunity to inspire the next generation of Trojan athletes. If made athletic director or football coach, he said he hoped to bring back some of the glory of the '80s and '90s when Troy last won the state championship.
"I want to inspire athletics, especially in younger students," he said. "I want to teach them the right way to do it and how to take a better and positive outlook on sports."
---