End of mask mandate leaves area businesses to come up with individual policies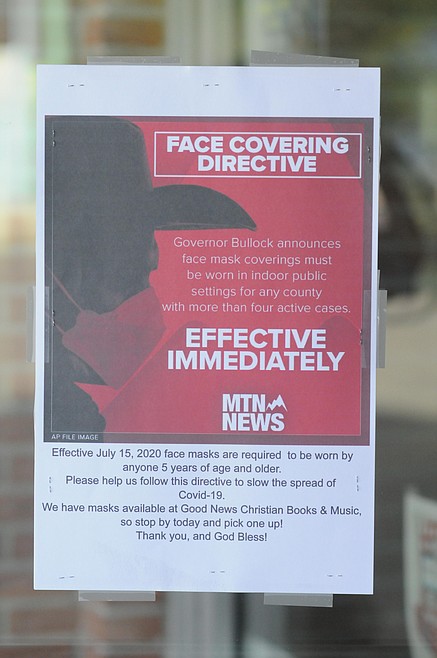 Signs went up on shops and restaurants around town after former Gov. Steve Bullock put the mask mandate in place last year. (File photo)
by
WILL LANGHORNE
The Western News
|
February 16, 2021 7:00 AM
When Gov. Greg Gianforte rescinded the statewide mask mandate last week, Lincoln County business owners were left to decide whether or not to require face coverings.
Many found themselves struggling to keep their customers pleased despite an increasingly polarized debate over mask use.

"I've been agonizing over it for weeks," said Tom Gilmore, owner of the Libby ACE Hardware franchise on Jan. 12. "I don't know what we are going to do."
Bobbie Marken, co-owner of Trojan Lanes, also expressed uncertainty about which direction to take her business.
"We just want to keep everyone safe," she said.
Scott Erickson, manager of the Libby Rosauers, said employees will continue wearing masks but shoppers are not be required to don face coverings.
Kristin Smith, owner of Cabinet Mountain Brewery Company, said the local watering hole would continue to require both employees and customers to wear face coverings.
In a social media post on Feb. 11, Smith and co-owner Sarah Sorensen noted that while coronavirus case counts have been trending downwards, the Centers for Disease Control and Prevention have identified new strains of the virus, which could lead to infection surges.
Though the CDC has gone as far as recommending double masking, Smith and Sorensen only require customers to wear single masks when entering the brewery and while remaining unseated. The owners will also continue to limit seating capacity to mitigate possible spread of the virus.
Before making the post, Smith said customers had called to make sure the brewery would continue requiring masks. She noted that the post had garnered a strong positive response.
Former Gov. Steve Bullock, a Democrat, enacted the statewide mask mandate in July. The order required face coverings in all indoor public spaces and at outdoor gatherings drawing 50 or more people where social distancing was impossible or being ignored.
Initially, the directive applied only to Montana counties with four or more active cases of the virus. In November, Bullock expanded the mandate to cover all counties and to include all K-12 schools. The updated directive also required restaurants, bars, breweries, distilleries and casinos to close by 10 p.m. and operate at no more than 50 percent capacity.
Dr. Brad Black, Lincoln County health officer, enacted his own directives, which largely mirrored those handed down by the governor. Black's first health order was initially more restrictive than Bullock's in that it omitted a case count threshold. This meant it would remain in place until he lifted it.
In January, Black rescinded his order.

Both local and statewide mask mandates sparked a vocal backlash from a small group of Lincoln County residents. Advocates gathered signatures in the hopes of repealing the orders. They also petitioned local elected officials to depose Black and purge members of the county health board.
The CDC cites community use of masks as one of the most effective ways to prevent the spread of the coronavirus.
---