Greenchain splits dual against Ronan, Frenchtown
by
WILL LANGHORNE
The Western News
|
February 9, 2021 7:00 AM
The Greenchain split their Feb. 5 dual against Ronan and top ranked Frenchtown. Libby pinned the Chiefs 45-27, but fell 45-21 to the Broncs.
Freshman Xavier Reatz started the night off for the Greenchain falling to Frenchtown junior Jeff Campbell. The scrap for the 113-pound category went all three periods and Reatz lost 9-7 by decision.
Frenchtown's Elijah Warner pinned Greenchain wrestler Cael Schwindt in the second quarter of the 120-pound category. The Bronc's Nicholai Blanchard pinned Libby freshman Zekiah Meyers with 50 seconds left in the first period of the 126-pound category.
Senior Zack Morrison took the 132-pound category for the Greenchain, pinning his opponent in the opening period. Classmate Xander Spady made quick work of Bronc wrestler John Warner in the 138-pound category. After taking Warner down by hooking his leg, Spady pinned him with 29 seconds to go in the first period.
"I couldn't ask for a better take down and finish," said Spady after the dual.

Bronc wrestler Zane Martin secured the 145-pound class, pinning Elijah Edwards in the first period.
Libby senior Cody Crace emerged victorious from a three period match with Smokey Stoker. Going into the final period, Crace trailed 2-0. In the last minute, he executed a reversal and a near fall, which gave him a 4-2 win by decision.
After the dual, Crace said he knew it was going to be a difficult scrap going into the match. Stoker stood one place above him in the state rankings.
"I just went in there and stayed hard headed and tried to stick with him the entire time," said Crace. "I ended up in the third period down by two, I told myself right then and there 'I am not going to lose this match.'"
Libby coach Dean Thompson said the match was a big win for Crace; both Crace and Stoker could end up in the championship at divisionals.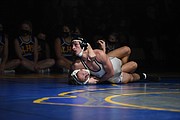 In the 160 pound class, Libby freshman Jace DeShazer fell to the Frenchtown senior and state-placer Gavin McLean. Over three periods, McLean managed to rack up an 11-6 win by decision.
Libby senior Tucker Masters fell to Frenchtown's Noah Rausch in the 170-pound category. After going into the third period tied 6-6, Rausch managed a 12-8 win by decision after executing an escape and two takedowns.
Thompson said Masters was able to pull off a win in a previous match against Rausch. The two are likely to face off again at divisionals.
"It's going to be a great divisional tournament," said Thompson. "There are four tough kids in that division."
Greenchain senior Aydan Williamson pinned Bronc wrestler Philip Herald with 36 seconds left in the third period of the 285-pound match.
"That one was a tough one," said Williamson after the dual. "He's a lot stronger on his top than he is on his bottom."
Meyers took the 126-pound match for Libby against Ronan, pinning Trevor Bartel in just over a minute. In the 132-pound class, Morrison secured 5-0 win against Chiefs wrestler Beaudean Decker. Spady came up short in his scrap for the 138 class falling 5-1 to Landon Bishop.
"The kid's really strong on his feet," said Spady after the match. "I need to work on getting better and deeper shots. I believe I can beat him next time I see him at divisionals."
Ronan's Caleb Cheff pinned Edwards in the opening period of the 145-pound match. Chiefs wrestler Tristan Fisher won the 182 pound class after pinning Libby's Coby Booker within 14 seconds. Williamson emerged victorious again in the heavyweight class, pinning Max Morency in the second period.
"Not much would work, but I finally got the one thing that did so I took it," said Williamson.
As part of their senior night celebrations, the Greenchain recognized Crace, team manager Kendra Gillespie, Masters, Morrison and Spady.
---