Greenchain shrugs off Corvallis, Browning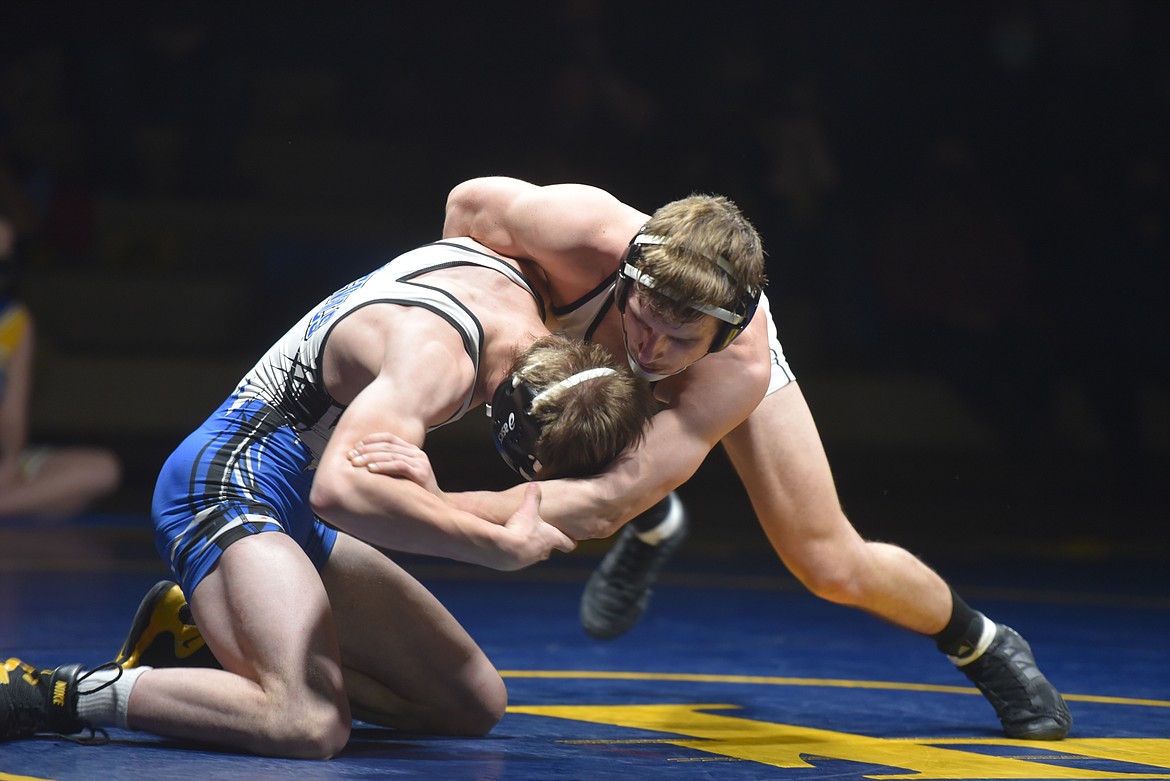 Senior Xander Spady look for advantage over Corvallis' Jason Davis. (Will Langhorne/The Western News)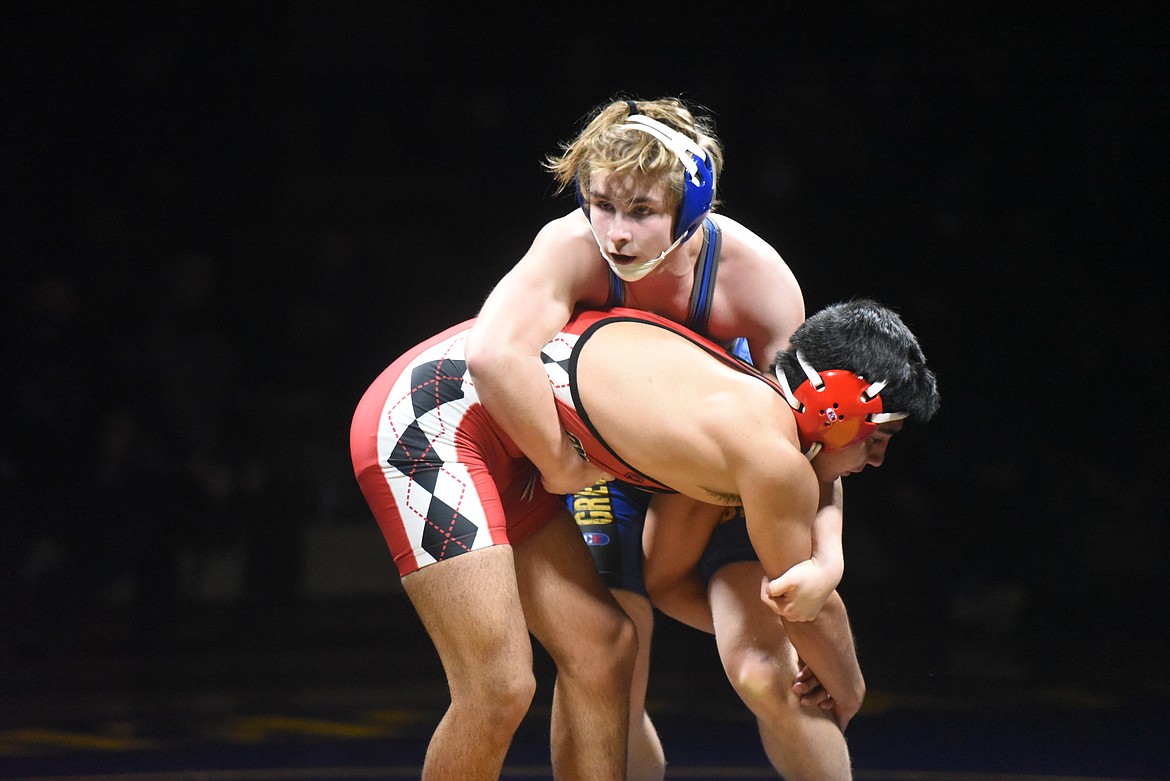 Freshman Joey Wise grapples with Browning's Jared Keene. (Will Langhorne/The Western News)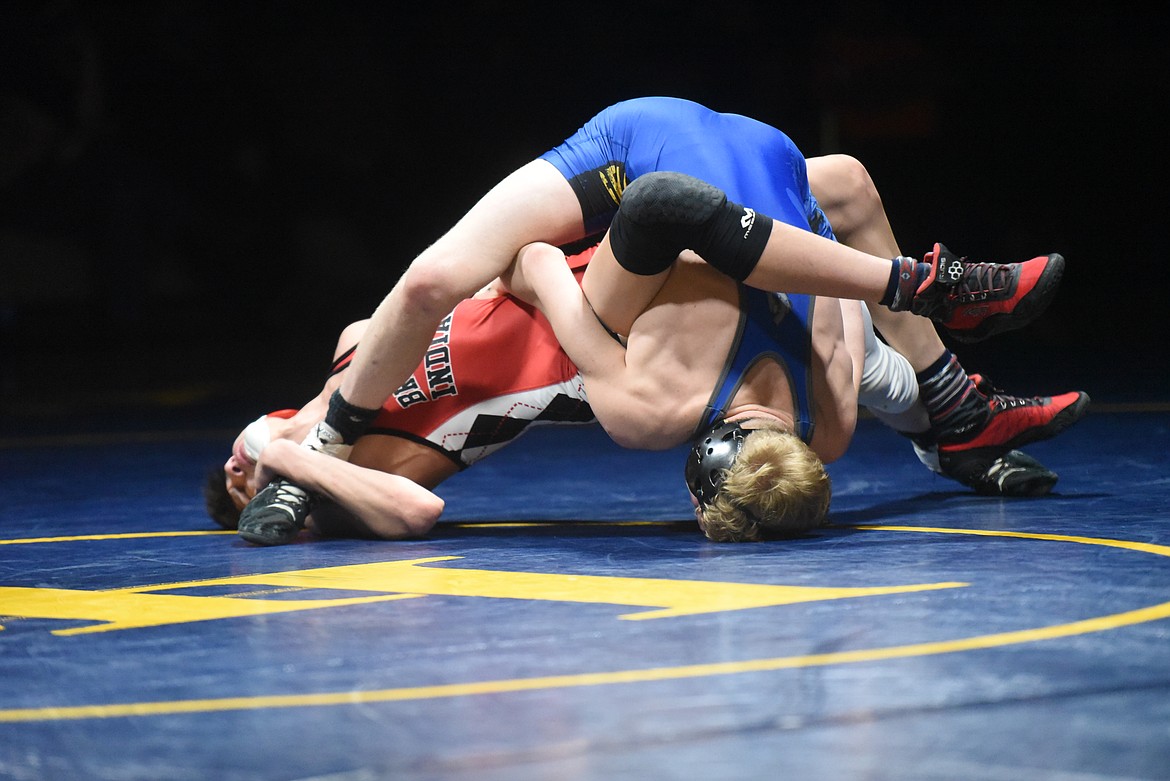 Senior Zach Morrison looks to take down Browning's Quentin Campos. (Will Langhorne/The Western News)
Previous
Next
by
WILL LANGHORNE
The Western News
|
February 5, 2021 7:00 AM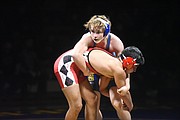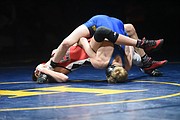 The Greenchain dominated the mat in their second home dual of the year, beating Corvallis 51-24 and Browning 47-23.
Corvallis freshman Gideon Stoker took the first match of the Jan. 28 dual by pinning Greenchain freshman Xavier Reatz in 57 seconds in the 113-pound class. Libby sophomore Cael Schwindt secured victory in 120-pound category against the Blue Devil's Ashten Buhler with a pin in the first period. Greenchain freshman Zekiah Meyers followed up with a pin in the 126-pound class in under a minute.
Libby senior Xander Spady took the 138-pound class after a long scrap with the Blue Devil's Jason Davis. The first period ended with a score of 5-4 for Spady. Neither wrestler was able to gain an advantage in the second period.

In the third period, Spady secured a reversal and a near fall, bringing up a score of 10-7. Davis responded with a near fall tying the score in the final minute.
With less than 10 seconds on the clock, Spady escaped Davis' hold to win by decision with a score of 11-10.

Starting out the match, Spady said he focused on being solid in his stance and working the basics he'd run in practice. As the match drew on he said he started relying more on his cardio.
"At [the end of the match] it's more just whoever's more conditioned and in better shape," Spady said.
In the 145-pound category, Blue Devil Jonathan Williams pinned Libby's Elisha Edwards with one minute 50 seconds left in the first period. Greenchain senior and captain Tucker Masters secured a win in the 182-pound category after pinning Ben Holtzen in the second period. Libby's Ayden Williams capped the Corvallis dual pinning Sean Stone in the 285-pound category.
Libby senior Zack Morrison won the 138-pound category by technical decision after racking up a score of 16-0 in the second period against Browning's Quentin Campos. Morrison said his strategy for the match was to push the pace.
"I knew [Campos] was really quick so I just knew I had to be quicker and rely on my cardio," he said.
David Sharp took the 145-pound class for the Indians, pinning Elisha Edwards in the third period. Greenchain freshman Joey Wise fell by technical decision to Jaren Keene in the third period of 152-pound category.
Libby freshman Jace DeShazer took down Browning senior Brennyn Running Crane in the 160-pound category after a full three period bout. In the first quarter, neither wrestler was able to gain advantage. With 33 seconds in the second period, DeShazer took Running Crane down for two points. Running Crane escaped DeShazer's hold for two points. In the third period, DeShazer secured a 7-2 win by decision thanks to a take down and near fall.
DeShazer said Running Crane was a difficult opponent due to his defensive stance and short stature. Throughout the match, DeShazer said he focused on trying to get Running Crane to stand up more so he could get to his legs.
"It was intense," he said. "I kind of just trying to focus on working my stuff instead of his."
Masters came out victorious after going three periods with Jace Augare in the 170-pound class. While neither wrestler was able to secure points in the first period, Masters executed a take down in the second and came out with a 2-0 lead. As Augare tired in the third period, Masters was able to build his lead to 7-0 and win by decision.
Going to the match, Masters said his strategy was to push the pace to a level where his adversary couldn't keep up.
"I wrestled tough, I was good on my feet and I just gotta keep that up," he said.
Williamson finished the night with a second win in the 285 pound category against Waylon Bullcalf.

The Greenchain will go on to face Frenchtown and Ronan in a home dual Feb. 5.

---