Man involved in high speed chase allegedly aided in illegal border crossing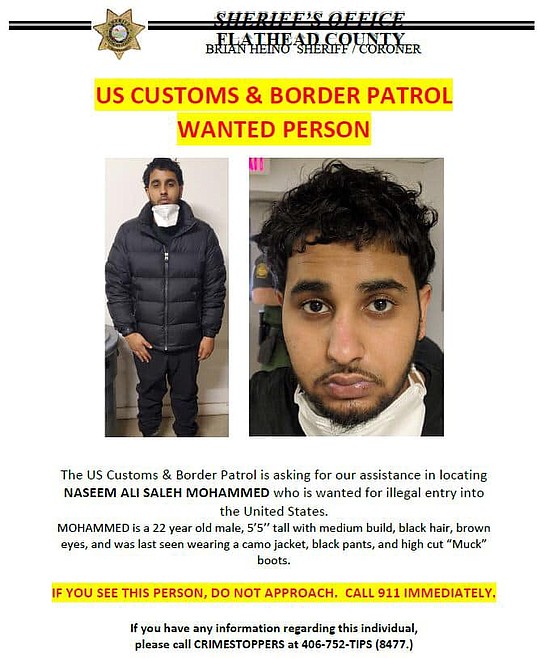 One of the men accused of illegally crossing the border last month, Naseem Ali Mohammed, remains at large. (Courtesy photo)
A Washington, D.C., man charged in Lincoln County after leading authorities on a high-speed chase last month now stands accused in U.S. District Court of transporting illegal immigrants.
One of the men Rastesfaye Neil, 39, is thought to have helped cross into the U.S. on Jan. 23 is accused of second-degree murder. Canadian news reports indicate that Afrah Ahmed Abdi, 32, was on the run following an August 2020 shooting in a Saskatoon restaurant. CTV News has reported that Canadian authorities believe Abdi shot and killed a 30-year-old Ahtahkakoop First Nation man.
Abdi and Neil are accused of participating in the cross-border excursion about 8:55 a.m. with Christopher White of Jamaica and Naseem Ali Mohammed, 22, also known as Bati Ahmed. A known gang member in Canada, Mohammed remains at large. It's not immediately clear how he evaded law enforcement.
A suspect in multiple homicides in several provinces, he is described as 5-foot-5 with a medium build. He has black hair, brown eyes and was last seen wearing muck boots, black pants and camouflage jacket. Authorities ask anyone who spots him to call 911. They urged those who recognize him against approaching him.
Law enforcement personnel became aware of the illegal incursion after trail cameras in the Spokane Sector Border Patrol Dispatch picked up three camouflaged individuals crossing into the U.S. in the West Kootenai Road area. All three wore dark clothing and carried black backpacks, court documents said.
According to an affidavit, U.S. Border Patrol agents spotted a Nissan with temporary tags leaving the area where the trio had crossed the border. The agents activated their lights in an attempt to stop the vehicle. As they approached the Nissan, the vehicle sped off at a high rate of speed, court documents said.
The agents, who now included a K9 team, radioed for help from local law enforcement as they struggled to keep up with the Nissan despite poor road conditions. Local police officers and Lincoln County Sheriff's Office deputies picked up the pursuit as the Nissan headed into Eureka at high speeds.
In an affidavit filed in Lincoln County Justice Court, Eureka Police officer Steve Iker wrote that the Nissan — which he described as an Altima, but Border Patrol agents said was a Sentra — hit speeds above 100 miles per hour as it raced through town.
The fleeing Nissan came to a stop about four miles from Whitefish after Flathead County Sheriff's Office deputies and Montana Highway Patrol troopers used a "vehicle immobilization device."
In his affidavit, Iker described the devices as Stop Sticks, which deflate tires.
Iker recalled the moments after the stop, a deputy drawing a gun on the individuals of the car while he and other law enforcement personnel successfully chased down a man who fled on foot into nearby woods.
According to the charging documents filed in U.S. District Court, a K9 searched the disabled vehicle for illegal drugs and concealed suspects. Border Patrol agents allegedly found pills and marijuana on the rear floorboards.
They also allegedly recovered 21.8 grams of marijuana on White's person.
Neil, who was charged with transporting and harboring illegal immigrants, is a U.S. citizen and native. A search of Abdi's immigration status showed him as a legal permanent resident of the U.S. He was charged with improper entry by an alien. Mohammed, a Somalia national and legal permanent resident in Canada, also was charged with improper entry by an alien.
A review of White's immigration history showed that he was given a final order of removal by a judge in 2010. White appealed, but was listed as an absconder in 2016, according to court documents. He was arrested in 2019 and deported from New York to Canada last year.
While living in New York, White racked up a lengthy criminal history, according to court documents. It begins with convictions for criminal possession of marijuana and endangerment in 1998, but includes convictions for forgery in 2002, criminal possession of stolen property in 2005, criminal possession of a weapon in 2013 and grand larceny in 2017. He was charged with being an alien in the U.S. after deportation in connection with the crossing.
Three of the men — Abdi, Neil and White — made initial appearances in U.S. District Court on Jan. 28. All three were detained pending further court proceedings, according to a press release from the U.S. Attorney's Office of the District of Montana.
Assistant U.S. Attorney Paulette Stewart is prosecuting the case.
---