Former clients were unaware Hartman lacked a Montana license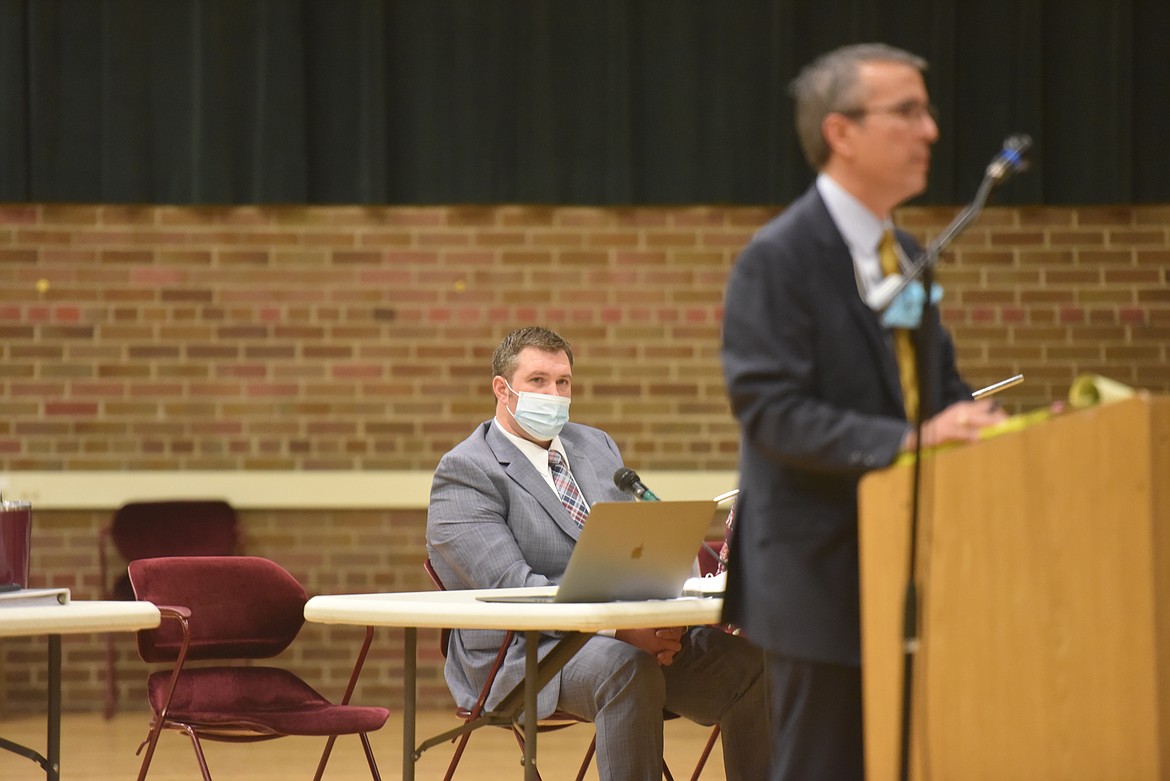 Hartman Jan. 27. (Will Langhorne/The Western News)
by
WILL LANGHORNE
The Western News
|
February 2, 2021 7:00 AM
During the opening week of the trial of a Bonners Ferry man accused of financial crimes, prosecutors called on witnesses ranging from allegedly exploited elderly clients to investigators from the state auditor's office.
Kip Hartman, 35, faces nine felonies in Montana stemming from the sale of annuities to Libby and Troy residents. The charges include conducting insurance transactions without a license, transacting business as an investment advisor without a license, securities fraud, four counts of exploitation of an elderly person, tampering with witnesses and informants and deceptive practices.
In his opening argument, Special Assistant Attorney General William Duerk said he would show that from 2015 to 2019, Hartman convinced Troy and Libby residents to liquidate their financial portfolios and reinvest in annuities, a form of insurance. Hartman also allegedly advised some clients to sell securities.
During this time, however, Hartman did not have an active state license to sell insurance nor was he registered to advise on securities transactions, according to Duerk.
Duerk and fellow prosecuting attorney Kate McGrath revealed that many of Hartman's former clients weren't aware that Hartman lacked an active license to sell insurance in Montana.

"He said he was a financial planner who said he does taxes, not a tax guy who does financial planning," said Patricia Banning, one of Hartman's former clients.
Banning, an elderly Troy resident, said she visited Hartman with her husband in the summer of 2015 to discuss her husband's retirement situation. At the time, Banning's husband was fighting liver cancer. Soon after he began suffering from dementia. During the meeting, Hartman allegedly advised Banning's husband to purchase an annuity.
In early 2016, Banning said her husband passed away and she met with Hartman again to discuss her financial situation. During this meeting, Hartman allegedly advised her to invest in another annuity.
Although some of the documents the clients signed indicated they purchased annuities through Hartman's wife, who did have an active license to sell insurance in Montana at the time of the alleged crimes, clients testified Hartman made the transactions.
Glenda Orr, a resident of Troy, said Hartman advised her on rollover and annuity transactions in 2015. On the financial documents she signed, however, Hartman's wife is listed as the agent. Hartman allegedly told Orr he was helping his wife learn the business and allow her to take on a few of his accounts. Orr said this made her feel uncomfortable.
In the spring of 2019, Orr said Hartman called her asking her to tell anyone who contacted her that his wife was her agent.
"I cannot remember [my] response, I think the phone just got hung up on the wall," said Orr. "I can't understand why he would want me to misrepresent or lie."
While Hartman did not specify who might call Orr, Duerk said during his opening statements that Hartman suspected state investigators were looking into his business at the time.
When asked if they would have allowed Hartman to handle purchases of annuities for them if they had known he lacked a license, all former clients said no. Witnesses also said Hartman did not brief them thoroughly on the risks associated with buying annuities.
"I don't think it was really a discussion, it was more of 'sign here'," Banning said, recalling the meeting with Hartman when she purchased an annuity.
Shandor Badaruddin, Hartman's defense attorney, focused his cross-examination on potential memory lapses in the former clients' memories. Badaruddin also pointed out instances where Hartman's actions had allegedly helped his clients.
A critical point of Banning's testimony was the location of where she purchased the annuity from Hartman. Banning said while she visited Hartman's office in Bonners Ferry with her husband, she purchased the annuity in his Troy office.
Badaruddin attempted to show, using documents she signed, that the transaction was apparently conducted in Idaho. The defense attorney questioned Banning on whether the death of her husband, which occurred just before the annuity purchase, had clouded her recollection. She admitted the death of her husband was at the forefront of her mind at the time.
Jeannie Keller, insurance service bureau chief at Office of the Montana State Auditor, Commissioner of Securities and Insurance, rendered the point moot while serving as an expert witness. Keller testified that to sell insurance to Montana residents one must be licensed in Montana.
Badaruddin challenged Keller's assessment on Feb. 1 arguing that Montana state law governing the sale of insurance only applies within Montana.
Furthermore, Keller said Hartman put his interests before Banning's by having her pull money out of one annuity to purchase another. Keller, who investigated Hartman's alleged financial crimes, testified that this practice, known as churning, generated more money for Hartman in the form of commissions but did nothing to advance Banning's finances.
Badaruddin later argued there are many factors that go into deciding what is in a client's financial best interests. He pointed out that Keller did not know all of these factors in Banning's case.
When cross-examining Orr, Badaruddin pointed out a time when Hartman's advice saved her and her husband substantial amounts in taxes. Badaruddin also pointed to documents that showed Hartman's wife allegedly served as Orr's financial adviser.
To back up testimony from Hartman's former clients, prosecutors relied on testimony from investment professionals including Matthew Hussey, a financial advisor at Edward Jones.
Hussey said he was a former advisor of Betty Blalock, an elderly Troy resident who left Edward Jones to allegedly work with Hartman. Testifying to his understanding as to what constituted Blalock's financial interests, Hussey said her portfolio with Edward Jones did not include annuities.
During his testimony, Hussey said the management of Blalock's assets were transferred from Edward Jones to Hartman. Badaruddin challenged the statement during his cross-examination by providing documentation that showed the account was taken over by Hartman's wife. Hussey admitted he was not sure where the funds went once they left Edward Jones.
Blalock said during her testimony, however, that Hartman provided her with financial advice.
Badaruddin undermined the testimony of Brent Rehm, a financial consultant at D.A. Davidson in Helena, using a similar technique to the one he used against Hussey. Rehm testified that when one of his former clients left D.A. Davidson, their attorney-in-fact placed the former client's assets under Hartman's care. Badaruddin grilled Rehm on this claim. Rehm eventually admitted Duerk had told him Hartman took over his former client's finances.
Badaruddin had a harder time in cross-examining Keller's testimony. When Badaruddin tried to argue that Hartman's inactive insurance license in Montana still counted as a license, Keller countered comparing the insurance license to a driver's license.
"If I showed the police officer my expired [driver's] license, I don't think he would be OK with that," she said.
The analogy prompted stifled laughter from the prosecution counsel.
Keller also bogged down Badaruddin in his attempts to explore the basis for buying insurance and his suggestion that the insurance industry is a highly regulated field.
"You don't want to agree with anything I have to say, do you?" said Badaruddin in exasperation.
"I want to tell the truth, that's what I'm here to do," said Keller.
Hartman's trial is scheduled to run from Jan. 26 to Feb. 5. Court documents list at least 24 possible witnesses who may testify over the nine days the court is in session. The coming week will be devoted primarily to testimony from witnesses called by the defense.
Convictions for conducting insurance transactions without a license, deceptive practices and tampering with witnesses and informants carry penalties of 10 years in state prison, a fine not to exceed $50,000 or both. Counts of exploitation of an older person are punishable by imprisonment for a term not to exceed 10 years, a fine not to exceed $10,000 or both.
Securities fraud and transacting business as an investment advisor without a license is punishable by 10 years in prison a fine not to exceed $5,000 or both.

---