Dufficy bids farewell to City Council Chambers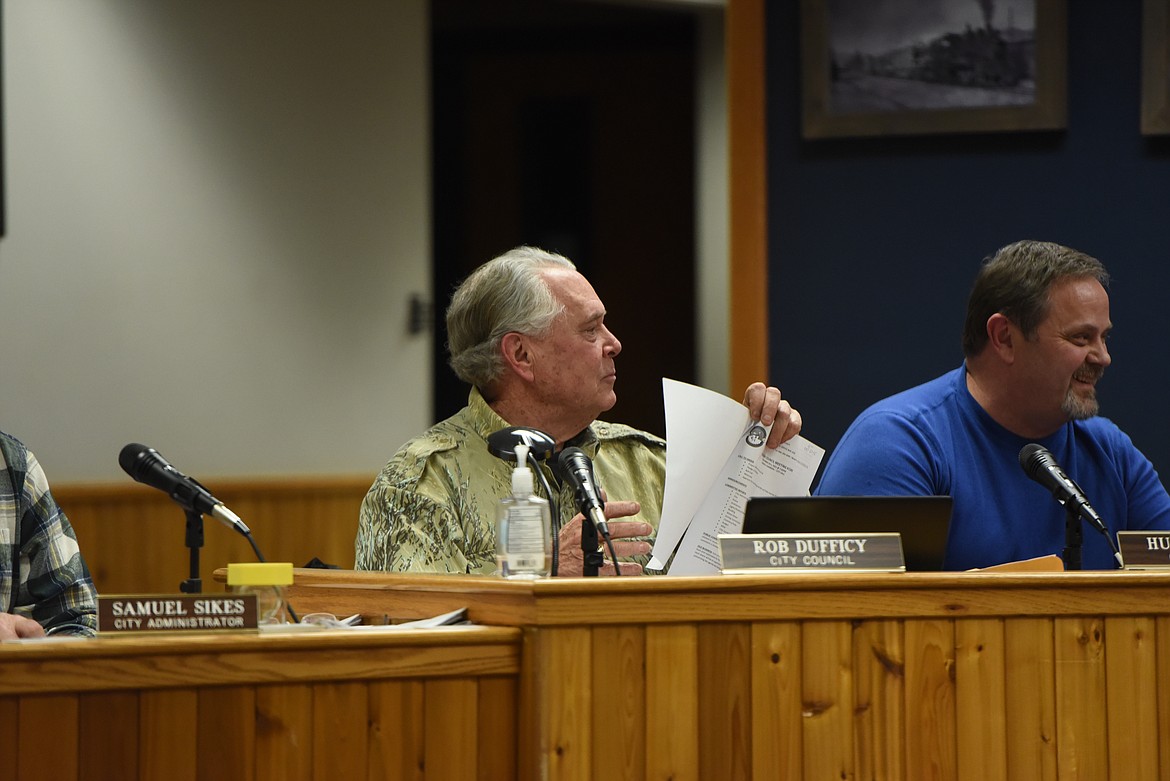 City Councilor Rob Dufficy at his final meeting as a member of Libby City Council on Dec. 20. (Derrick Perkins/The Western News)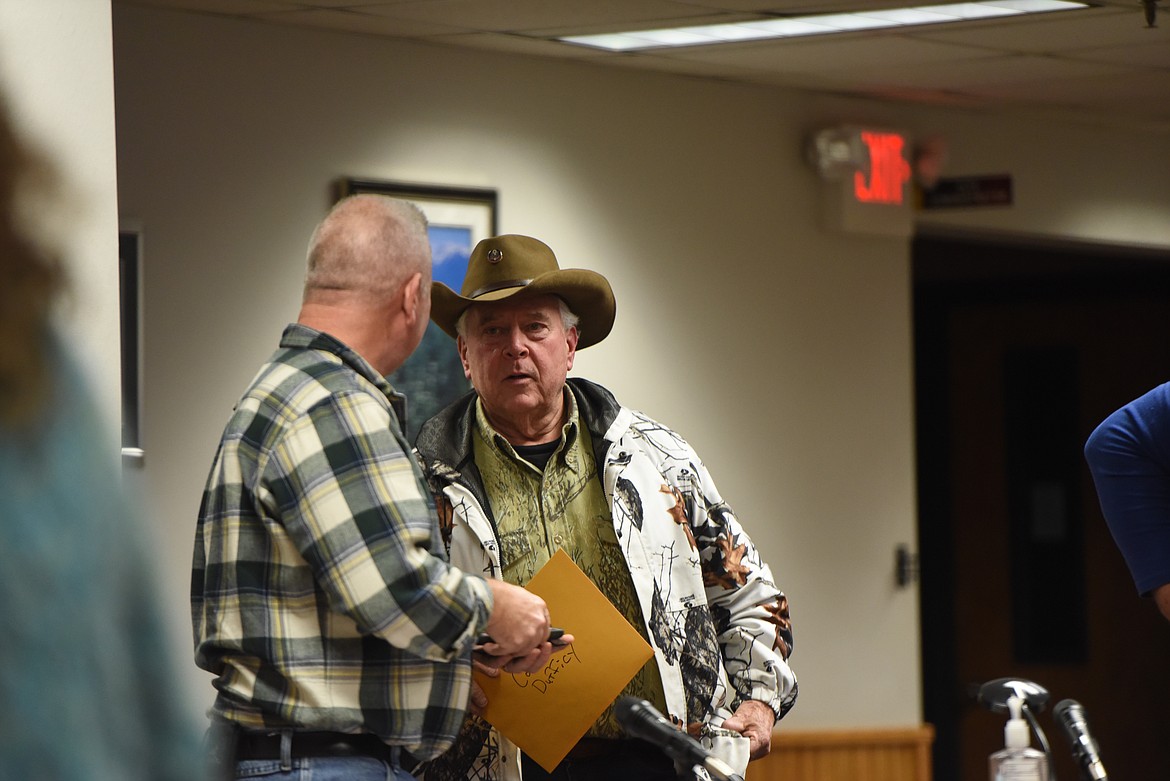 Outgoing City Councilor Rob Dufficy, right, speaks with City Administrator Samuel Sikes at his final meeting as a member of Libby City Council on Dec. 20. (Derrick Perkins/The Western News)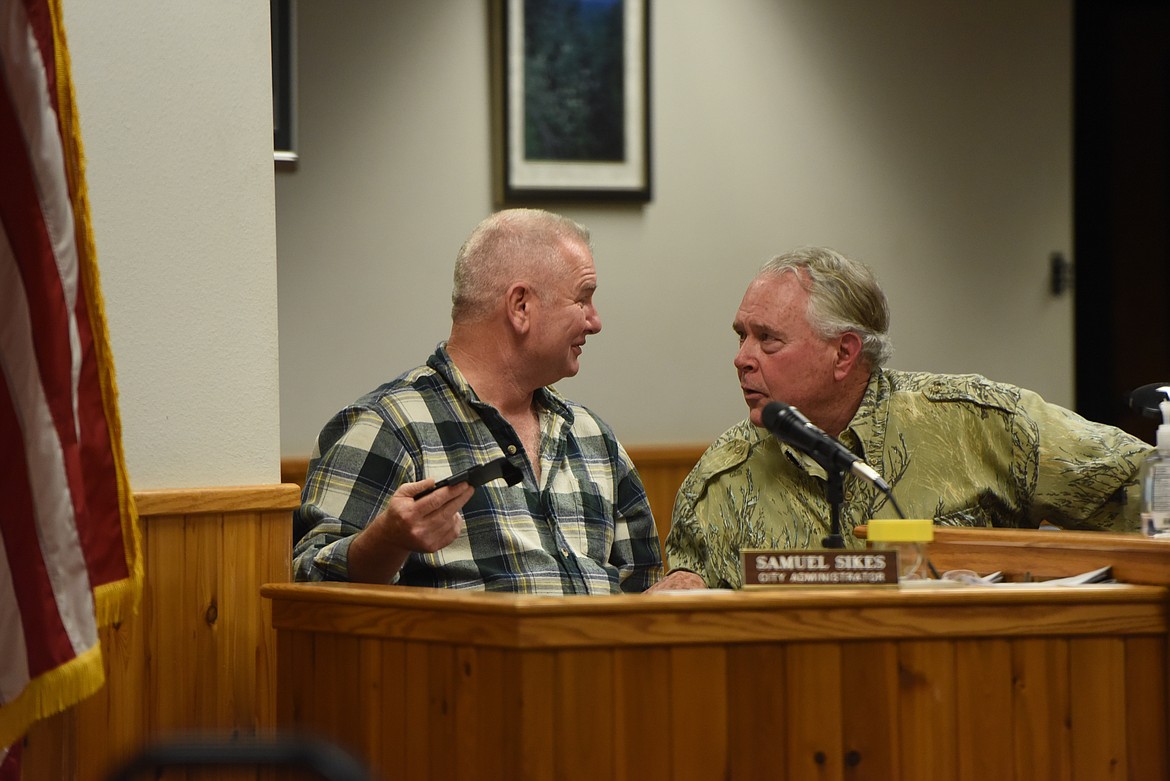 Outgoing City Councilor Rob Dufficy, right, speaks with City Administrator Samuel Sikes at a Dec. 20 Libby City Council meeting. (Derrick Perkins/The Western News)
Previous
Next
by
DERRICK PERKINS
Daily Inter Lake
|
December 31, 2021 7:00 AM
Outgoing City Councilor Rob Dufficy received a fond sendoff from his colleagues during his last appearance in City Council Chambers on Dec. 20.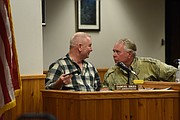 Led by Mayor Peggy Williams, city councilors applauded Dufficy's tenure on the panel, which began in April 2018. Dufficy was appointed to Libby City Council to fill a vacancy left by the departure of Gary Armstrong in March of that year.
"Thanks for the service," said City Councilor Kristin Smith, who along with fellow city councilors Gary Beach, Hugh Taylor and Brian Zimmerman voted in favor of Dufficy's appointment more than three years prior. Williams, then a member of city council, also backed Dufficy's ascension in 2018.
Dufficy returned the thanks and said he appreciated all of the camaraderie over the past few years.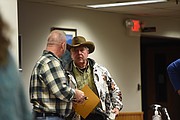 "We had our disagreements, but most times we got things passed," he said.
Dufficy said he made the wishes of his constituents his north star during his time on city council. That occasionally led to disagreements, but he said he had no regrets.
"I held strong with what my constituents wanted … I didn't waiver on that," Dufficy said. "Sometimes I caused a few problems, but we're elected by the public to carry out their wishes."
Dufficy joined Beach and Smith in running for reelection on the November ballot. City Councilor Zach McNew also put in for a seat. Although appointed to fill Peggy Williams' seat this past summer after her appointment to the office of mayor, McNew sought a full term on council. Newcomer Melissa Berke and former City Councilor Darrel "DC" Orr rounded out the ballot.
Voters ultimately reelected Beach and Smith, and brought Berke on as the newest member of the Libby City Council.
---