Judy Lundstrom, 81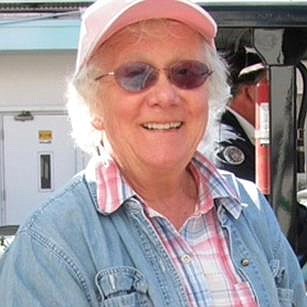 |
December 28, 2021 7:00 AM
On Dec. 15, 2021, Judy Lundstrom — loving mother and grandmother — passed away peacefully at her home at the age of 81.
Judy was born Nov. 17, 1940, in Libby to Edward and Marguerite Davidson. She graduated from Libby High School and worked many jobs throughout her life, finally retiring from the Libby Sports Center only four short years ago after working there for 38 years.
In 1960, she married I.V. Graham and they had three sons: John, Jay and Jack. In 1970 she married the love of her life, Carl, adding four more children to the family: Linda, Art, Dan and Jeanne.
Judy, or Grandma Judy as many affectionately knew her, had a passion for helping and loving anything and everything. Whether it was people or animals, if she could find a way to care for you, she would.
Judy also was an avid follower of the sports in her community, especially those that her children and grandchildren were playing in or coaching. You could easily find her sitting on the bleachers, cheering on her Loggers in any way possible. Rain or shine, she and Lori were going to be there.
She loved traveling, spending time outdoors and taking care of her many furry friends on her small farm. Grandma Judy also was the Northwest Montana Educational Foundation representative for many years, hosting more than 20 foreign exchange students with Carl in their home in Libby.
Judy had quite the gang she would go on adventures with — Lori Thorstenson, Diane Kneller, Linda White, Inez Hanson and Helen Bundrock, just to name a few. If you saw her with any of these ladies, you knew they were about to take the town by storm.
Family was Judy's most prized possession and coming in at a close second were her animals.
She was preceded in death by her parents, Edward and Marguerite Davidson; her husband, Carl Lundstrom; her brother, Jim Davidson; her sister, Karen Davidson; her son, John Graham; her daughter, Linda Lundstrom; and her daughter-in-law, Judy Graham.
She is survived by her children, Art (Mary) Lundstrom, Dan (Lori) Lundstrom, Jeanne Morse, Jay Graham and Jack Graham; her nephew, Steve Davidson; and her 13 grandchildren and many great-grandchildren.
A celebration of life is being planned for this coming summer. Memorial donations may be made to Kootenai Pets For Life in Grandma Judy's name.
Local arrangements are under the care of Schnackenberg Funeral Home of Libby. Online condolences and memories may be shared by visiting www.schnackenbergfh.com.
---