Rogene Huisentruit Stindt, 66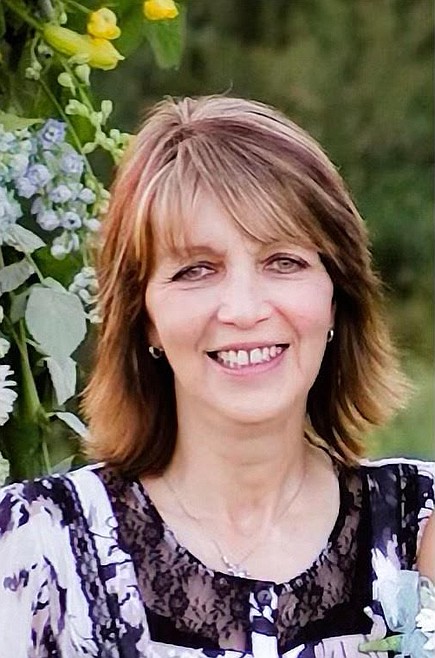 |
December 21, 2021 7:00 AM
Rogene "Genea" Huisentruit Stindt, 66, knocked on Heaven's door Dec. 14, 2021. She was surrounded by her loved ones, either beside her or holding her close in spirit.
When doctors gave her a devastating cancer diagnosis, in true Huisentruit fashion, the doors to the Kalispell hospital were nearly plowed down. There weren't enough seats in the waiting room, which is a true testament to the love and commitment Genea always gave her family.
She was born Dec. 22, 1954, in Libby to Clara and Roger Huisentruit. The oldest of six, she grew up in a humble and love-filled home that her grandpa and father built on Iron Creek in Troy. Genea and Pamela led the pack, with siblings Crystal, Roger, Mo and Andrea always following close behind.
She was a poster child of the '60s. Dressed to the nines, she was obsessed with the Beatles and never afraid of a little rebellion, like skipping school or smoking Kools out her bedroom window.
In 1970, with the support of her devoted family, she gained the title of Mama. She welcomed her first daughter, Tabatha, into the world. Her daughter Tanella was born five years later. It wasn't until 1979 that Genea married the love of her life, Danny, and together they had Daniel (Boones). Through Danny, Genea also became stepmom to Michael and April.
Danny and Genea were perfect complements to each other. He was her "honey" and she was his "babe" for 41 years.
Genea enjoyed working with her sisters through the years. She was talented at drawing maps for Davis Surveying with her sister, Pamela. She also worked for her sister, Annie, at "R" Place for nearly 15 years.
When an opportunity arose at the local juvenile detention center, Genea decided to train at the police academy and earned her certification as a juvenile detention officer. This was an incredibly proud achievement for Genea and her family. She worked with her sisters, Pamela and Crystal, and served more like a counselor for the youth who spent time in juvenile hall.
Genea was like a mother to her nieces and nephews; all the cousins grew up more like siblings. She became "Mama" or "Grams" to so many people. Her house sometimes seemed like it had a revolving door of loved ones seeking counsel or comfort.
Genea had the superpower to make everyone she met feel like the most special person in the room. There were many occasions where a young person who met her just naturally began referring to her as "Grandma" or "Mom." She loved "all her children" with all of her heart. So much so, that she worried profusely about everyone's whereabouts all the time. Everyone knew to let her know they had arrived home safely and to avoid mentioning doing something dangerous.
Genea loved rocks and gems and could list every month's birthstone from memory. She was a collector at heart. Any drawing a child had ever given her became a treasure to be kept. She could often be found behind a camera, wearing a T-shirt of her favorite band or something in Leopard print. She captured the good ol' days including countless photos of her musically gifted family.
For Genea, music was joy. She used its power, along with her Christian faith, to get through difficult times. Her love of Jesus was paramount in her life. She was unwavering in her spirit. Her expression of love on Earth was her way of honoring her Lord.
Genea believed most cuss words were just fine and she was pretty good at saying most of them. However, you never took the Lord's name in vain.
She was preceded in death by her parents, Clara Pattie-Huisentuit and Roger Huisentruit; niece, Hannah Hall Wallace; and nephew, Billy Don Norman; and many other loved ones.
She is survived her husband, Danny Stindt; children, Tabatha Huisentruit, Tanella Raan (Chris Raan), Daniel Stindt (Becky Ash); stepchildren, Michael Stindt and April Stindt; grandchildren, Andrew Venezio (Kiesha Venezio), Jordan Venezio (Tabatha Venezio), Samantha Jones (Tyler Jones), Isaac Venezio, Casey Raan, CJ Raan and Clara Stindt; step grandchildren, Raemund Stindt, Gabriel Stindt, Lei-loni Stindt, Michael Stindt Jr., William Stindt, Corbin Stindt, Lyam Stindt and Amira Stindt; great-grandchildren, Connor Venezio, River Jones, Natalie Venezio, Nola Jones, Huntley Venezio and Lochlan Jones; siblings, Pamela Norman (Mike Norman), Crystal Webley (Dan Webley), Roger Huisentruit (Julie Huisentruit), Mo Huisentruit (Debbie Huisentruit), and Andrea Wandler (Jerry Wandler); dozens of cousins, nieces and nephews; and a large, loving village of family and friends.
A viewing will be held Dec. 21 from 3 to 7 p.m. at Schnackenberg and Nelson Funeral Home (422 W. 2nd St., Libby).
It wouldn't be right to hold a function for Genea in the morning. She would tell you herself she was never ready before noon, and even then, she might be 30 minutes late.
A funeral service will be held at 1 p.m., Dec. 22 at Troy Community Baptist Church (725 E. Missoula Ave., Troy). A potluck reception will follow a private burial for the immediate family. Location of the dinner will be announced on Facebook.
Please send sentiments to P.O. Box 931, Troy, MT 59935.
---