Ordinance committee to recommend pursuing 3 percent recreational marijuana tax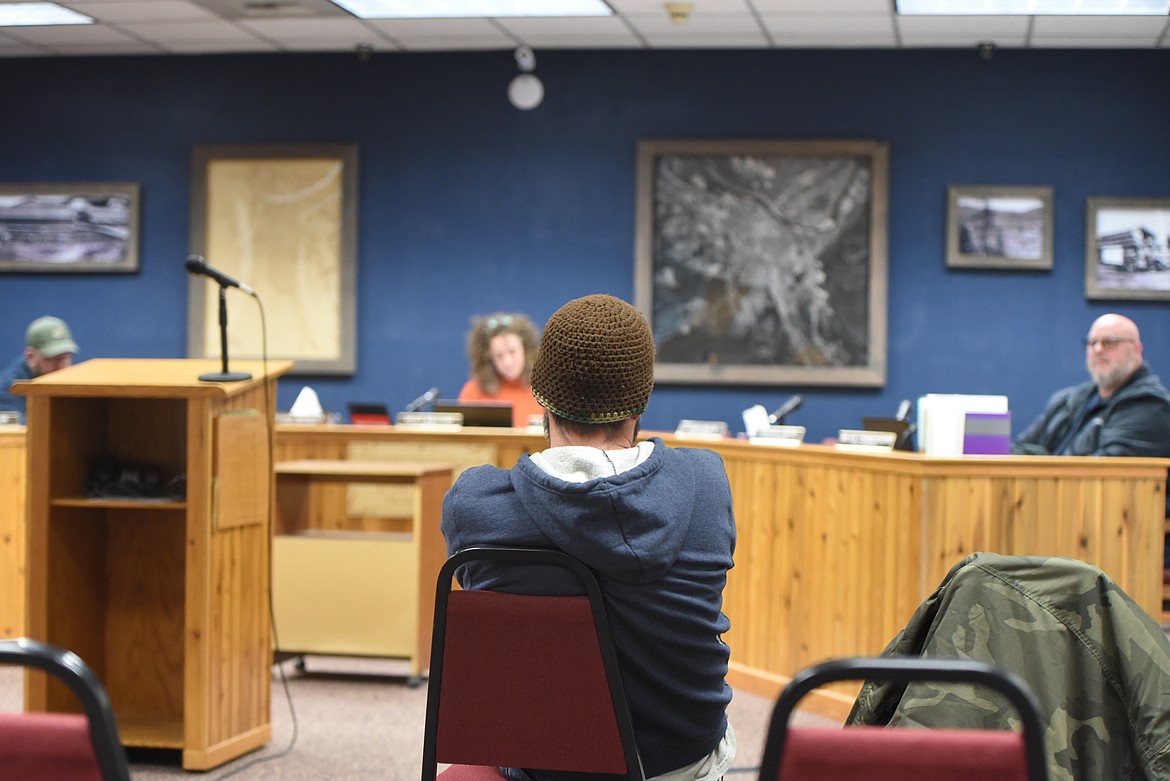 Jamie Eckart, who works locally in the cannabis industry, speaks with members of Libby's ordinance committee about recreational marijuana during a Dec. 7 meeting. (Derrick Perkins/The Western News)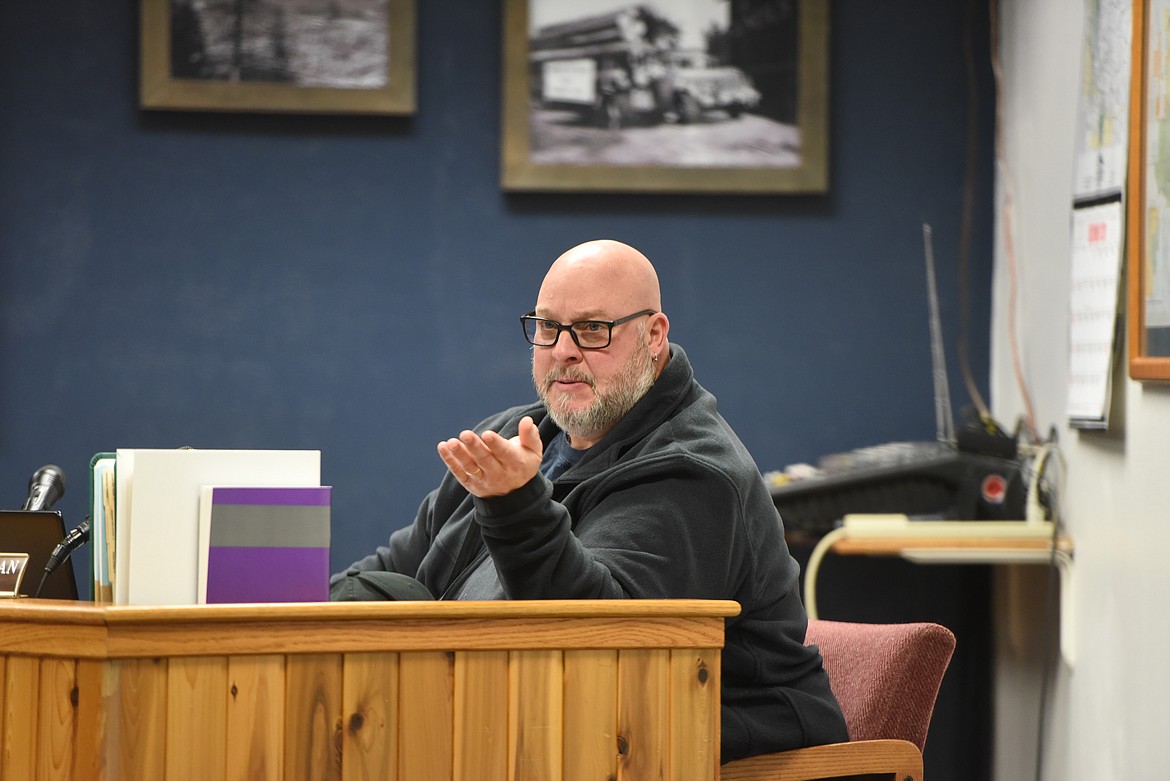 City Councilor Brian Zimmerman, who serves on the ordinance committee, speaks with residents during a Dec. 7 meeting on recreational marijuana rules. (Derrick Perkins/The Western News)
Previous
Next
by
DERRICK PERKINS
Editor
|
December 14, 2021 7:00 AM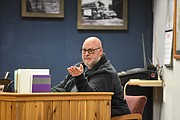 Libby's ordinance committee agreed last week to lobby county officials for an additional tax on recreational marijuana even as the group works on how sales will work in the city.
State rules allow localities to place an extra 3 percent tax on top of recreational sales, which are set to begin in January. Helena already plans to tax recreational sales at 20 percent.
To add the extra tax, localities must first put it before voters in an election. City Councilor Kristin Smith, who heads the ordinance committee, said Dec. 7 it made sense to get rolling on the taxation side while drafting rules for local cannabis shops.
"The city has to ask the county to initiate that tax, which — we could make that recommendation right now," Smith said. "Because, actually, that's going to take some time."
So far, Missoula, Park and Yellowstone counties have approved the local tax on recreational sales. The latter two counties also upped a local tax on medicinal marijuana.
Retail recreational marijuana remains legal only in counties that voted "green," or in favor of the ballot initiative that legalized the substance in Montana in 2020. Along with an extra tax, county officials also could ask local voters to switch the jurisdiction's stance on recreational marijuana.
Smith said at the conclusion of last week's gathering that she planned to put the committee's recommendation for an extra tax before the full city council. It's the second such meeting the ordinance committee has held on the issue and members spent much of it adding more details to proposed regulations.
While the Montana Legislature already laid out most of the nuts and bolts for recreational cannabis sales in the state with House Bill 701 — think proximity restrictions vis-à-vis schools, packaging stipulations and a ban on drive-thru windows — localities can impose further requirements.
"The state law is very robust, it's very thorough," Smith said. "Anything we do locally is just suspenders and very specific to our community's desires."
Much of the discussion in Libby surrounded reaching the right amount of marijuana storefronts within city limits. To do so, committee members debated the spacing between future shops, beginning with a 500-foot buffer.
Working off of quick and dirty calculations, committee member and City Councilor Brian Zimmerman estimated that the limitation would still allow for as many as 20 marijuana storefronts between U.S. Highway 2, Mineral Avenue and California Avenue. After factoring in churches, schools and parks, he dropped his estimate to between 10 and 20, which committee members and attendees agreed remained too high.
"I would hate [to have] more than six or seven total," Zimmerman said.
Jamie Eckart, an attendee who works in the industry locally, urged the committee against opening the floodgates. He cited the "green mile" in Evergreen, a stretch saturated with cannabis-related outlets, as an outcome neither the industry or the municipality would want for Libby.
"If you allow it to be flooded like that section over there, nobody wins," Eckart said. "It's like having 10 breweries on three blocks."
And while there is a lot of space in the county as a whole, Eckart suspected retailers would prefer opening up shop in Libby as opposed to, say, the Yaak.
"To be in town would be ideal for us or anybody else in the industry looking to break through," he said.
At Smith's suggestion, the group decided to examine a 1,000-foot buffer between future outlets. She also pitched making retail marijuana outlets subject to a conditional use permit, meaning entrepreneurs would need to brief city councilors on their plans.
As for licensing, Smith proposed keeping the fee on par with liquor licenses, about several hundred dollars. Although city code bans the issuing of a license to a business that deals in goods or services deemed illicit under federal law, Smith said the municipality's attorney advised committee members that Libby officials would be "hard-pressed" to defend such a restriction.
"Legally, it would be a pretty shaky case, because it's state law," she said. "The momentum is to delist it anyway at federal level."
Whether or not Libby would need to amend its business license rules emerged as an early question at the ordinance committee's first meeting on recreational marijuana.
The free-flowing discussion also touched on marijuana cultivation with Smith wondering if Libby could zone out that aspect of recreational cannabis. Making cultivation allowable in an area zoned industrial would open up the banks of the Kootenai River and adjacent area to the practice. During the group's previous meeting on the topic, Barb Turner of Alternate ReLeaf warned that marijuana cultivation is potentially odorous.
"If we restrict it to industrial, our industrial is all along the riverfront and right downtown, basically," Smith said.
Land zoned for agriculture, by contrast, comprises a small stretch of land along Education Way between Parmenter Drive and Croteau Road. Given the school proximity restrictions and the minimal amount of space available there, allowing cultivation in agriculturally zoned areas could block that type of operation in city limits.
"My first question is to verify [whether] we could zone out cultivation," she said.
Stressing again that any local regulations were in the early stages, committee members urged the public, with an added emphasis on the business community, to get involved.
"I would really like to hear from the public, the downtown business association, the chamber, what their thoughts are moving forward," said City Councilor Zach McNew.
Gail Burger of the Libby Area Business Association, one of three people in attendance at the meeting, said she was surprised at the low turnout. Local business owners are interested in how recreational cannabis will work in Libby, she said, citing a stream of messages to her phone from downtown merchants.
Burger said most expressed interest in knowing how future tax revenue from the sale of recreational marijuana would get spent. Many of her colleagues had ideas for using the future dollars, but there was little consensus, she reported.
"The [messages] I'm getting are wanting to know where the tax is going to go, what you're going to spend the tax on," she said. "Some are firmly against it being used on drug rehabilitation; some want it spent on a pool. They all want different things."
Because Libby rejected an ordinance allowing medicinal marijuana facilities to operate within city limits several years ago, local officials have a bit of time to finish crafting rules for recreational cannabis. Only existing medicinal outlets can sell recreational marijuana starting in January. Newcomers to the market must wait 18 months before setting up shop.
---