Cleanup solutions for former vermiculite mine site under consideration
by
WILL LANGHORNE
The Western News
|
December 7, 2021 7:00 AM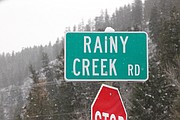 Officials overseeing the Libby Asbestos Superfund Site are a step closer to selecting a cleanup solution for contaminated property in and around the former vermiculite mine.
W.R. Grace employees submitted a range of alternative plans to the EPA for addressing contamination at the mine on Nov. 30, according to Tony Penfold, remediation manager for the company. During a meeting with federal, state and local officials the following day, Penfold said EPA officials were reviewing the draft document.
"There's going to be some discussion over the next few months on exactly how we'll move forward on that," he told county commissioners, EPA officials and DEQ personnel on Dec. 1.
With this most recent submission, federal officials now have the complete range of alternative plans for Operable Unit 3, the section of the superfund site covering the former mine and nearby property. W.R. Grace submitted alternative remediation plans for the forestland adjacent to the mine earlier this year.
"As we move forward into 2022, we'll be refining those alternatives," said Penfold. "We'll be working through all the detailed analysis."

Upcoming discussions over the proposed alternatives will include how many trucks officials expect to need, the time frame for stages of cleanup and how many acres officials would revegetate or put gravel on.
While officials still have a ways to go before completing the process of assessing remediation alternatives, Penfold said the site managers were making considerable progress.
Along with exploring remediation options, W.R. Grace has recently worked to update the spillway at the Kootenai Development Impoundment Dam. Work on the spillway began after regulators raised concerns that the structure could fail during a major storm or earthquake and release asbestos-laden water into Rainy Creek and potentially the Kootenai River.
Last year, W.R. Grace completed the construction of a cofferdam providing workers the access they needed to renovate the spillway. During the Dec. 1 meeting, Penfold said W.R. Grace would wrap up work on the spillway for the year within roughly the next week. Workers would return to the site in February or March when W.R. Grace would work on the placement of the spillway chute itself.
"There's going to be a lot of concrete work up there and a lot of rebar placement," he said. "You should expect we'll have crews working up there pretty much as long as they can for the construction season."
---