Demonstrators rally in support of law blocking vaccine mandates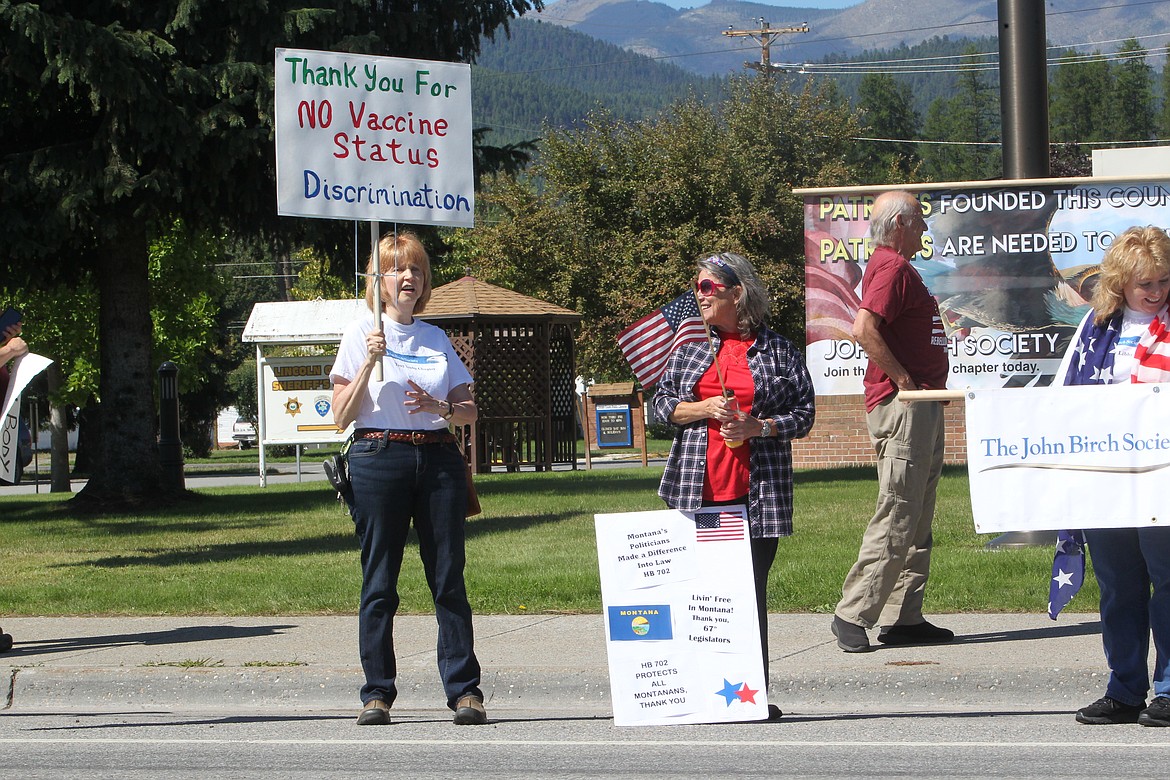 Demonstrators showed their support of House Bill 702 in front of the Lincoln County Courthouse on Aug. 28. (Will Langhorne/The Western News)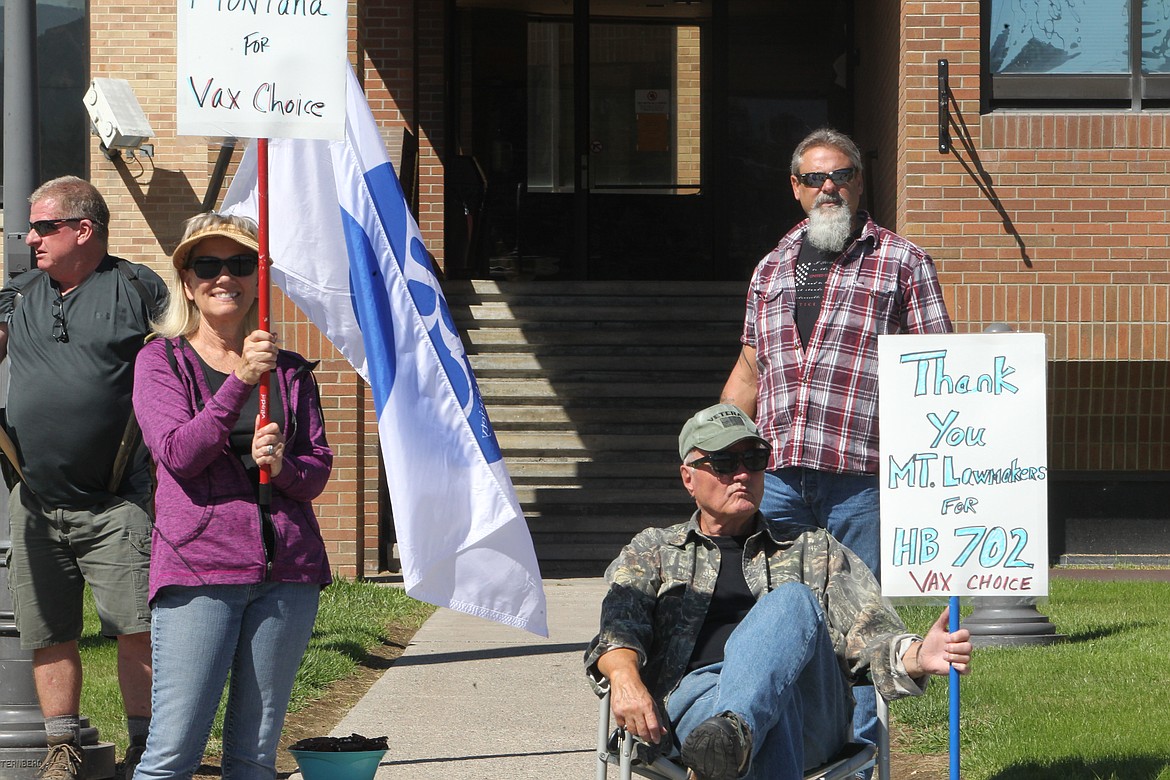 Demonstrators showed their support for House Bill 702 in front of the Lincoln County courthouse on Aug. 28. (Will Langhorne/The Western News)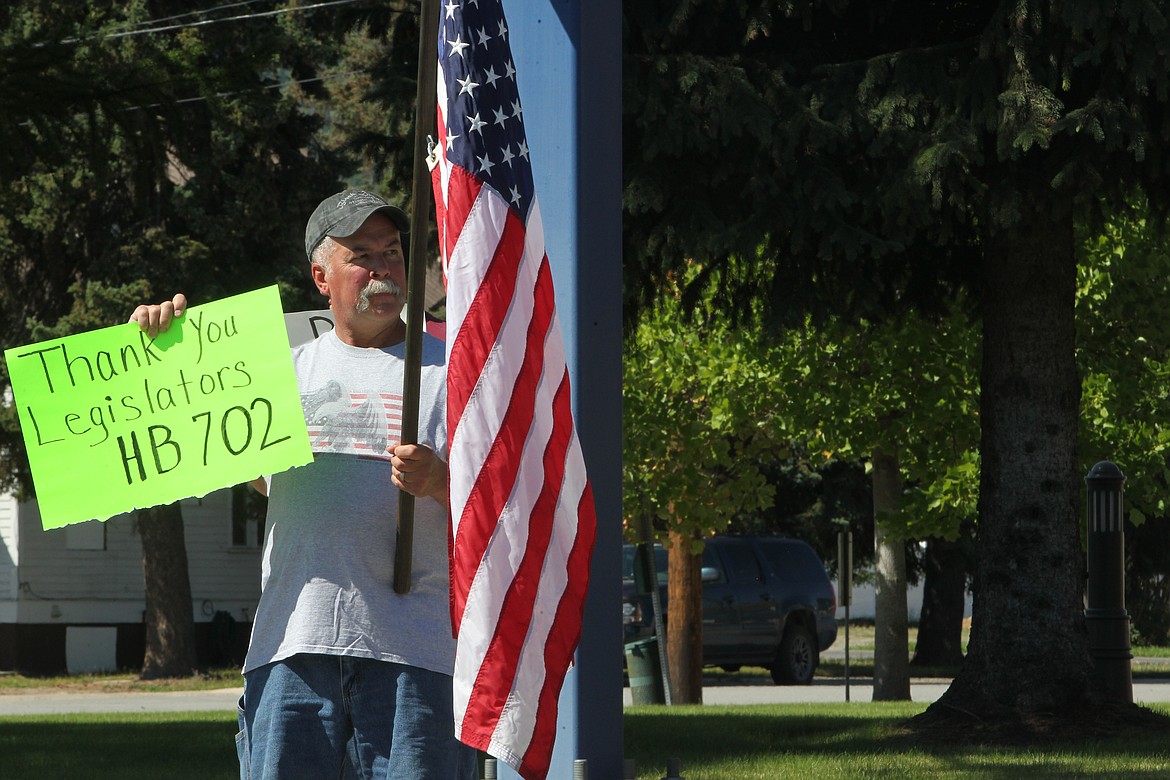 Demonstrators showed their support for House Bill 702 in front of the Lincoln County courthouse on Aug. 28. (Will Langhorne/The Western News)
Previous
Next
|
August 31, 2021 7:00 AM
Roughly a dozen demonstrators took to the Lincoln County Courthouse lawn this weekend to show their support for a controversial state law that bans vaccine requirements as discrimination.
Supporters, carrying posters and waving flags, touted House Bill 702 as a means of protecting personal freedoms. The law, which went into effect in July, prohibits public agencies and private businesses from mandating that staff, customers and others receive vaccines.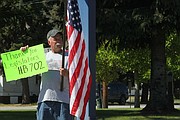 Mitch Walters of the local chapter of the John Birch Society said he and other members of his group organized the demonstration after hearing that organizations around the country were holding "Say No" rallies to protest vaccine mandates.
"We thought to ourselves, 'We can either go and support them in their 'Say No' or we could do our own and show appreciation to our leaders for already having done that,'" he said.

Some politicians, including Republican Gov. Kristi Noem of South Dakota, have come out against bans on vaccine requirements, saying that governments don't have the right to force the hands of private business owners.
"Workers whose employers are mandating a vaccine for continued employment have the power to say no," wrote Noem in a July 31 social media post. "Our robust economy and job market gives them the choice to find a new employer that values personal choice and responsibility, and doesn't force mandates on their employees."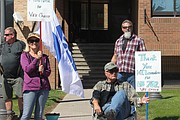 While shepherding House Bill 702 through state chambers, state Rep. Jennifer Carlson (R-Manhattan) described vaccine requirements as a form of discrimination against those who eschewed the shots. Without the law, she raised concerns that public and private entities could restrict goods, services and employment opportunities based on vaccination status.
Supporters of the law echoed a similar stance at the demonstration, arguing that the state government did have a say in the matter since discrimination based on vaccination status was the same as other forms of prejudicial treatment.
"It's not an overreach when it's discrimination against race, sex, creed, religion, sexual preference. It seems like that's a big thing around the country right now," said County Commissioner Brent Teske (D-1). "This seems to be that because they oppose it, it's convenient to put that out."
Some demonstrators raised concerns about the efficacy of coronavirus vaccinations. Walters and Mike France pointed to a recent study conducted in Israel that concluded fully vaccinated people are at greater risk from the virus than those who have contracted the virus and developed natural immunity.
The study, conducted by researchers with Maccabi Healthcare Services found that people who were once infected by the virus were less likely to develop symptoms or become hospitalized with a serious case of COVID-19 than vaccinated people who had not previously been infected.
The study also found that people who had contracted the virus and received one dose of the Pfizer vaccine were better protected against a second infection than those who had the virus once and were unvaccinated.
A staff writer with Science wrote that the study "demonstrates the power of the human immune system, but infectious disease experts emphasized that this vaccine and others for COVID-19 nonetheless remain highly protective against severe disease and death."
The study has yet to be peer-reviewed and should not be used to guide clinical practice, according to the preprinted article on the research published in medRxiv.
A study published by the Centers for Disease Control and Prevention earlier this month showed that unvaccinated individuals are more than twice as likely to be reinfected with the coronavirus than those who were fully vaccinated after initially being infected by the virus.
Walters voiced concerns about the potential for vaccines to cause inflammation of the heart or myocarditis in young men.
Another Israeli study published last week found that COVID-19 is more likely to cause myocarditis than the Pfizer vaccine. The CDC recommends vaccinations for everyone 12 years of age or older noting the "known potential benefits of COVID-19 vaccination outweigh the known and potential risks, including the possible risk of myocarditis or pericarditis."
France raised broader concerns about the efficacy of medical treatments in general.
"Even if you believe in evolution and believe in millions of years, here we are less than 200 years later sticking stuff into our bloodstream to be healthier," he said. "I'm very concerned about where this is going long term."
France feared vaccines and other treatments could result in the realization of a scenario similar to the movie "I Am Legend," a post-apocalyptic thriller set after a virus, designed to cure cancer, wipes out most of humanity and turns most survivors into ghouls.
While France recognized that many studies have shown vaccines to be safe, he worried that funding streams could have tainted these findings.
Medical experts from hospitals and universities across the world and local, state and federal public health officials have repeatedly stated that coronavirus vaccines are safe and effective. The FDA granted its full approval to the Pfizer vaccine earlier this month.
Despite House Bill 702, some long-term care facilities in Montana will have to begin requiring their staff to receive vaccines or risk losing federal funding. President Joe Biden announced an emergency regulation earlier this month mandating that nursing homes require vaccines to receive funding from the Centers for Medicaid and Medicare Services (CMS). The regulation is scheduled to be issued in September, according to CMS.
An exemption in House Bill 702 would allow long-term care centers to mandate staff vaccinations if required by federal regulations.
A recent outbreak at the Libby Care Center, which has claimed the lives of at least two residents, has led some family members to speak out in favor of vaccine requirements at the local nursing home.
Karen Wickersham, who lost her uncle Earl Stanley to the outbreak, said she had heard from nurses that an unvaccinated staff member brought the virus into the care center. Executives with Cascadia Healthcare, the nursing home's parent company, said they believed the outbreak originated with an employee who tested positive for the virus but could not say if the staff member was vaccinated.
"We [mask up and get vaccines] not just for our own safety, but to protect others," said Wickersham. "The fact that Earl got it because someone chose not to get vaccinated is beyond infuriating and speaks loud and clear of that caregiver's selfishness."
Despite their concerns regarding the vaccine, demonstrators said they were saddened by the news of the coronavirus outbreak at the care center.
"I would never disparage or want anyone to die at the care center that doesn't have to die. I would not want that," said France.
Although much of the discussion around House Bill 702 has concerned the coronavirus, the law applies to all vaccines. State officials have determined that the law permits vaccine incentives.
Public schools may still request student immunization under the law. Like all states, Montana requires students to receive certain vaccines including polio, hepatitis B and chickenpox. Students may still apply for a medical or religious exemption to this requirement.
---