Cats claw Trojans at season opener
by
WILL LANGHORNE
The Western News
|
August 31, 2021 7:00 AM
Despite a promising preseason, the Troy Trojans failed to tame the Clark Fork Wampus Cats during their home opener.
Troy fell 56-6 to Clark Fork in the Aug. 27 matchup.
Coach Luke Haggerty attributed the loss to early season nerves and the team's youth. Although the Trojans saw 25 players come out this year for the eight-man team — as opposed to 13 last season — the squad is still gaining experience.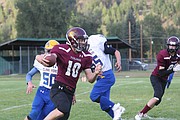 With freshman and untested sophomores in the starting lineup, the Trojans tended to pair promising plays with unfortunate mistakes. In the open series, the Trojan defensive line celebrated after recovering an onside kick. When the offense took the field, though, Troy made an illegal snap.
"That's a sophomore. It's his first time starting so you understand the nerves," said Haggerty of his center.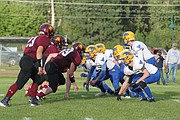 Clark Fork drew first blood scoring a touchdown just over three minutes into the game. The Trojan defense struggled to contain the Wampus Cats during the first quarter, allowing Clark Fork to rack up a 26-0 lead by the second quarter.
The Trojan offense was hampered within the opening plays of the game with the loss of Paxton Fisher, one of the team's slotbacks, to a leg injury. Haggerty noted that the team's other two slotbacks were ineligible to play in the season opener.
"[Slotbacks] are a giant part of our offense," he said. "It's unfortunate, but [Fisher] should be back next week — I think it was just a sprain."
Throughout the game, Troy struggled to provide cover for their quarterback Trevor Grant.
"He had no protection today and that happens sometimes," said Haggerty. "I mean we couldn't even run a bubble screen without getting blitzed and that's the quickest pass there is."
During the second quarter, the Trojan defense saw more success in slowing the Wampus Cats. In one series, Troy held Clark Fork at their 18-yard line for a couple of downs before Ben Starks, Trojan linebacker, secured a fumble.
The second quarter saw Troy secure their single touchdown of the game. After the Trojans pushed to Clark Fork's 24-yard line, Grant ran the ball to the three-yard line.
The Wampus Cats thwarted a run by Trojan running back Joey Wise, pushing Troy back to the six-yard line. Grant then returned the ball to within a few yards of the end zone. During the next play, Starks brought Troy over the line.
"I was pretty good," said Starks of the touchdown after the game. "I think there will be plenty more to come."
Troy finished out the first half 40-6. In the third quarter, the Wampus Cats stretched their lead to 50-6.
Looking ahead, Haggerty said Troy would focus on their running game and improve their blocking.
The Trojans will hit the road to play Flint Creek in Drummond on Sept. 3.
---