Loggers hone skills heading into season opener
by
WILL LANGHORNE
The Western News
|
August 27, 2021 7:00 AM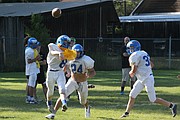 The Libby Loggers have a few kinks to work out, but the team nevertheless showed promise in the days leading up to the season opener.
"We've got a long way to go before we develop into a good football team," said coach Neil Fuller during an Aug. 24 practice. "The pieces are there."
Libby saw 37 players come out for this year's team. Fuller said the squad represented a good group of seniors, juniors and sophomores. While the team is starting with a small contingency of freshmen, many of the new players show signs of talent.
The Loggers lost a solid group of seniors from last year, including quarterback Jay Beagle and running back Dawson Young.
"We're going to miss last year's seniors, that was a great group, but we've got some guys ready to step in and fill their shoes," said Fuller.
Coaches have selected Ryder Davis to play as the team's starting quarterback.
"He played a little bit for us at 'Q' last year," said Fuller. "He's solid. He runs well and he has a strong arm."
To develop Libby's offense, coaches focused on the team's ground game leading up to the Aug. 24 practice. Fuller said the Loggers would concentrate on their passing game in the days before their Aug. 27 season opener against East Helena.
On defense, the Loggers have worked to find replacements for last year's seniors. While Libby has a strong crew of linebackers, the team's backups are young.
"The only position where we have some decent depth with some more mature physical kids is up front," said Fuller. "The perimeter guys are a little thin."

Aydan Williamson, a lineman for the Loggers, said the team's offensive line was the same as last year's with the addition of a new left tackle.
Logger coaches were uncertain about what to expect from East Helena, the team's first opponent of the year. All Fuller had to work off of was a freshman and sophomore game from last year.
"We don't know anything about them," he said prior to departing for East Helena. "They have some good athletes, they are going to be a good team."
The Loggers, who went 5-4 last season, are expected to take the field at 7 p.m.
---