Mary Ellen Johnson, 96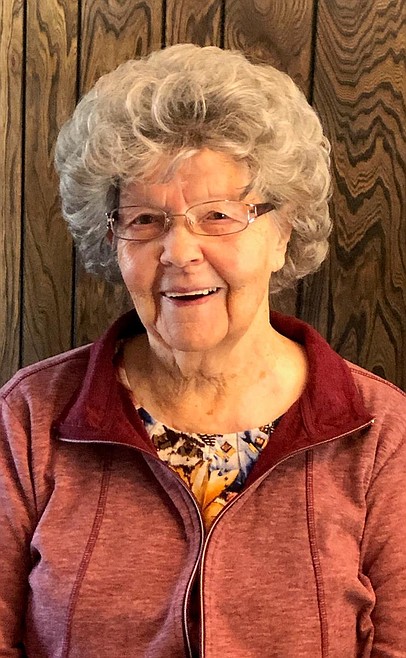 |
August 24, 2021 7:00 AM
Mary Ellen Johnson, 96, of Libby passed on peacefully into the arms of Jesus with her family by her side Aug. 16, 2021, at Home Sweet Home in Eureka. She was born March 12, 1925, in Muncie, Ind., to Benjamin and Frances (Kern) Applegate.

As a young girl, Mary sang on the radio with her father. They were sponsored by a bread company and this helped support the family during the Great Depression. She moved to Montana in 1940 and in 1941 she married James Ellis Johnson in Kalispell.

Mary was a busy woman. Most importantly, she was a wife, mother and tutor. She was an electrician, plumber and a seamstress. Mary was a general contractor, responsible for more than 40 homes in the Libby area. At age 70, Mary got her GED with honors.

She was a member of the Church of God, Nazarene Church and, most recently, Libby Christian Church. Mary's family stopped her from cleaning her own chimney at age 80 and grounded her from the riding lawnmower at age 90! According to her late husband, she baked the best pie in Lincoln County.

Mary was preceded in death by her parents; husband, James Johnson; brothers, Ed Applegate, Gene Applegate, Paul Applegate, Joe Applegate and Duane (Bud) Applegate; sisters, Teola Hazen and Joan Croucher; and grandsons, Craig Geil and James Geil.

Survivors include her children, Carolyn Alsbury of Libby, Richard James Johnson of Wrangell, Alaska, and Robert E. (Bobby) Johnson of New Smyrna Beach, Fla.; sisters, Phyllis Hansberry and Linda Arnold; grandchildren, Debbie Brookshire, Chad Allen, Jayson Duszynski, James Johnson, Ben Johnson, Chris Johnson, Detrik Johnson, Rochelle Brown, Vicki French and Ericka Simmons; and many great-grandchildren and great-great-grandchildren.

Services will be held at 11 a.m., Aug. 30 at Libby Christian Church, 100 Kootenai River Rd. Visitation will be held from 1 to 5 p.m., Aug. 29 at Schnackenberg Funeral Home in Libby.

Online condolences and memories may be shared by visiting www.schnackenbergfh.com.
---