Logger golf squad ready to roll
by
WILL LANGHORNE
The Western News
|
August 24, 2021 7:00 AM
A young but promising Libby golf squad teed off their first practice of the year at the Cabinet View Golf Course earlier this month.
Coach Dann Rohrer said 17 players came out for the Loggers this season. The boy's squad held the most experience with a handful of returning players and the team's only senior. Rohrer said eight new girls had signed up for the team.
"They're very athletic and it's not going to take them long. They keep [improving]," he said of the rookies at the Aug. 12 practice.
To bring the younger players up to speed, Rohrer has made fundamentals the team's focus. After months away from the green, some of the returning golfers have also had to knock off some rust.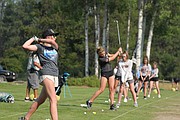 "We really need to fundamentally go back to what's important," he said. "It's really fun. These kids are doing a great job and really listen well."
The Libby golf team sent four players to state last year three of which — Mason Gotham, Landon Haddock and Dylan Buckner — have returned for this season.
While ironing out the kinks in his swing on Aug. 12, Haddock said he would focus on "hitting bombs and making it to state" this season. Gotham said he planned to spend more time practicing his drive. Both were looking forward to playing Columbia Falls, a rival the Loggers did not have a chance to face last year.
Rohrer said there were no restrictions on the season due to the coronavirus as of Aug. 12. Last year, teams kept contact to a minimum by playing separate holes and comparing scores later using an honor system.
This year's season kicked off with a tournament against Columbia Falls on Aug. 18. Rohrer said the Loggers would go on to play against Browning on Aug. 20 and Whitefish on Aug. 23.

"They try to get as many [tournaments] in as they can before school starts," said Rohrer, explaining the early season tournament rush.
---