Sara Helene Mertes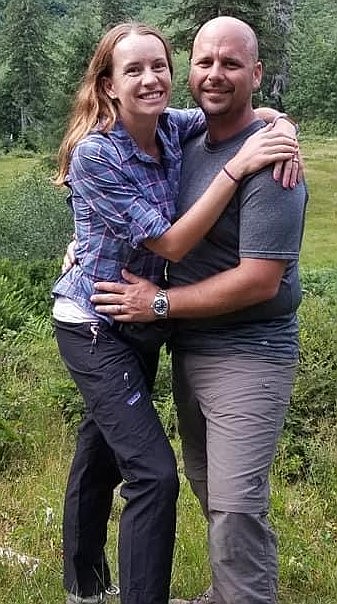 |
August 20, 2021 7:00 AM
Sara Helene Mertes was born Oct. 1, 1983, to John and Christa (Ijames) Huddleston. She left us Aug. 7, 2021, along with her beloved husband, Jacob Mertes.
Sara's love for the outdoors and hiking started at a very young age as did her strong
Christian faith. She grew up in the country outside of Rainier, Wash. She loved being outside with the chickens and her dog, Calah. She started "hiking" in her mom's front pack when she was just a baby. Rain or shine, the family could be found hiking, camping, and fishing. Sara loved it all.
Sara went to Yelm Schools with her brother, Luke, and spent two years at New Life
Christian Center School. She graduated from Olympia High School before getting her undergraduate degree at Western Washington University. She attended medical school at Loma Linda University for four years with her residency being completed at Tacoma General.
Travel always was a huge part of Sara's life. After residency, she worked both in
Guam and New Zealand as a family physician and spent time traveling in the South
Pacific, Asia and Japan. Ireland was her favorite travel destination.
Sara settled on a permanent location for her medical practice in the small town of Libby, where she could have access to the wilderness and all the outdoor activities she loved. She was one of the original providers involved in the opening of Cabinet Peaks Family Medicine in 2016, staying there until her passing.
It was in Libby where Sara found a home where she could hike, bike, ski and camp to her heart's content. And it was there she found her soul mate, Jake Mertes. The two were married in 2018 near the sea in county Donegal, Ireland, the home of her great-grandparents.
Sara and Jake worked hard at their jobs during the weekdays and were found wandering the mountains and lakes on the weekends. They toured the world as much as they could, scuba diving and hiking their way across continents.
Sara was a member of the Lincoln County Health Board and served as medical director for Cabinet Peaks Family Medicine. She volunteered often during the COVID-19 pandemic in 2020, helping with vaccination clinics.
Sara was always close to her friends and family. She never lost touch with her roots, making many trips back home to Olympia, Wash. Her family meant the world to Sara, but she managed to make and keep many friends. She treasured her friends and called them her "other family."
She was so giving, thoughtful, loyal and strong. People remember her smile and the light she brought with her. She could make friends with strangers, she could handle heavy conversations and tough situations with ease, and she could be carefree and fun. She was the ultimate put-together, fashionable woman one minute and the down-and-dirty backcountry camper the next.
Sara is survived by her mother, Christa Ijames Huddleston and stepfather Michael A
Freeborn; brother, John Luke Huddleston, and his wife, Kali Mae Huddleston; grandmother, Sarah Huddleston; aunts Susan Cobb, Nalana Dzivak, Mary Christensen and Lisa Webster; and 14 cousins.
She was predeceased by her father, John D. Huddleston; grandfather, Thomas Earl Huddleston; grandparents, Fred and Mary Ijames; and her uncle, Bill Ijames.
Sara was a gift from God; she will be missed so much by her family, friends and her community. She was greatly loved.
Jake and Sara Mertes were rich is spirit and love, with a matching zeal for adventure. The community of Libby is organizing a fund where donations will be used to aid local organizations that supported their passion for the outdoors and for health care.
In lieu of flowers, friends and family ask that donations be made via GoFundMe to support this endeavor. To donate to the memory of Jake and Sara, please visit http://gofund.me/2445dadF. We will notify donors how these funds are utilized.
A celebration of life will be held in Libby at 4 p.m., Oct. 1 in River Bend Restaurant.
---