After surrendering personal arsenal to feds, Kilgore back in district court
by
DERRICK PERKINS
Daily Inter Lake
|
August 17, 2021 7:00 AM
A Libby man brought up on federal charges after allegedly shooting a horse last summer is back in Lincoln County District Court.
Mark Allen Kilgore, 62, pleaded not guilty to felony counts of criminal mischief and criminal endangerment during his Aug. 2 arraignment. The charges stem from the alleged shooting of a neighbor's horse with a .22 caliber rifle on June 23, 2020.
Authorities began investigating Kilgore shortly after the incident. The owner of the horse obtained surveillance camera footage showing a man approach the animals while hefting a rifle and later firing the weapon. She identified the man as Kilgore, who lived in a nearby Vanderwood Road trailer, court documents said.
But the investigation quickly involved the Bureau of Alcohol, Tobacco, Firearms and Explosives. According to documents filed in federal court, deputies with the Lincoln County Sheriff's Office found silencers and short-barreled rifles in violation of state law in his home. They contacted ATF officials soon after the discovery.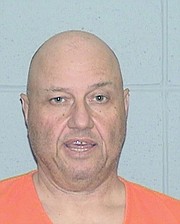 A subsequent search of the trailer, this time with a warrant for firearms and silencers, turned up machine guns and a "suspected destructive device." Kyle Solon, a special agent with the ATF's Denver field office, wrote that Kilgore had no registered machine guns or "destructive devices" and just four registered silencers.
Federal investigators turned up three machine guns, 10 short-barreled rifles, three short-barreled shotguns, 32 silencers, two "destructive devices," an undisclosed type of weapon, more than 100 other firearms and about 6,000 pounds of ammunition during a July 2, 2020 sweep of the home. Three of the firearms had the serial numbers removed, court documents said.
Federal authorities subsequently charged Kilgore with possession of a machine gun, possession of an unregistered firearm and possession of a firearm with an obliterated serial number in U.S. District Court.
Kilgore struck a deal with federal prosecutors last October, agreeing to plead guilty to possession of a machine gun. In return, they agreed to drop the latter two charges. In a judgment filed in March, Kilgore was sentenced to five years probation and ordered to pay a court fee.
Kilgore also forfeited his arsenal, a list of firearms, firearm accessories and various explosives that stretches three pages. The final tally includes rifles, pistols, revolvers, shotguns, several items each described as an "unknown … destructive device" and smoke grenades.

Meanwhile, in Lincoln County, felony charges resurfaced. Local prosecutors dropped the original charges without prejudice after federal authorities launched their probe, meaning they could file them anew at a later date.

The criminal mischief charge stems from Kilgore's alleged shooting of his neighbor's horse. The animal was found suffering from "obvious open wounds with visible dried blood and swelling," wrote Deputy Brent Faulkner of the Lincoln County Sheriff's Office in the 2020 affidavit filed in district court.
Two other horses also were found with injuries following the shooting, court documents said.
Criminal mischief carries a maximum punishment of up to 10 years with the Montana State Prison and a $50,000 fine.
The criminal endangerment charge is a result of Kilgore allegedly having fired a gun in a residential neighborhood and in the direction of homes. Criminal endangerment is punishable by up to 10 years behind bars and a $50,000 fine.
An omnibus hearing is scheduled for Nov. 1 with a pretrial conference set for Nov. 29. Were the case to go to trial, it would begin Jan. 11.
---