Water, sewer resolutions get hosed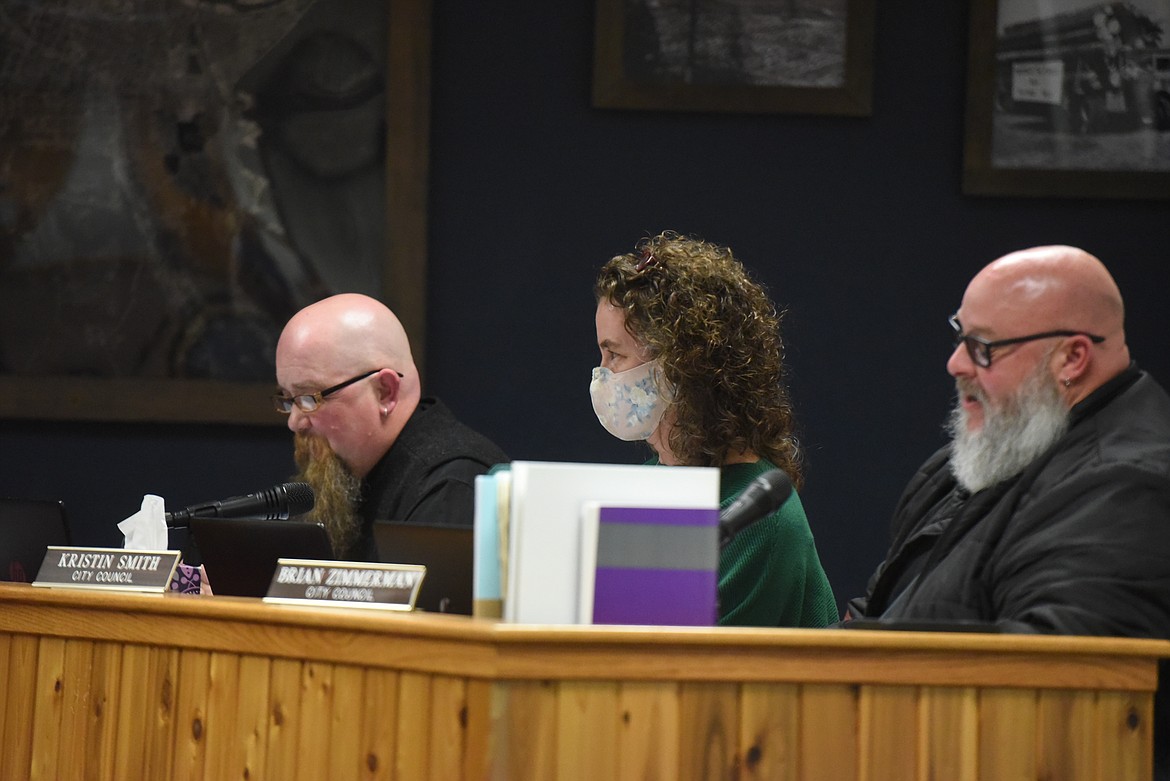 Gary Beach, Kristin Smith and Brian Zimmerman of the Libby City Council at a March 2021 meeting. (File photo)
by
DERRICK PERKINS
Editor
|
April 30, 2021 7:00 AM
Twin proposals aimed at making it easier for mobile home park developers to hook into Libby's water and sewer system met quick fates on April 19.
Resolution No. 1979 would have steeply discounted the normal cost of linking up with Libby's water infrastructure so long as the developer took care of mains, secondary lines, metering pits and water meters. The city normally charges between $4,800 and $4,900 to perform the service for homebuilders.
Resolution No. 1980 offered a similar deal for sewer connections. The resolutions applied to mobile home parks requiring 20 or more hookups.
City council had on April 5 tabled the measures after several members requested more time for consideration. When City Councilor Brian Zimmerman brought up the proposals for the second time last week, he said he received no feedback from any of his colleagues.
"Nobody called or texted, so I'm assuming everybody is good with it," he said.
Not so. City Councilor Kristin Smith, who raised concerns about the proposals two weeks prior, announced her opposition to the measures.
"I cannot support this resolution," she said when No. 1979 came up for discussion. "It does not make good sense for Libby."
Smith said the 20-hookup threshold lacked an explanation. More broadly, she worried about promoting one type of development above all else, even if it represented what went for affordable housing in the Libby area.
If officials want to spur affordable housing, she said, they need a more overarching approach.
"This is targeting a very specific type of development and incentivizing it," Smith said. "I think we should be looking more holistically at affordable housing — if making more affordable housing is the goal."
Colleague Peggy Williams also expressed concerns, but did not go into details. She said a conversation with the city engineer left her hesitant. Not wanting to speak on his behalf, Williams suggested that proponents consult with him.
Smith also argued that developers should remain required to contribute to capital expenses in the city. While prospective developers would be held responsible for work normally performed by city employees at the site, exempting them from thousands of dollars in fees was the wrong signal to send, particularly as officials discussed raising sewer rates for residents.
"Developers should be producing their full share," she said. "I just think this sends a very bad message."
Zimmerman, though, took issue with the criticisms. Opponents failed to request edits to the proposals before the meeting, he said.
"I can't sit here and call everybody and hold everybody's hands," he said.
"I recognize that," Smith replied. "I didn't want to change it. I don't want it."
Resident Kenny Rayome, who also serves as the city water treatment plant operator, also spoke out against the proposal. Adding 20 or more hookups to the city system will come with a cost.
Were it built far out in the county, it would require an operator, he said. That cost would instead fall on the city.
Moreover, hookup fees funded capital improvements and were necessary to keep Libby's water infrastructure working, Rayome said.
"This fee is a smart investment to maintain the infrastruture we currently have," he told city councilors. "We have an aging infrastructure. If we do not require new developers to pay capital improvement expenses, we're going to be paying for it in 10 years."
In the end, Zimmerman cast the sole vote in favor of the proposal. City councilors voted unanimously against its twin proposal regarding the sewer system.
---