Blanton sentenced following jury trial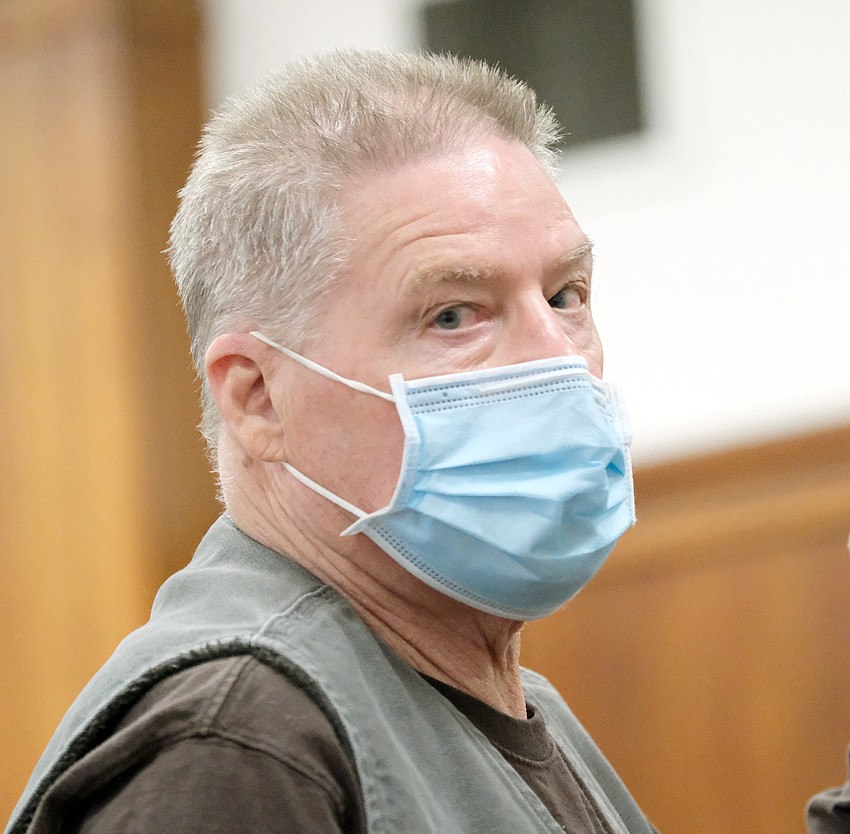 Terry Blanton at his April 2021 sentencing. (Paul Sievers/The Western News)
by
DERRICK PERKINS
Editor
|
April 27, 2021 7:00 AM
A Eureka man found guilty of aggravated animal cruelty with a firearms enhancement for shooting a dog last year has received a suspended, three-year sentence in Lincoln County District Court.
District Judge Matthew Cuffe handed the sentence down to Terry R. Blanton, 72, on April 19, calling it one of the most difficult cases involving animal cruelty before the court.
"This is a difficult set of circumstances that we're facing," Cuffe said, likening his sentence to a walking a tightrope or performing a balancing act.
Authorities arrested Blanton following the June 28 shooting near Airport Road. About 6:20 p.m., dispatchers got a call from a resident attempting to take the animal to a veterinarian for care. By the time Lincoln County Sheriff's Office deputies arrived, the dog had succumbed to its injuries.
The resident told deputies that he had seen the dog wandering around earlier in the day. Though the animal appeared friendly, the resident shooed it off and watched it head toward Blanton's yard.
The dog returned, bleeding from a gunshot wound not long after, court documents said.
Deputies returned the dead animal to its owners before questioning Blanton. According to Deputy Robert Salyer, Blanton admitted to shooting in the air to scare off the animal.
"[Blanton] said the dog just wouldn't leave his property and didn't have a collar, which is why he shot at it," Salyer wrote in an affidavit.
At his sentencing following a jury trial, Blanton apologized several times for his actions.
"I'm very sorry for all the trouble I've caused," he told the court. "I'm very sorry."
County Attorney Marcia Boris recommended Blanton receive two years in the Montana State Prison for aggravated animal cruelty and then five years of a partially suspended 10-year sentence for the firearms enhancement as well as credit for one day served and resitution. The sentences, as proposed, were to run concurrent.
While Blanton's defense attorney, Jessica Polan, asked for leniency based on a traumatic brain injury that left him with cognitive and executive function impairment, Boris argued that his actions that day were thoughtful.
According to Boris, Blanton saw the dog and retreated inside his house, where he was safe even if he felt threatened by the animal as he claimed. He then got a gun and made a kill shot, she said.
"The defendant testified that he felt threatened by an animal and the jury didn't buy it, frankly," an impassioned Boris said.
Polan requested a two-year deferred imposition sentence, telling the court that Blanton had since erected a fence to prevent the situation from arising again. Blanton was willing to volunteer at an animal shelter and pay a portion of the restitution. She had earlier argued that part of the restitution, which accounted for the cost of caring for the animal when it was alive, was not her client's responsibility.
"I realize that this was very hard for everyone … and that it was very sad," Polan said. "On the same token, I believe that on my property I have a right to protect myself against an aggressive dog.
"We all make mistakes in our lives and I don't think we should be locked up at 72 [for them]," she said.
Recent animal cruelty cases before the court were cut and dry, Cuffe said. They involved pet owners abusing their animals, he said.
"I didn't have any difficulty with sentencing in any of them," Cuffe said. "They were easy."
The three years under the supervision of the state Department of Corrections, court-ordered anger management, restitution and a ban on owning animals was appropriate considering Blanton's actions and impaired cognitive function, Cuffe said.
"This is not an easy case," Cuffe reiterated. "This is an appropriate sentence for a man who clearly … made a serious mistake in the way he addressed he situation."
---