Voter ID bill becomes law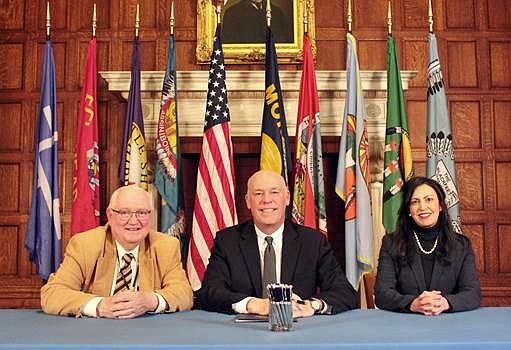 State Sen. Mike Cuffe (R-Eureka), Governor Greg Gianforte, and Secretary of State Christi Jacobsen pictured at the signing of Senate Bill 169. The bill, sponsored by Cuffe, will restrict the forms of standalone photo identification voters can use at the polls. (Photo courtesy of Brooke Stroyke)
A push to revise voter identification requirements culminated earlier this week when Gov. Greg Gianforte signed Senate Bill 169.
Sponsored by state Sen. Mike Cuffe (R-Eureka), the bill requires Montanans with certain forms of previously accepted photo identification, such as student IDs, to present secondary identification when casting their votes. Secondary IDs include forms like utility bills, bank statements or paychecks that display the voter's name and current address.
Election officials will continue accepting Montana driver's licenses, Montana state identification cards, military identification cards, tribal photo identification cards, U.S. passports and Montana concealed carry permits as primary forms of photo ID under the new law.
During an April 21 interview, Cuffe described the bill as his top priority throughout the legislative session. Secretary of State Christi Jacobsen, who worked with Cuffe and other legislators to revise voting laws, described the new law as a fulfillment of her primary campaign promise.
"We finally delivered on what Montanans elected me to do," Jacobsen said.
Along with Senate Bill 169, Gianforte signed another piece of election legislation on April 19 backed by Jacobsen. House Bill 176 will close late voter registration the day before the election.
Throughout the legislative session, Cuffe presented his bill as a means to make a good system better. He said that by supporting the bill he was not arguing that any voter fraud had occurred during past elections.
"We all want the same thing," he said April 21. "Free and fair elections."
Gianforte said in a statement that the new laws would reinforce Montana's long history of secure elections.
Opponents of Cuffe's bill argue that it could disenfranchise American Indians, senior citizens and disabled people. Since the law no longer allows student IDs as a primary form of photo identification, critics say younger voters will be particularly affected. The day Gianforte signed Cuffe's bill and House Bill 176 into law, Montana Democrats filed a lawsuit against the state. The complaint issued by the party argues that both bills violate Montana Constitution's right-to-vote and equal protection guarantees.
Cuffe said legislators prepared for legal push back by partnering with a battery of lawyers to draft the bill. Cuffe said the group selected language from election bills passed in other states to ensure the legislation would hold up in court.
In addition to the Montana Democrats, organizations including the American Civil Liberties Union of Montana, Montana Public Interest Research Group, Western Native Voice and Forward Montana have come out against Cuffe's bill.
U.S. Senate Majority Leader Chuck Schumer (D-NY) spoke on Cuffe's bill on April 20 calling it a Republican attempt to suppress young voters.
"We all know what's going on here. Younger voters have been shown to be more Democratic," said Schumer on the Senate floor. "So Montana Republicans have made it harder for them to vote. It's despicable, just despicable."
U.S. Sen. Steve Daines, a Republican, disagreed, saying that Schumer was distorting the intent of Cuffe's bill.
"In Montana, we are putting in place some common sense reforms that enjoy the strong support of Montanans. Why is [Schumer] so determined to strike down common sense efforts to provide integrity and transparency to our elections?" Daines said.
Jacobsen pushed back against claims that the new laws would disenfranchise young Montanan, noting that she has children who are college students.
"I would never want to exclude college students from voting," she said.
Cuffe said legislators were careful to provide alternative ways for voters without primary photo IDs to identify themselves at polls. Along with allowing secondary forms of identification, Cuffe said the law permits voters to use their Social Security numbers to cast their ballots.
According to the Secretary of State's Office website, voters who are unable to provide any form of identification at the polls may fill out a polling place elector ID form. If election judges can verify the information on the form — which includes the voter's current Montana residential address and a driver's licenses number, state identification number or Social Security number — through the Secretary of State's office, the individual would be able to cast a regular ballot.
If election judges cannot verify the information on the form, voters will have the option to cast a provisional ballot. Election officials only count provisional ballots if the voter provides the necessary forms of identification by 5 p.m. the day after the election or sends the required ID by mail postmarked by the day after the election.
---